A walk along Boca de Tomates Beach, Puerto Vallarta
Introduction
Aerial view of Boca de Tomates Beach, Puerto Vallarta, Jalisco, Mexico
An important explanation: Do not confuse Boca de Tomatlán with Boca de Tomates. Boca de Tomatlán is the Puerto Vallarta beach farthest south accessible by land and Boca de Tomates is the northernmost beach in Puerto Vallarta and Jalisco, which you can get to in a car.
Just south of the mouth of the Ameca River is the political division of the State of Nayarit to the north and the State of Jalisco, to the south. In this area, you can find the northernmost beach of Jalisco, Boca de Tomates. It is a beige sand beach about 3100 ft (950 m) long.
Turtle Release camp, Boca de Tomates Beach, Puerto Vallarta, Jalisco, Mexico
It is an area known for its ramadas (palapa-like eateries) that offer fresh food from the sea. The place is also known as a crocodile habitat and is also a popular bird-watching location. The beach is nice, but it is not known for being very attractive, furthermore, due to the crocodiles, I would not recommend swimming in the sea, much less in the river. On the far southern end of the beach, you can find the Campamento Tortuguero de Boca de Tomates (Saving Sea Turtles in Puerto Vallarta).
What to do in Boca de Tomates
This beach is certainly popular with local families, they'll gather here and get fresh seafood and celebrate festivities on the weekends, often in large groups of family and friends. This is not your usual tourist trap, so it's a great way to experience the authentic local spirit and what Mexico is really about.
If the tide is low, you can walk all the way from the Marina Vallarta hotels, but you can just take a taxi or rideshare and get there more easily. You can agree with your driver on a pickup time, maybe two or three hours later (it'll be around $20-30 US dollars there and back to the Marina Vallarta area).
There is some construction along the way as this area will in the near future have a Vidanta resort and even a Cirque du Soleil theme park called VidantaWorld if plans are not changed along the way.
Once you get to the end of the road, there is a mangrove area and river, here you'll find crocodiles roaming freely in their natural habitat. Lining the parking area by the beach are a number of ramadas (wooden restaurants, some have been there for 70 years!), they are makeshift restaurants that offer fresh traditional seafood with fish grilled on an open wood fire (sarandeado), fried fish, crabs, lobster, octopus, ceviches, and other delicacies extracted from the bountiful Banderas Bay.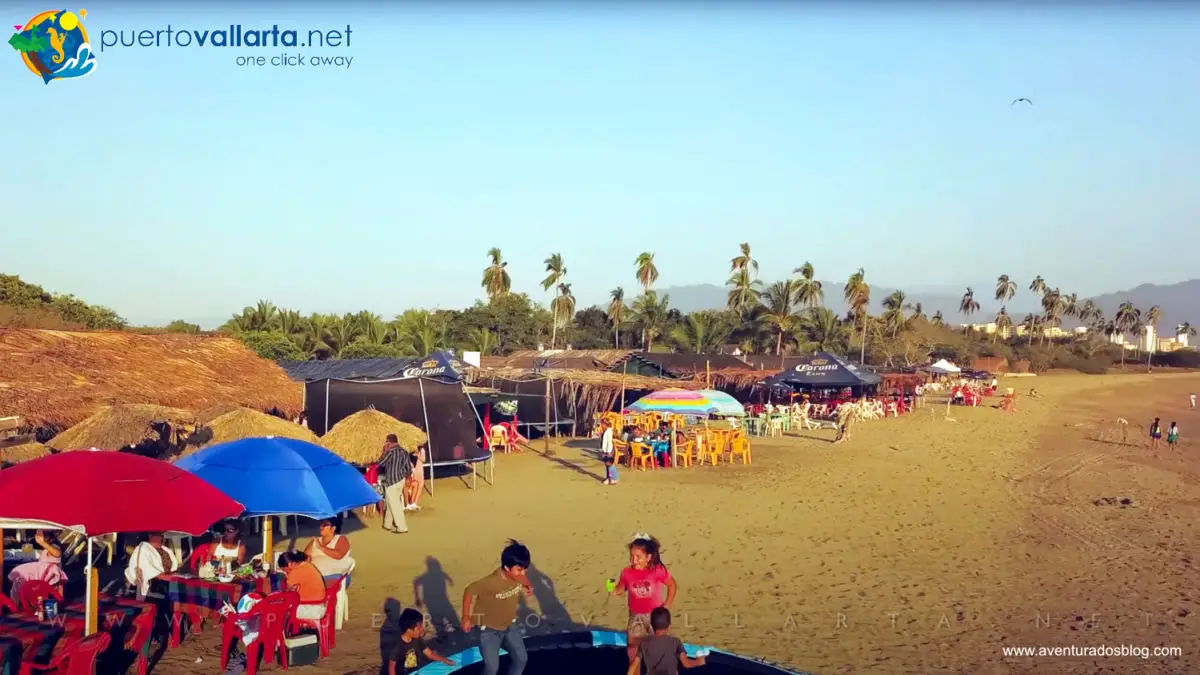 Ramadas Boca de Tomates Beach
If you want to be among the crowd, go after 3 PM on Saturday afternoon and in the afternoon on Sundays. There is no electricity and no running water. The fish is grilled on old wood-burning fire grills. They offer deep-fried foods, and good french fries (papas).
The facilities are rustic, laid-back, and friendly, and the food is great. There'll be a local banda, Mariachis, or similar live music playing from ramada to ramada for a tip. Some dishes are grilled whole red snapper platter, shrimp or tacos, and shrimp a la diabla, breaded, al coco. All will offer great dishes at very reasonable prices, the service will be friendly and like if you were family.