Introduction
Conchas Chinas Beach is, without a doubt, one of the most fascinating and striking beaches in the Puerto Vallarta Romantic Zone, the Banderas Bay area and Mexican beaches in general. The melding of various ecosystems in one location, together with its graceful coast and underwater profile has given the place a beauty that must be seen to be understood.
It is actually a series of smaller beaches separated by rocky outcroppings. There beaches have clear golden sand and the water is a beautiful dark emerald green-blue. The total length from Amapas street to the southern end past Easy Street by LindoMar is 2700 ft (720 m).
Why visit Conchas Chinas?
You can easily get to this beach from downtown PV, just minutes from the romantic zone, so you really have no excuse to not visit Conchas Chinas. There are many hotels, villas, restaurants, and businesses close by to provide visitors, and local residents, everything they could wish during their visit.
Conchas Chinas stands out because it combines two geographical highlights, an enclave between the mountainous jungle of the Sierra Madre, and the crystalline coasts of the Pacific Ocean, creating a picturesque scenery that dazzles visitors. This colorful landscape also makes it attractive for couples and newlyweds in search of a natural refuge where to spend unforgettable moments, the sunsets at Conchas Chinas are a perfect complement to a romantic getaway.
There is a great variety of birds and reptiles, and in the natural pools that form along the edge of the sea, you can see all kinds of fish, mollusks, crustaceans, and other marine animals. Don't forget to check them out, but take care of them too, and do not take them out of the water.
Another reason why you should visit Conchas Chinas is that it is a certified "Blue Flag" beach, an international program initiated in France in 1985 that seeks to carry out actions that protect and maintain beaches in a positive way (sustainable), taking care of its waters, taking care of the environment that surrounds it, educating visitors and offering security and services. Therefore, you can be sure that the waters of the place are clean and are actively cared for.
Why the name (Chinese shells)?
The name apparently comes from mollusk shells you find there, not that they come from China (like almost everything nowadays …), but "china" in the local Mexican usage means wavy or with curls. A person with "chino" hair in Mexico is not straight and stiff, but rather curly hair :-), so a Chinese shell (concha china) would be a conch with undulations or curvilinear in some way (if someone knows specifically what species we are talking about, I'd love to know). So Conchas Chinas actually means Curvy Shells or something like that. More recently, walking on the beach I found a variety of conically shaped shells, a mollusc, then someone mentioned the name was "China" meant the shells had the shape of a Chinese hat, so that might just be it, the beach is named after coolie hats.
Things to do there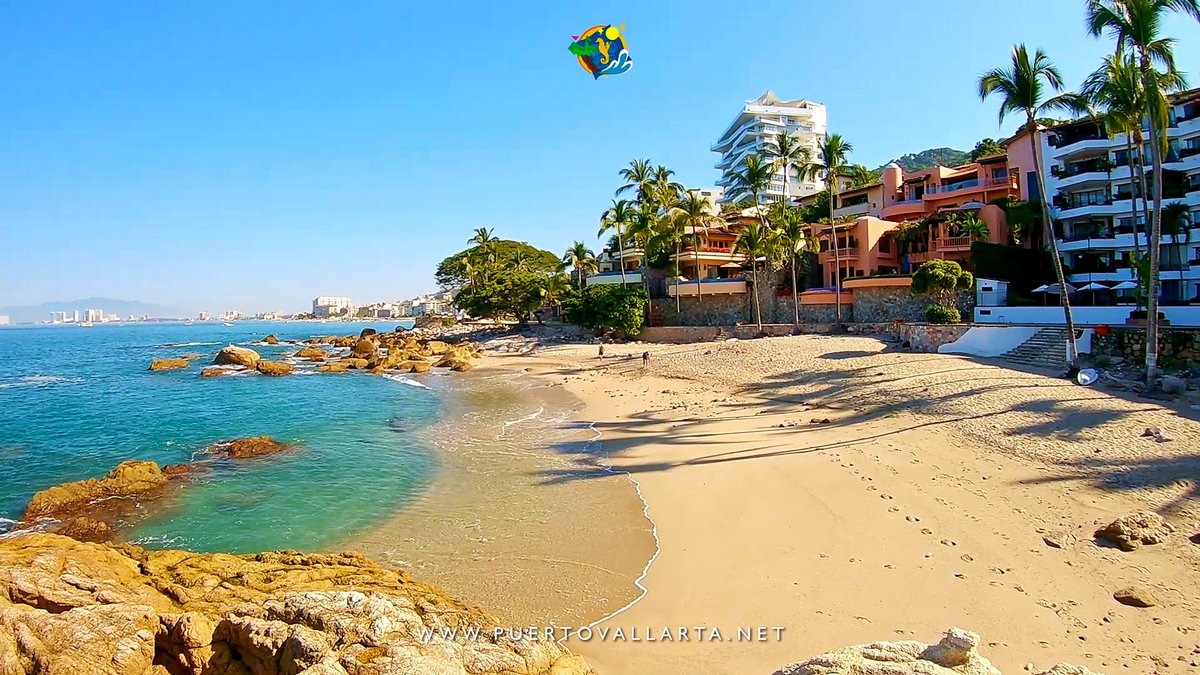 As we mentioned one of the natural wonders of this beach is the pools that form on its rocky shore, small concavities formed by erosion in which the saltwater accumulates. The current has little force and makes a wave-free space, perfect for relaxing and splashing around. The crystalline waters also allow visitors to dive in and see the marine ecosystem which is considered by many a unique experience. It is the perfect place to spend time with your family, relaxing in the warm waters of the Pacific and walking on the rocks (I recommend wearing protective shoes) observing the life that develops there, for example, crabs, mollusks, anemones or a few little fish caught in the small puddles waiting for the next rise in the tide.
Conchas Chinas also has a special spot of its own for food and drink, there are several restaurants nearby that also offer bars and provide a number of typical regional dishes, such as grilled fish, embarazado fish, mackerel fish tacos, shrimp or marlin tacos or tostadas, fish or octopus ceviche and a variety of fresh shellfish. One afternoon on the beach is not complete without, heat which also makes them especially tempting, a good beer or a margarita by the shore with your feet in the warm sand, while the sun drifts colorfully down under the horizon. Among the recommended restaurants we can mention Lindo Mar, El Set and La Playita.
Conchas Chinas is not an ideal place for water sports as surfing, boogie board or paddle boarding, but snorkelling and diving are common activities, the white sand beaches are good for beach sports such as volleyball or soccer, especially during the low season when there is space for it. However, it is worth clarifying that the activities on the beach are mainly focused on spending a relaxing day, enjoying the natural attractions of the place.
How do you get to this beach?
Conchas Chinas is not a very hard place to get to, especially once you are in Puerto Vallarta since it is just a few minutes south of the Romantic Zone (Old Vallarta).
If you go by car, take the Federal Highway 200 heading to Barra de Navidad and advance a mile and a half, I would recommend turning right toward the shore on Easy Street 200 feet past the OXXO, you can also take Sagitario Street that's the one is a few steps past the same OXXO, though you'll have a to walk a bit more.
Public transport is available, take the Mismaloya/Boca de Tomatlan bus route, it is a full white local bus (previously they were white and orange) and starts off on the corner of Basilio Badillo and Constitution in the Romantic Zone (Old Vallarta). The price of pesos varies from year to year, but it tends to be close to $ 0.5 dollars (2017 = 7.5 pesos, 2018 = 8 pesos, Nov. 2, 2018 fare has increased to 10.00 pesos, still the equivalent $0.50 USD).
Bus to Puerto Vallarta Zoo and Mismaloya
Once you are on the bus, you'll want to get off by the OXXO located right before Sagitario Street, you can also ask the driver to tell you when you are there ("me puede avisar dónde bajar para ir a Conchas Chinas").
You can get to the beach down Sagitario street, it's a bit longer (it has a curve that leads back north), but you get there all the same. I would though, recommend walking some 200 ft along the edge of the highway (in the direction of Mismaloya) and take Easy Street to the right, the name says it, it's the easiest street to get to Conchas Chinas.
Uber is a convenient option to go there if you have children or extra weight, prices are very competitive and take you directly to the beach. You can also take a yellow taxi cab, they are almost on every corner, they are available all day if you want you can confirm the rate before jumping in, just in case.
Now, if you like walking and jogging if you enjoy going to places on foot, there is also this option and now it is easier than ever. From Los Muertos Beach, in the romantic zone, walk along the shore, go by Las Pilitas (where the original sculpture of the Boy on the Seahorse is), you then arrive at El Púlpito, the rock formation like a peninsula at the southern end of the beach. There you will find some stairs that help you get to the other side and Las Amapas beach, walk to the south end of the beach and there, something new, is a concrete path that edges along the shore, if you follow it, you will reach this beach (the video at the top of this page also shows you how).
Where to stay