Introduction
Palmares Beach, Dec. 14, 2021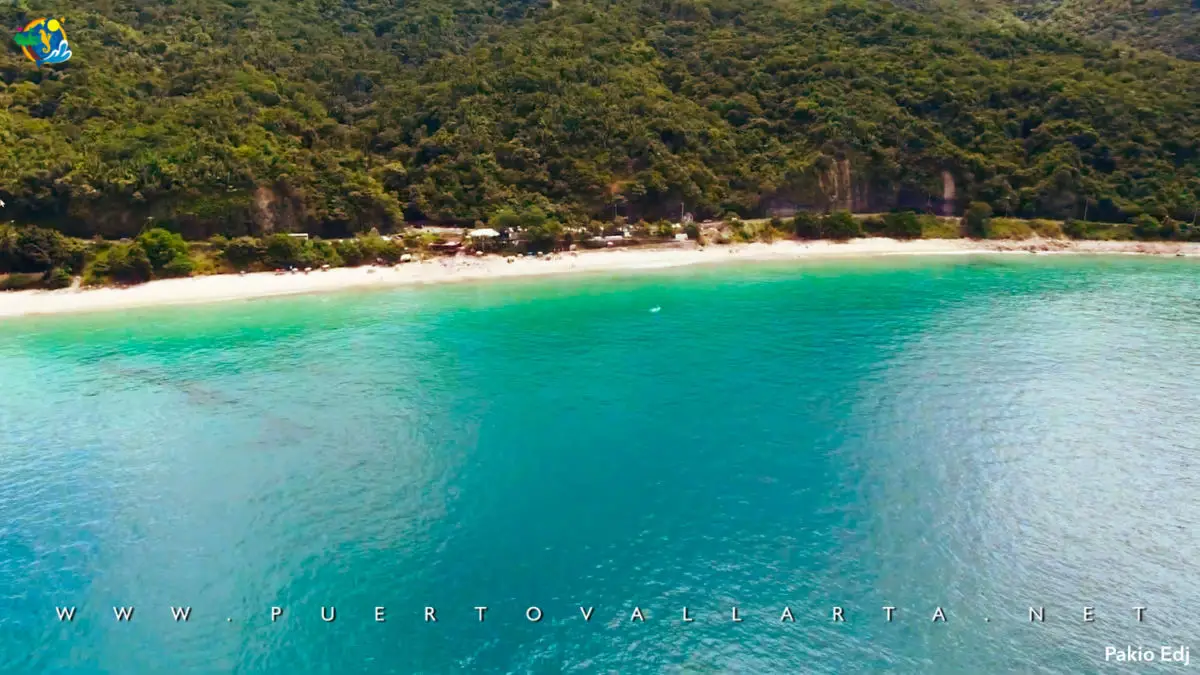 Palmares Beach, Puerto Vallarta South Zone
Puerto Vallarta is a destination known for its beautiful beaches and all-inclusive resorts. What's the best way to enjoy these perks, while also experiencing some authentic Mexican culture? Visit Palmares Beach!
You will love to come to Palmares, a beautiful beach south of PV where you can enjoy yourself with all the tastes from this Mexican town on a clear sand beach with a beautiful emerald-green transparent sea!
Palmares Beach is located 4.0 miles (6.5 kilometers) from Puerto Vallarta's Main Square,  it can be reached by land on a scenic drive along the highway to Mismaloya (Carretera Federal 200) which affords views of both sea and mountains! It's a 2800 ft (850 m) long beach with the characteristic golden sand and emerald green-blue water of the beaches in Banderas Bay.
It was the first beach in the State of Jalisco to be awarded Blue Flag certification. To receive this prestigious honor it must meet 33 criteria regarding water quality, offer toilets, garbage cans and environmental education, among other things that make it an ideal place for tourists or locals to visit!
Amenities
The clear water of this beach is like a breath of fresh air and makes it the perfect place to spend your day. You'll find that there's no shortage of facilities, for sun protection and comfort you can rent umbrellas, tables, and chairs; lifeguards who watch over swimmers carefully so they can enjoy themselves without worrying about getting into danger; restrooms nearby if nature calls! Palmares Beach is the perfect place for those who want to avoid crowds and enjoy swimming without worries.
Palmares Beach, with its parking lot and pedestrian access, ensures that visitors are never far from their car. In addition, there is a ramp for people with disabilities which makes it easier than ever before! Few beaches in Puerto Vallarta offer something like this.  The restroom facilities provide greater comfort during your outdoor adventure at this PV south zone beach.
Where to eat?
Canto Palmares Restaurant, Puerto Vallarta
We hope you're hungry because it's time for seafood! Eating options in Palmares are limited, but there's a small selection of fresh food that will keep your stomach content. Several roadside stands sell ceviche and chilled coconut water as well as vendors that roam the beach who sell traditional fish-on-a stick (pescado embarazado), or other types of delicious fried seafood options.
The best way to enjoying a sunset is at the only restaurant by the beach, Canto Palmares offers a traditional Mexican seafood menu with delicious fish tacos, refreshing micheladas (a type of Mexican beer cocktail), Tequila and Mezcal cocktails, or even just some tequila shots. After you've eaten your fill from this oceanfront restaurant that serves up fresh seafood tostadas and tacos – make sure not to miss out by relaxing under their covered terrace while watching the sunset disappear right into the Pacific Ocean!
What to do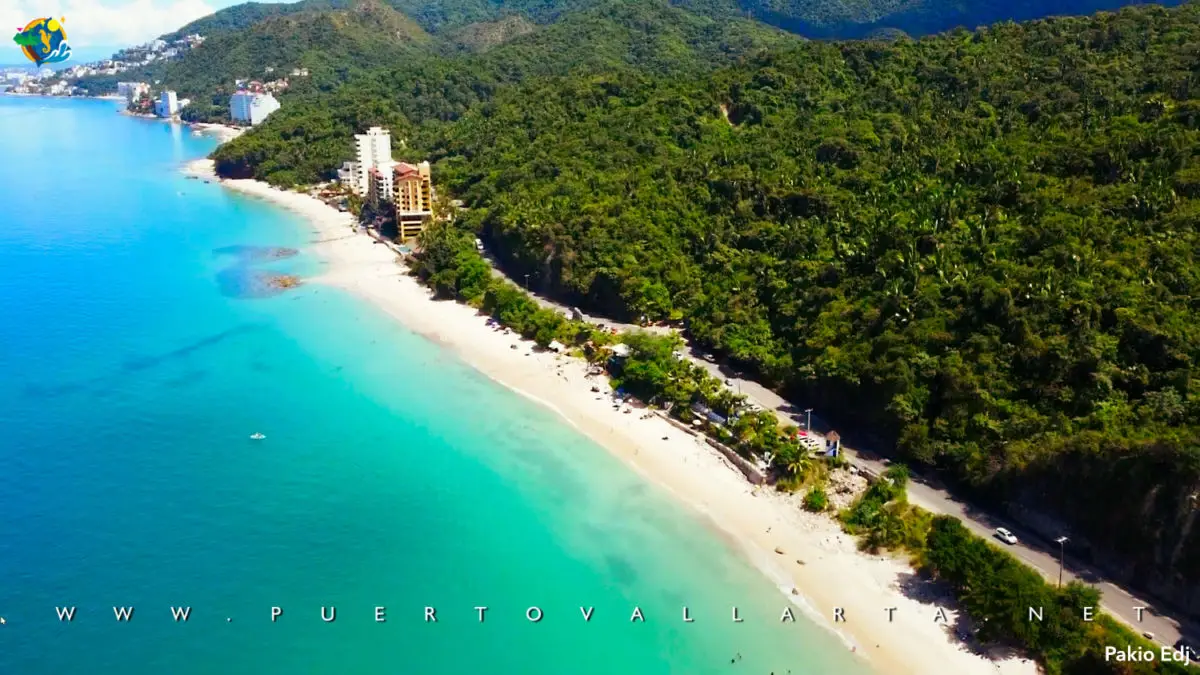 Panoramic northward view of Palmares Beach, Puerto Vallarta
While on the beach, beyond sunbathing and a dip in the sea, you can take a stroll north and south, the longest stretch is toward Punta Negra, it's some 2600 ft (800 m). Officially Palmares Beach ends just by Los Palmares Condos, where Punta Negra Beach continues north past the rocky Punta Negra point. You can continue walking past Punta Negra point and walk over to the northern side of Punta Negra beach too if you want.
The southern end of the beach has lots of rocks and there's not too much to see (maybe, just maybe, if you're a cross between a hiker and a mountain goat, you'll be able to edge along south until you reach Garza Blanca beach, I didn't try it).
Los Arcos de Mismaloya (The Arches)
If you're looking to take your adventure on the go, then renting a SUP (stand-up paddleboard) or kayak is an excellent way to do so. You'll be able not only to explore the Palmares shore and Punta Negra to the north, but also Garza Blanca Beach but also nearby Los Arcos National Park with its wildlife-rich ecosystem to the south!
This is the entrance to the El Nogalito trail/road
For real hikers there's the Palmares Beach to El Nogalito trail a 6.4 kilometer lightly trafficked out and back trail located near Puerto Vallarta, Jalisco, Mexico that features a great forest setting and is rated as moderate. The trail is primarily used for hiking and is accessible year-round. Read about it here.
How to get to Palmares Beach
The best way to get to Palmares is a 15-minute ride on the southbound local bus that takes people to all the beaches and towns in the South Zone. They are very cheap (about 50 US cents 10 pesos MX) and start off every 15 or 30 minutes from the corner of Basilio Badillo and Constituyentes streets in Puerto Vallarta's Zona Romántica.
In a taxi, or more affordably with Uber, it is easy to get from downtown Puerto Vallarta all the way down to Palmares beach. The fare will be around $100 to 130 Mexican pesos ($5 to 7 US dollars). If you've rented a car there are lots of free parking spots available on this stretch, something not easily found on the beaches further north.
Palmares is one of the most accessible beaches along Vallarta's rugged southern coast. With designated wheelchair parking, a ramp to the beach and the restaurant there offering wheelchair access to their shady terrace, you've found a winner.
Where is Palmares Beach
Palmares is a beach south of Puerto Vallarta in what is known as the South Zone that starts off just before Hyatt Ziva and Las Estacas Beach.
Palmares Beach is located some 12-15 minutes south by bus or car, 4.2 miles (6.7km) from the main square in downtown Puerto Vallarta. It's between Punta Negra Beach to the north and Garza Blanca Beach to the south.
Where to stay in Playa Palmares
There are no hotels directly on Palmares Beach, only condominiums. There are a number of well-known hotels and resorts in this area of the South Zone that are close to Playa Palmares, including the following:
Costa Sur Resort & Spa Puerto Vallarta (1.2 miles north)
Hilton Vallarta Riviera All-Inclusive Resort (0.9 miles north)
Hotel Playa Fiesta (0.8 miles north)
Garza Blanca Preserve Resort & Spa Puerto Vallarta (0.6 miles south)
Hotel Mousai (1 mile south)
Conclusion
This beach is normally less crowded than the downtown beaches. Because it's a long beach, there's space enough to find your own space if you want a little more privacy.
Palmares is a perfect spot to spend some time with friends and family. The ocean offers many activities, from swimming to fishing offshore or even playing in the sand while you wait for that next big wave! There are also boats that will take people banana riding which sounds like an experience not soon to be forgotten.
Last Updated on 28/06/2022 by Puerto Vallarta Net