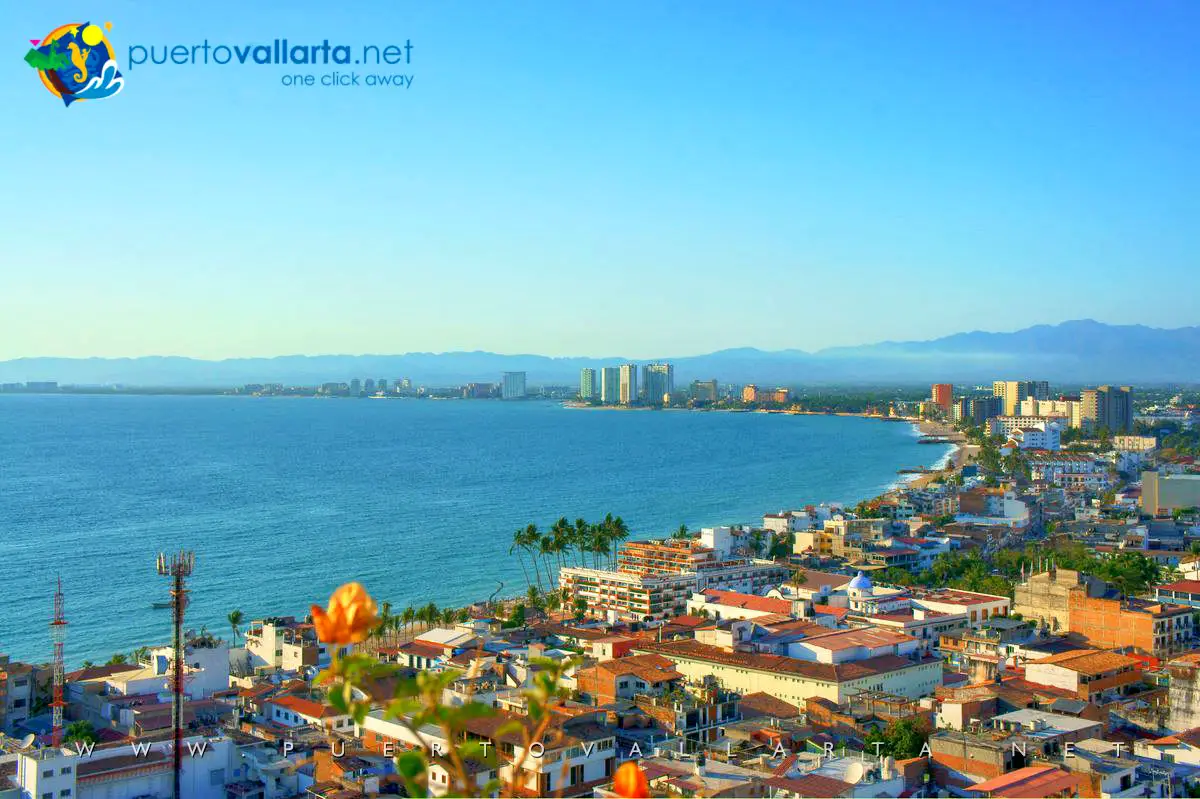 Downtown Puerto Vallarta looking north
When you travel around the world, you want to make sure you visit the most important landmarks in a town or city, you don't want to find out you missed something when you get home.
Use this list of important landmarks in Puerto Vallarta as a guide.
La Cruz Hill Lookout (Mirador Cerro de la Cruz)
The video shows one of the easy routes up to The Cross Hill (Cerro La Cruz), where you'll have a unique view of the city from the La Cruz Hill Lookout (Mirador del Cerro La Cruz). You start off on the Malecon by Abasolo street and walk uphill going towards the antenna you see on the top of the hill. When you arrive at the base of the hill there's a number of steps up and a funicular (cable car) that take you to the top and the Lookout (Mirador Cerro La Cruz). A great panoramic view of downtown Puerto Vallarta, the Banderas Bay, with the Arches (Los Arcos) on the far left and the rest of the bay up to Punta Mita and the Marieta Islands on the right.
More and tips on how to get to the La Cruz Hill Lookout.
Parish Church of Our Lady of Guadalupe
Puerto Vallarta Our Lady of Guadalupe Parish
Year after year, Parroquia de Nuestra Señora de Guadalupe welcomes thousands of Catholics, especially during a 12-day festival called the feast of Guadalupe each December month. This is a must-visit attraction in Puerto Vallarta.
There's always activity in and around the church, where tour guides appear on a daily basis, respectfully sharing their knowledge and Mexican traditions.
It dominates the skyline of Puerto Vallarta in countless postcards, as the city's most recognizable & endearing landmark around the world.
Detailed information on Our Lady of Guadalupe Parish
The Malecón/Boardwalk
The Puerto Vallarta Boardwalk (Malecon), a city favorite
The Malecon – a paved walkway all along the shore of downtown Puerto Vallarta, it's a very popular place to go as you can enjoy both the shopping, restaurants and the local Mexican culture.
The Malecon was once again completely remodeled in 2011 and now is exclusively for pedestrians, no more dangerous and noisy taxis and cars. A safe, fun and interesting family excursion in downtown Vallarta enjoying the many attractions and the sculptures too.
The Malecón was rebuilt after it was badly damaged in 2002 following the unusual visit of Hurricane Kenna.
Read more on the Malecon itself.
Last Updated on 08/11/2021 by Puerto Vallarta Net