The unfinished Temple of the Precious Blood (Templo de la Preciosa Sangre) from the XIX Century
Introduction
When you visit Puerto Vallarta you may want to enjoy a trip back in time, a cooler climate, a small colonial town in the Sierra, if that's the case, Mascota is a great option.
The name itself is not from the Spanish language (where it would be translated as "pet"), rather from Teco, "Amaxacotlán Mazacotla", which means, the place of deer and snakes.
During the Spanish conquest, it was called The Valley of Deer. The original population, the ones in charge of the current name, were Teco Indians.
About Mascota
Mascota, population 8,215 inhabitants, is located in the NW of Jalisco State, at approximately 1200 meters over sea level, strategically located between Guadalajara (at 120 miles http://goo.gl/maps/bYLFa), capital of the state, and Puerto Vallarta (60 miles away), one of the most famous tourist destinations in the country.
The municipality of Mascota is located in the plateau of the Western Sierra Madre mountain chain, the municipality includes 40 small towns, among those Mascota, is the largest and is also the seat of the local municipal government.
Mascota is a region of beautiful panoramas, where valleys, mountains, forests, and rivers. The locals are kind, happy and very proud of their history.
Vive Vallarta - Episodio 18 (Mascota, Jalisco. Pueblo Mágico)
When you drive into Mascota you immediately notice it is a beautiful and picturesque town like you've traveled back in time, to a quiet, peaceful period, you'll also notice that the air is cooler here especially if you compare it with Puerto Vallarta.
It's a small town that invites you to lay back and relax. Old-fashion cobblestone streets flanked by colonial style houses.
Don't forget to enjoy the local food and delicacies, on a fresh afternoon or in the morning ask for a "café de olla", eat some homemade cookies and purchase some of the many local sweets, stuffed guayabas, sour guayabita, camote sweets, mango skins and more. Another option, for adults, includes different types of "rompopes", which is like eggnog, variants include vanilla, chestnut or the season fruits and berries, for people that enjoy something with more kick, what about a close encounter with a shot of Raicilla?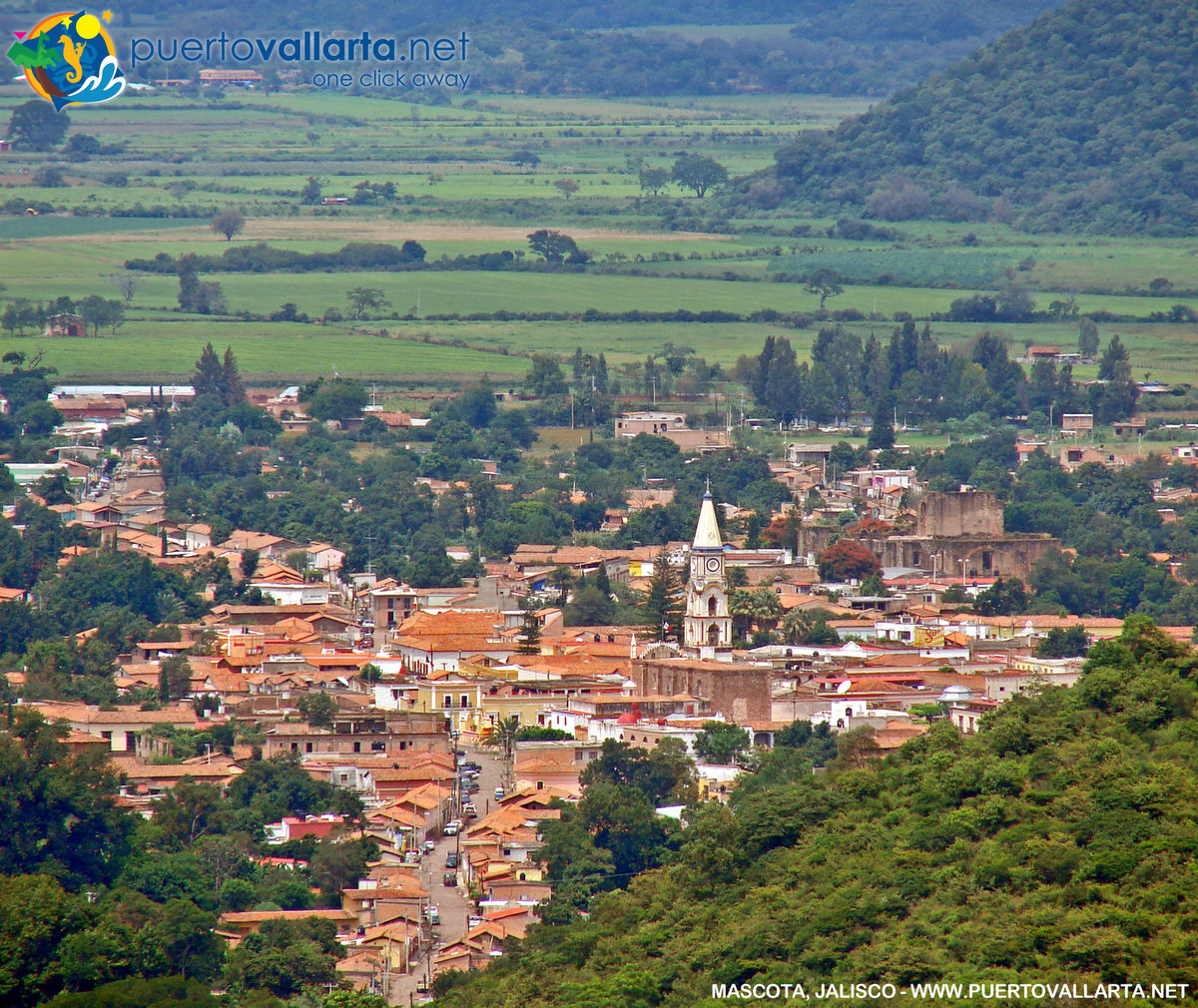 Mascota from the hill
In the second half of the XVII Century Mascota established itself in its current location, families built their houses where and how they felt like, so when the time came to build roads and urbanize the town, it was impossible without tearing some houses down, the final result was a town with an erratic street layout, which has its charm, so, no, it was not a drunkard that designed it all…

Nuestra Señora de Los Dolores Parish, Mascota
It's located on Chivato Hill and on the shores of the Mascota river a tributary of the Ameca river that flows into the Bay of Banderas close to Puerto Vallarta. The average annual temperature is 21.8ºC (71.2ºF), the rainy season is from June to October.

Local Church in the town of Navidad, Mascota
What to do in Mascota
The natural attractions that surround Mascota, which include forests, lagoons and mountains are perfect as family picnic areas and great for hikes and family strolls.
At localities like the Corrinchis Dam, where you can enjoy regional dishes at one of the many small restaurants, Juanacatlan Lagoon and El Malpais, locals and tourists alike enjoy hiking, horseback riding, kayak or boat tours, rappelling, rock climbing and fishing in the lagoons.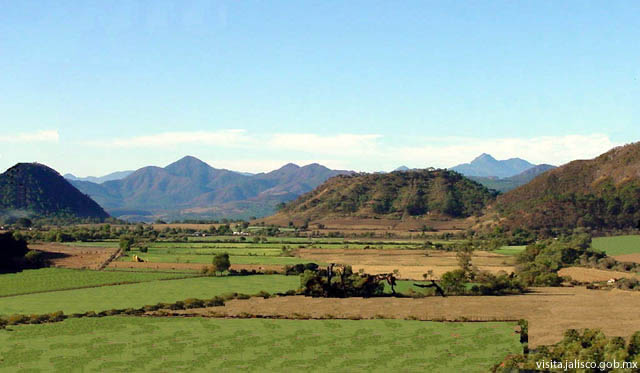 El Molcajete Volcano, 3 miles Northeast of Mascota (map)
The petrified field at El Malpaís is located a mile northeast of Mascota, it is said that during a day of strong volcanic activity the whole place was covered with ashes and lava. There is a legend that states that people have found a fruit orchard in the middle of the fields, they'd eat some of the fruit and later when they'd try to find the place again, they couldn't.
The town of Juanacatlan has a great little lake called Laguna de Juanacatlan (laguna: lagoon, lake, pond) some 8 miles northeast of Mascota, it's surrounded by forests and hills, the lake itself is actually the crater of a dead volcano (quite interesting, no?). It's a great place to fish, a location where you feel time stands still. The lake itself covers a total of 24 hectares and the panorama is beautiful. While you drive to the location, you'll go through beautiful forests with a wide variety of conifers.
While you are in Mascota stroll by the Casa de la Cultura and visit the local Archaeological Museum. Many petroglyphs have been found around Mascota, like those in archaeological sites at El Pantano, El Ocotillo, Santa Rita, El Refugio and Mesa Colorada.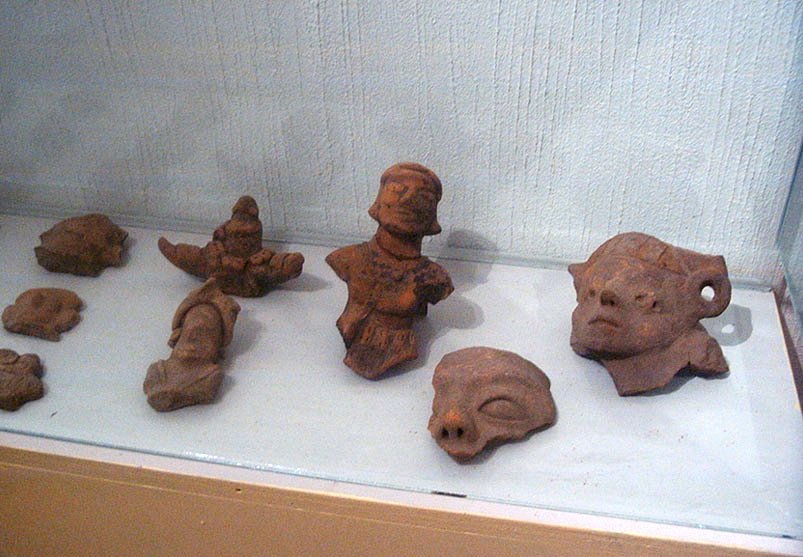 Archaeological Museum in Mascota
Their history and meaning are part of the permanent exhibition at the museum. There are also exhibits that describe and explain with a recovered object the recent discovery of a culture that inhabited the area. In collaboration with National Geographic the exploration of the area was very fruitful, there are even indications that there was commerce with even Peru, many thousands of miles away almost 2000 years in the past,

El Pedregal Museum
Another unique visit in Mascota is the Rock Museum El Pedregal (El Museo de Piedra El Pedregal), what makes it unique is that everything inside it is made of and decorated with rocks of all sizes, color, and shapes (Calle Morelos 64).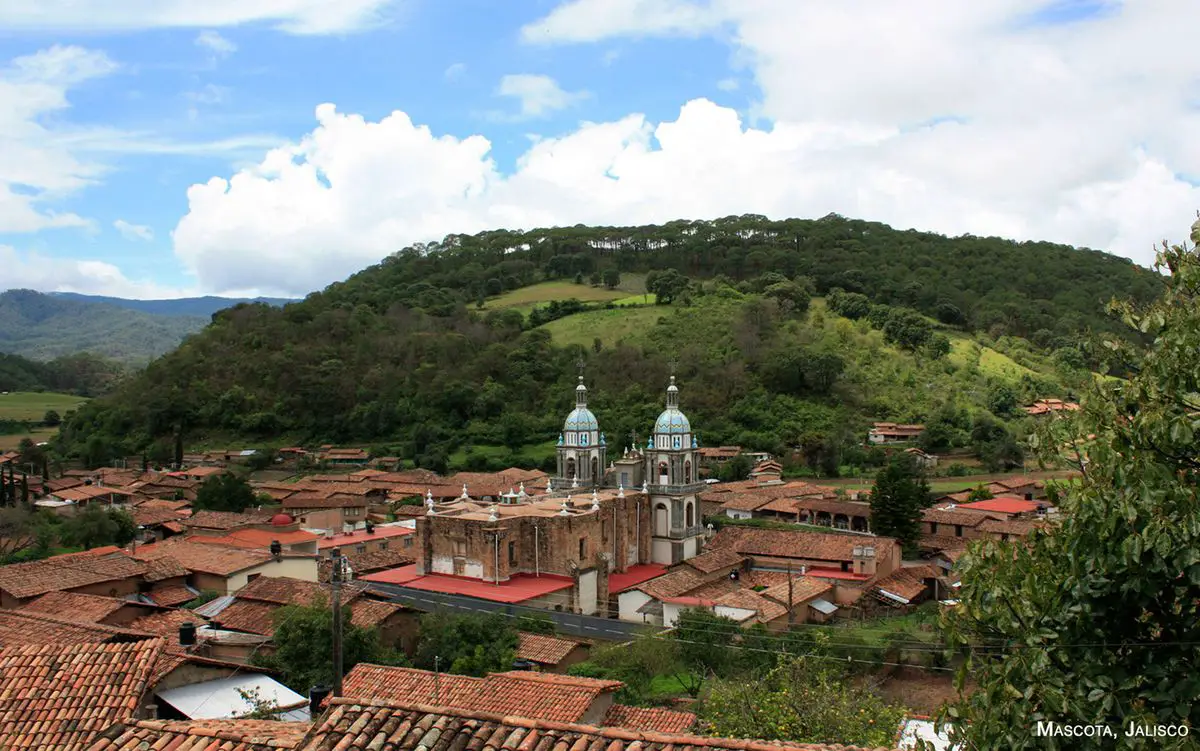 Mascota is also a great starting point for visits to small towns that are in the area (see the Mascota Circuit map), smaller towns include Yerbabuena, Navidad and Juanacatlán, the waterfalls at El Coamil and the lake at Yerbabuena, a little further away is San Sebastián del Oeste too.
Places to visit in Mascota and surroundings
Unfinished temple of the Precious Blood
Culture House and the Archaeological Museum
Mascota Museum
El Pedregal Rock Museum
Yerbabuena Museum
El Molino (Windmill) Museum in Navidad
Nuestra Señora de Los Dolores Parish
Virgen de Los Dolores Sanctuary, built in 1782
La Yerbabuena Chapel, built in 1870
Townhall
Corrinchis Dam
Juanacatlán Lake
Yerbabuena Lake
Mascota location map
How to get to Mascota