La Cruz de Huanacaxtle is a quiet small fisherman town (total population: 1621 inhabitants) located in the state of Nayarit, north of Puerto Vallarta.
It's between Punta de Mita and Bucerías, closer to Bucerías and is, more or less, 30 minutes from downtown Puerto Vallarta, depending on if you drive, you take a bus or a taxi, the last one is the option that'll get you there fastest…
La Cruz has now become much more relevant as part of a larger tourist development called Riviera Nayarit. In 2008 the harbor of La Cruz was renovated and is now called Marina Riviera Nayarit, a modern marina with 340 slips that can accommodate vessels from 31 to 400 feet.
La Cruz is:
4 miles from Bucerías
11 miles from Punta de Mita
12 miles from Nuevo Vallarta
20 miles from downtown Puerto Vallarta
The name of the town, translated as Cross of Huanacaxtle, comes from a cross that was located in the town's entrance, which was made from a tree called Huanacaxtle (Enterolobium cyclocarpum), which is also called Oreja de Elefante (Elephant ear) in other parts of America.
The town itself was founded in the 1930s by the Chávez family that still lives in the town. The town is known as "La Cruz" to the locals and is a picturesque rustic village.
For those interested in a more laid-back vacation or place to retire, together with Bucerías, this cobblestone street town offers a more Mexican and less mainstream lifestyle.
The weather in La Cruz is cooler than what the beaches down the coast offer. La Cruz, thanks to its Marina and harbor is a favorite for boater visitors from the US, Canada and Europe, some of which have established themselves in the town, bringing with them an array of businesses, so you can now enjoy a Huichol Indian Art Gallery, cafés, various international food restaurants, local charity events, plus the local eateries and stores.
La Cruz de Huanacaxtle has many beautiful beaches, the own local beach, called La Manzanilla, known for its calm waters and the great food you'll find in the beachside palapa restaurants.
Close by you'll have access to Destiladeras beach and Careyeros, plus Bucerías, the further north you have easy access to Sayulita, San Pancho, Chacala, Chacalilla, Rincón de Guayabitos and La Peñita.
---
Things to do in La Cruz
La Cruz Fish Market
Calle del Mar #4, 

La Cruz de Huanacaxtle, Nayarit, 

México
Open all days of the week: 8:30 AM – 3:30 PM
The La Cruz Fish Market is a great place to go to buy fresh fish and other sea produce. It's the place the local fishermen sell their daily catch. You can find all kinds of local fish, like Tuna, Pargo, Mahi-Mahi, Huachinango, Mojarras, Sierra, shrimp, lobsters, oysters and more. If you want fresh, this is the place. The variety changes with the season and the fishermen's luck. You'll need to talk some Spanish, maybe bring a local friend along to translate. The fishermen know quite well how to get the best out of the fish. They will even expertly filet them for you. It will also be a fun little side trip if you have kids.
La Cruz Sunday Market (Mercado La Cruz de Huanacaxtle)
A place where the locals sell their produce including farmers and artisans from all over Jalisco and Nayarit, located right beside the Fish Market, by the Marina walkway.
http://www.lacruzmarket.com/
Sunday 9:00 AM – 2:00 PM (High season)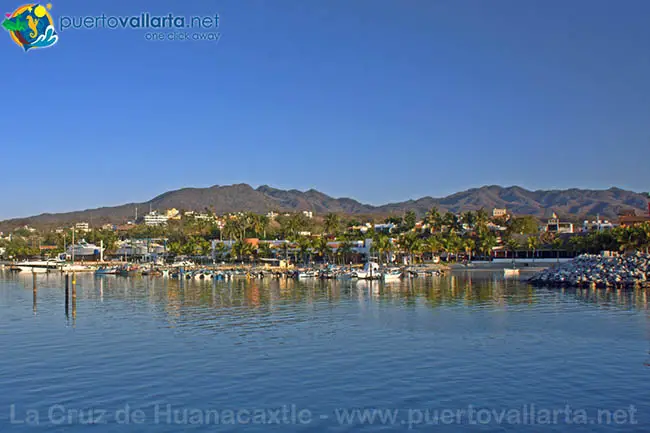 ---
Places to stay
---
Places to eat in La Cruz
Frascati La Cruz
Italian food, grill and more
Langosta 10 La Cruz de Huanacaxtle, Nayarit
(329) 295-6185