Puerto Vallarta (population 255,725 - 2010 census;  318,776 - 2018 estimation) is located on the Pacific coast in the Mexican State of Jalisco, within the Banderas Bay (Bahía de Banderas), which is considered to be one of the most beautiful bays in the World and happens to also be one of Mexico's largest, measuring 26 miles (42 km) from East to West and 20 miles (32 km) from North to South. [Vallarta Map] [Map showing cities close to PV] [Map showing Mexico & USA]
City founded on Dec. 12, 1851

Population 255,725 (2010 census; 318,776 for 

2018 estimated)

Area (Municipality): 1,300.7 km2 (502.19 sq. miles)

7 m (23 ft) over sea level

Location: Bahía de Banderas (Banderas Bay), Jalisco State, Mexico

Longitude / Latitude: 20°37'19" N / 105°13'42" W

More than 4.5 million tourists in 2017, over 4.7 million in 2018 and 5 million in 2019.

2nd most important tourist beach destination in Mexico
All About Puerto Vallarta, Jalisco, Mexico
The northern limit of the bay is Punta de Mita which is also considered the end of the Sierra de Vallejo mountains and in its southern limit, the bay ends at Cabo Corrientes, the end of the Sierra del Cuale mountain range.
Puerto Vallarta is the second-most visited tourist destination in Mexico, (only Cancun has more tourists), attracting millions of visiting tourists per year (4.1 million in 2016 and 4.5 million in 2017, without including cruise ship visitors and up to over 5 million in 2019), and has served as a relaxing change and refuge for people looking for a place that is more than beautiful beaches.
PV is a reliable retirement location too, that's why it was voted the best place to retire in the world by the American Association of Retired Persons in 2010 read more.

Downtown PV Views
This may be the reason why there is a considerable number of expatriates mostly from the U.S.A., Canada, and some European citizens living permanently in the city, another attractive is Vallarta's great weather.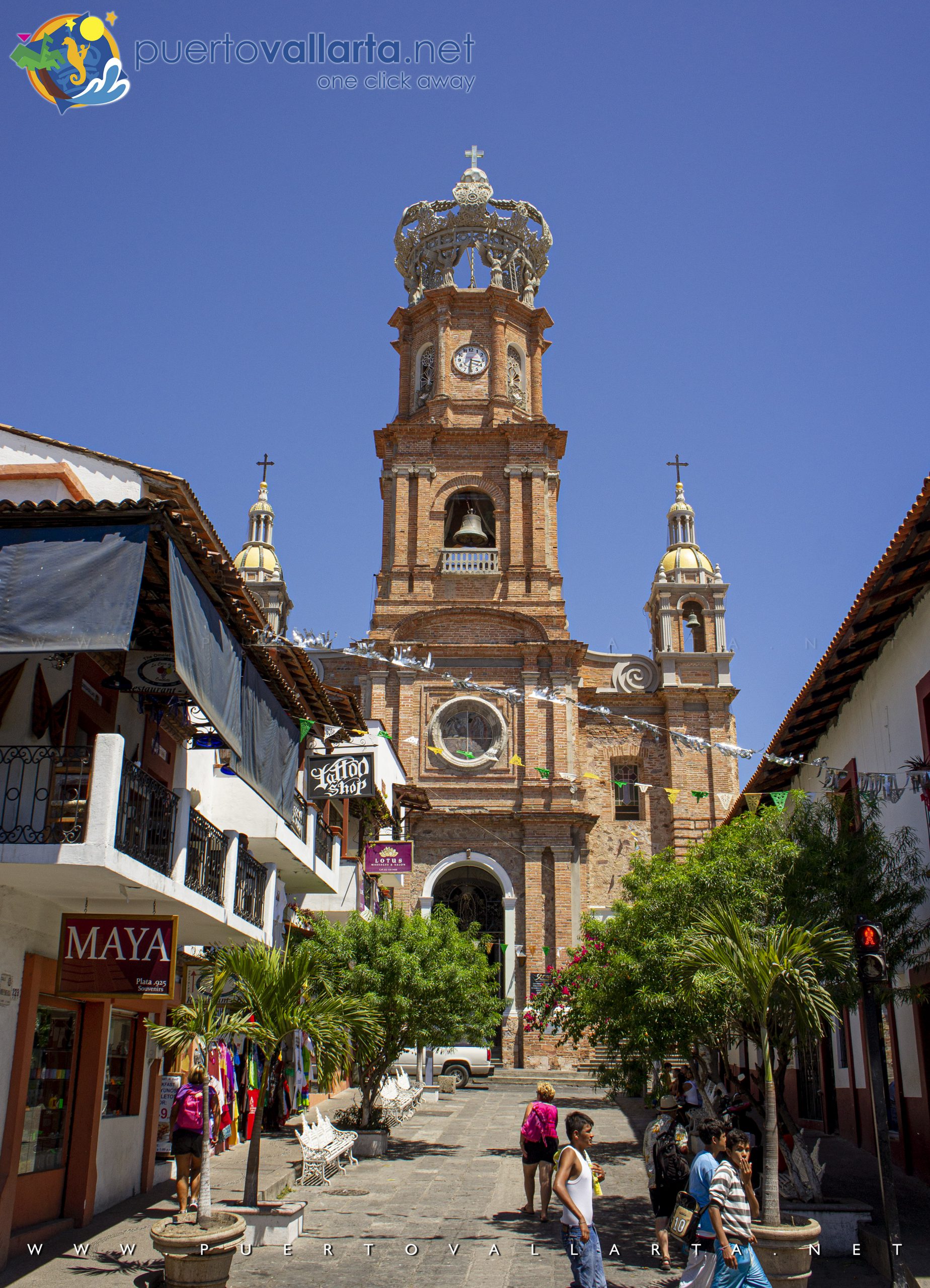 Tropical-forested mountains and mineral-rich volcanic slopes appear to literally rise from the sea and 100 miles of mountain-ringed golden coastline hugs the stunningly beautiful Banderas Bay.
Bahía de Banderas is the broadest and deepest natural bay in Mexico, the bay teems with aquatic life and multiple species of dolphins, whales, manta rays and fish of all types and colors, that visitors could enjoy and even touch if they snorkel or scuba dive in the area.
Read more about Puerto Vallarta's Biodiversity.
The bay and PV offers a cornucopia of amazing options to enjoy during your visit - not only beaches but also sparkling sunshine and clear warm emerald blue waters that are ideal for snorkeling, scuba diving, and swimming.
Use our webcam for views of the Bay and Puerto Vallarta.
Sleepy fishing villages that emulate Vallarta of old times - Punta Mita, Sayulita, La Cruz de Huanacaxtle, Bucerías, Mismaloya, Boca de Tomatlán, and Yelapa are part of the scenery along the coastline both to the north and to the south of PV. Even though Vallarta no longer is a small town, you can travel back in time when visiting these locations.
Nestled in verdant valleys and green lush mountains overlooking the bay, you can find many idyllic colonial-era villages such as San Sebastián del Oeste, Mascota, Talpa and others, that invite travelers to enjoy yet another facet of Puerto Vallarta, Jalisco, and Mexico.
The inherent warmth and friendliness of the locals have attracted a growing and active expatriate community from the U.S.A., Canada, and countries in Europe. These, in turn, make foreign vacationers feel right at home [Friendship club].
Keeping up with the changing times, the city has adapted and improved with time, so now the needs of the demanding modern-day tourist are met, these include luxury resorts and hotels, all-inclusive options, spas and retreats, championship golf courses, top-notch shops, and gourmet restaurants have opened at a rapid pace in recent years.
Despite the change, the town still maintains pockets of its quaint charm. In downtown Vallarta, you'll find the picturesque colonial and whitewashed buildings, cobblestone streets, red Spanish tile roofs, and a lot of lush vegetation, both on the streets, the gardens, and parks, help make PV a totally different experience when comparing it to any other destination in Mexico and around the world. The architecture mirrors the colonial facades with brickwork and flowering plants.
The beauty and charm of Puerto Vallarta are, as always, represented by the landmark Our Lady of Guadalupe Parish. The first building started at the end of the XIX century, after many starts and stops, changes and even a war, the main building was finished in 1952 with the current red brick tower (without the crown).
It is located a block from the picturesque main plaza. The church's red-brick bell tower was topped with a crown designed by the priest Rafael Parra Castillo who also designed the tower that holds it. The cross and sphere on top of the crown were designed by another artist, Esteban Ávalos Haro.
Hundreds of flights per week arrive at Puerto Vallarta's International Airport (PVR) from airports throughout the U.S.A., Canada, and Mexico. A total of 2,591,035 passengers made their way through the gates of Aeropuerto Internacional Licenciado Gustavo Díaz Ordaz during 2013, in 2016 the Vallarta CVB data reported a total of 4.1 million people visited the city, 2017 received over 4.5 million visitors and that's not even counting the cruise ship visitors. 2018 was a record year, with the highest hotel occupancy in decades and over 4.7 million visitors, this amount was surmounted in 2019 with over 5 million visitors. So the numbers don't lie either, consider visiting PV and find out for yourself why this tendency is a reality.