Eating schedules
Desayuno – Breakfast: 7-10 am
Almuerzo – Snack: 11 – 12 am old tradition, no longer used in cities.
Comida – Lunch: 2 pm – 4pm
Cena – Dinner: 8 pm – 10 pm
Electricity – plugs
Mexico operates on the same 110-volt – 60Hz current as the USA. The plug is a two-flat prong type, the same as the US but without the third rounded earth prong.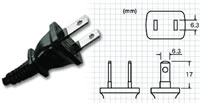 Plugs used in Mexico
If you are arriving with three-prong plug applications, we recommend you bring a three to two-prong adapter just in case.

Plug adapter, from 3 to 2 prongs
In case you forget them you'll be able to find these adapters at hardware stores, Walmart or SAM's in Puerto Vallarta.
Language
Mexico's official language is Spanish, in Puerto Vallarta you'll find that many locals can speak or understand Engish. Hotels, restaurants, and services, in general, have staff that can handle English more or less fluently.
Try to learn some Spanish and use it whenever possible, this will be appreciated and nobody will laugh at you, so relax and practice a bit. Check out a few useful phrases and words in Spanish.
Population
Puerto Vallarta has a population of 291,839 inhabitants based on the 2020 population census, this makes it the 6th largest city in the state of Jalisco (state capital: Guadalajara).
Puerto Vallarta is the government seat of the Municipality of Puerto Vallarta which includes the city itself and populated areas outside of the town itself, from the northern border with the state of Nayarit, which is established by the Ameca river and to Boca de Tomatlan in the south. More about Vallarta.
Public holidays
Public holidays by law are now moved sometimes to the closest workday, normally a Friday or a Monday, so do check on the official holiday calendar each year.
Read more in our Events & Holiday section.
Tax – Departure tax
There is a 16% tax (IVA) applied to all purchases, restaurant bills, store purchases, hotel stays, and excursions. You can request a tax refund. You can find affiliated stores and services at Taxback
Additionally, there is a 3% tax on your hotel stay, this tax is gathered for the promotion of the tourist destination.
All guests departing by air must pay a departure tax. Sometimes it is paid at the airport upon departure (passengers with TUI/Thomson/First Choice from UK have to pay this tax at the airport upon departure from Mexico (around $70-80 USD), for airlines from USA and Canada it's included on airline ticket fare issued outside of Mexico (inquire upon booking). The tax is charged to all visitors over the age of two.
Telephones
Telephone calls (both local and international) are considerably more expensive than in the USA and other countries. A sizeable tax is added to all international calls and most hotels add a service charge for placing long-distance calls. Ask the hotel operator about these charges before placing a call.
Money-saving tips:
Use Skype, Viber or WhatsApp
Limit long-distance calls
Bill the call to your international phone calling card
When possible use public telephones for long-distance (the ones clearly marked TELMEX)
Purchase a "debit card" for local calls within Mexico. These cards are accepted at all "LADATEL" public phones found in most airports. Cards can be purchased at airport shops. Rates to call the USA using a LADATEL card run about $3/minute.
Water
Do drink the water! Purified water is standard in all hotels and restaurants. In addition, Puerto Vallarta's water authority (SEAPAL) has received special recognition certifying the cleanliness of the local water supply for more than 15 years now.
If in doubt you can buy bottled purified water in almost any store and hotels offer them in your room if you prefer.
Weights, measures – conversion