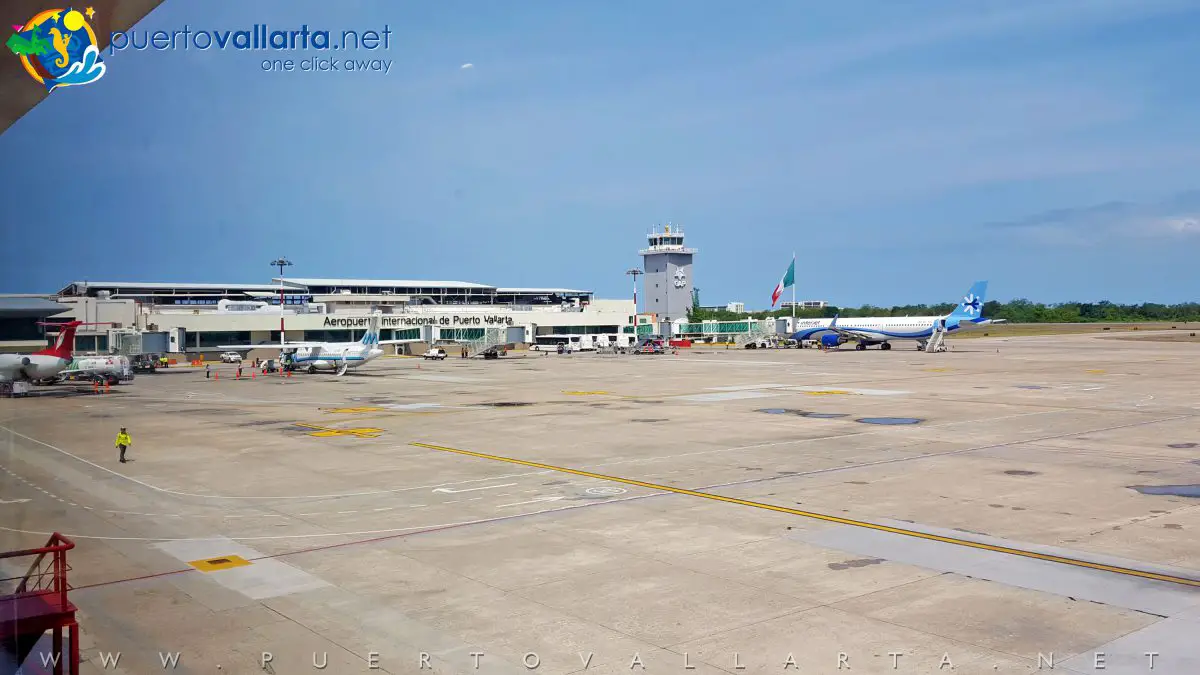 If you're wondering what airlines fly direct to Puerto Vallarta, here is a list of the various companies that offer direct flights (non-stop) from Canada, the United States of America, Finland, the UK, Panama, and Mexico to Puerto Vallarta International Airport (PVR).
This is also the airport you'd use if you are visiting destinations in the whole of Bay of Banderas, these include Nuevo Vallarta, Bucerias, La Cruz, or Punta Mita.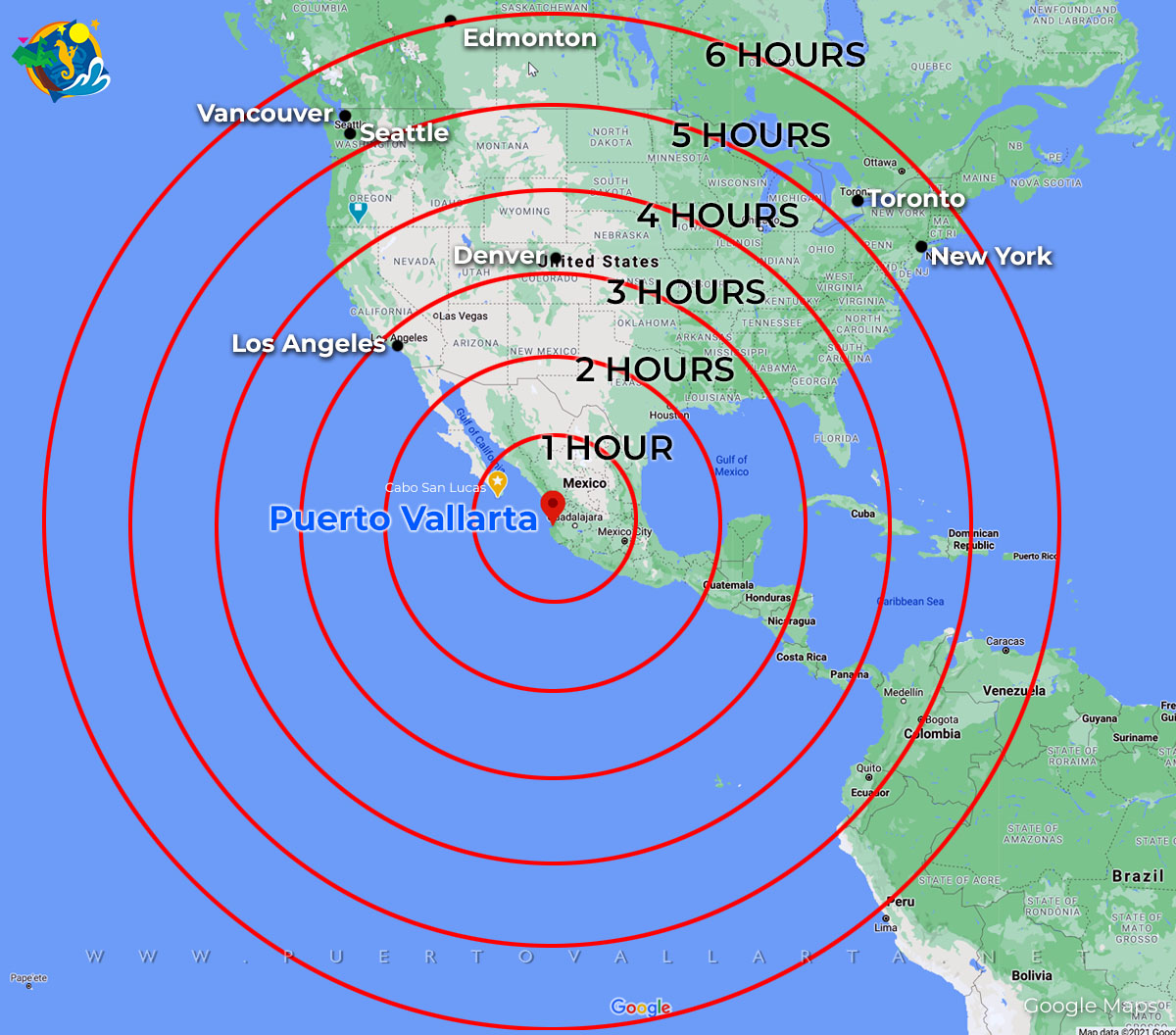 Data has been checked on the various company websites and cross-checked in some cases with the different company employees, so the information provided here is quite reliable at the time it was published.
If you encounter some error, update or missing data, please feel free to inform us at the following e-mail address: information@puertovallarta.net
Last updated (May 11, 2022)
Canada
| City | Airlines (direct flights) | Flight time (h:mm) |
| --- | --- | --- |
| Abbotsford, BC | Swoop | 5:14 |
| Calgary, AB | Air Canada (seasonal) – WestJet | 4:48 |
| Comox, BC | WestJet (seasonal) | 4:51 |
| Edmonton, AB | Swoop, WestJet (seasonal), Flair (Starting Nov. 2, 2022) | 5:05 |
| Hamilton, ON | Swoop | 5:30 |
| Kelowna, BC | WestJet (seasonal) | 4:49 |
| Montreal, QC | Air Canada (seasonal), Air Transat | 5:20 |
| Prince George, BC | WestJet (seasonal) | 5:19 |
| Quebec City, QC | Air Transat (seasonal) | 5:25 |
| Regina, SK | Sunwing Airlines, WestJet (seasonal) | 4:50 |
| Saskatoon, SK | Sunwing Airlines | 5:00 |
| Toronto, ON | Air Canada, Air Transat, Sunwing, Swoop, WestJet | 5:30 |
| Vancouver, BC | Air Canada, WestJet, Flair (Starting Nov. 5, 2022) | 4:50 |
| Victoria, BC | Swoop, WestJet (seasonal) | 4:46 |
| Winnipeg, MB | Swoop, WestJet (seasonal) | 4:55 |
Finland
| City | Airlines (direct flights) | Flight time (hh:mm) |
| --- | --- | --- |
| Helsinki | Finnair (seasonal) | 12:20 |
Mexico
| City | Airlines (direct flights) | Flight time (h:mm) |
| --- | --- | --- |
| Aguascalientes | Aeromar, TAR Aerolíneas | 1:15 |
| Cabo San Lucas | Calafia Airlines (suspended) | 2:40 |
| Chihuahua | Magnicharters (seasonal) | 1:45 |
| Ciudad Juárez | VivaAerobús | 2:10 |
| Guadalajara | Aeromar, Calafia Airlines (suspended), TAR Aerolíneas, VivaAerobús | 0:55 |
| Hermosillo | TAR Aerolíneas (starts Oct. 18, 2021) | 2:00 |
| La Paz | TAR Aerolíneas (starts Oct. 18, 2021) | 1:15 |
| León/El Bajío | Volaris | 1:00 |
| Mexico City | Aeromar, Aeroméxico, Aeroméxico Connect, Magnicharters, VivaAerobús, Volaris | 1:35 |
| Monterrey | Aeromar, Magnicharters, VivaAerobús, Volaris | 1:35 |
| Nuevo Laredo | Magnicharters (seasonal) | 1:45 |
| Querétaro | TAR Aerolíneas, Volaris | 1:25 |
| San José del Cabo | Magnicharters (seasonal) | 2:40 |
| San Luis Potosí | Aeromar, TAR Aerolíneas | 1:05 |
| Tijuana | VivaAerobús, Volaris | 2:45 |
Panama
| City | Airlines (direct flights) | Flight time (h:mm) |
| --- | --- | --- |
| Panama City | Copa Airlines | 4:45 |
Spain
| City | Airlines (direct flights) | Flight time (hh:mm) |
| --- | --- | --- |
| Madrid | World2Fly (planned start August 2022) | 12:55 |
UK
| City | Airlines (direct flights) | Flight time (hh:mm) |
| --- | --- | --- |
| London (Gatwick) | TUI Airways | 11:40 |
| Manchester (Manchester) | TUI Airways | 11:20 |
USA
| City | Airlines (direct flights) | Flight time (h:mm) |
| --- | --- | --- |
| Atlanta | Delta Air Lines | 4:05 |
| Austin | American Airlines (begins Nov. 5, 2021), Southwest Airlines (begins Mar. 12, 2022) | 2:15 |
| Charlotte | American Airlines (seasonal) | 4:05 |
| Chicago (O'Hare) | American Airlines (seasonal), Frontier Airlines (seasonal), United Airlines (seasonal) | 4:35 |
| Dallas-Fort Worth | American Airlines, Spirit Airlines, Sun Country Airlines (seasonal) | 2:40 |
| Denver | Frontier Airlines (seasonal), Southwest Airlines, United Airlines | 3:20 |
| Detroit | Delta Air Lines (seasonal) | 5.10 |
| Houston (Hobby) | Southwest Airlines | 2:30 |
| Houston (International) | Spirit Airlines, United Airlines, United Express | 2:30 |
| Las Vegas | Air Canada (seasonal), Air Transat, Frontier Airlines, Sun Country Airlines (seasonal) | 2:30 |
| Los Angeles | Alaska Airlines, American Airlines, American Eagle (seasonal), Delta Air Lines, Spirit Airlines, United Airlines (seasonal) | 2:50 |
| McAllen | Aeromar | 1:45 |
| Minneapolis/St. Paul | Air Transat (seasonal), Delta Air Lines (seasonal), Sun Country Airlines | 4:20 |
| New York City | JetBlue | 5:50 |
| Newark | United Airlines | 5:45 |
| Phoenix | American Airlines, Southwest Airlines | 3:35 |
| Orange County | Southwest Airlines | 2:50 |
| Portland, OR | Alaska Airlines (seasonal) | 4:15 |
| Salt Lake City | Delta Air Lines | 3:35 |
| San Diego | Alaska Airlines | 2: |