Welcome to our Puerto Vallarta Travel Guide. Find useful, fun information and find out why it's such a great idea to plan your trip to this safe and friendly tropical Mexican destination.
You may be asking yourself: Where is the PV? Why should I visit it? or maybe - Isn't Mexico dangerous? You'll find answers to this, and much more, on our Compact City Guide and the rest of the site.
Vallarta is not like many tourist traps, it is NOT an artificial creation specifically made to strip tourists from their cash, with innumerable expensive parks, shops, and luxury resorts. No, our town is not like that (read more).
Puerto Vallarta was actually a small Mexican town in the state of Jalisco, that became a world-class beach destination by chance, luck and some local effort too, plus the place is beautiful. Hollywood discovered the place in the 1960's. John Huston brought the jet set along with him, they fell in love with the picturesque town and, little by little, the place has evolved into a very welcoming and modern city with lots to do, many restaurants and fabulous hotels & resorts.
"Vallarta" or "PV" - as it is known to locals - is a typical Mexican "pueblo" (now a BIG pueblo). It has experienced growth and has modernized certain areas of the city, but it remains faithful to the cherished Mexican traditions and heritage, such as parades in honor of the Virgin of Guadalupe or the bands that play at the town plaza kiosk, where locals and tourists alike dance to the rhythms enjoyed through many generations.
The city's downtown area is a place where nature and art coexist. Strolling along the Malecon you'll enjoy dozens of open-air sculptures created by famous local and international artists. There are art galleries on just about every corner, events and showings abound year-round with artists from around the block or around the world.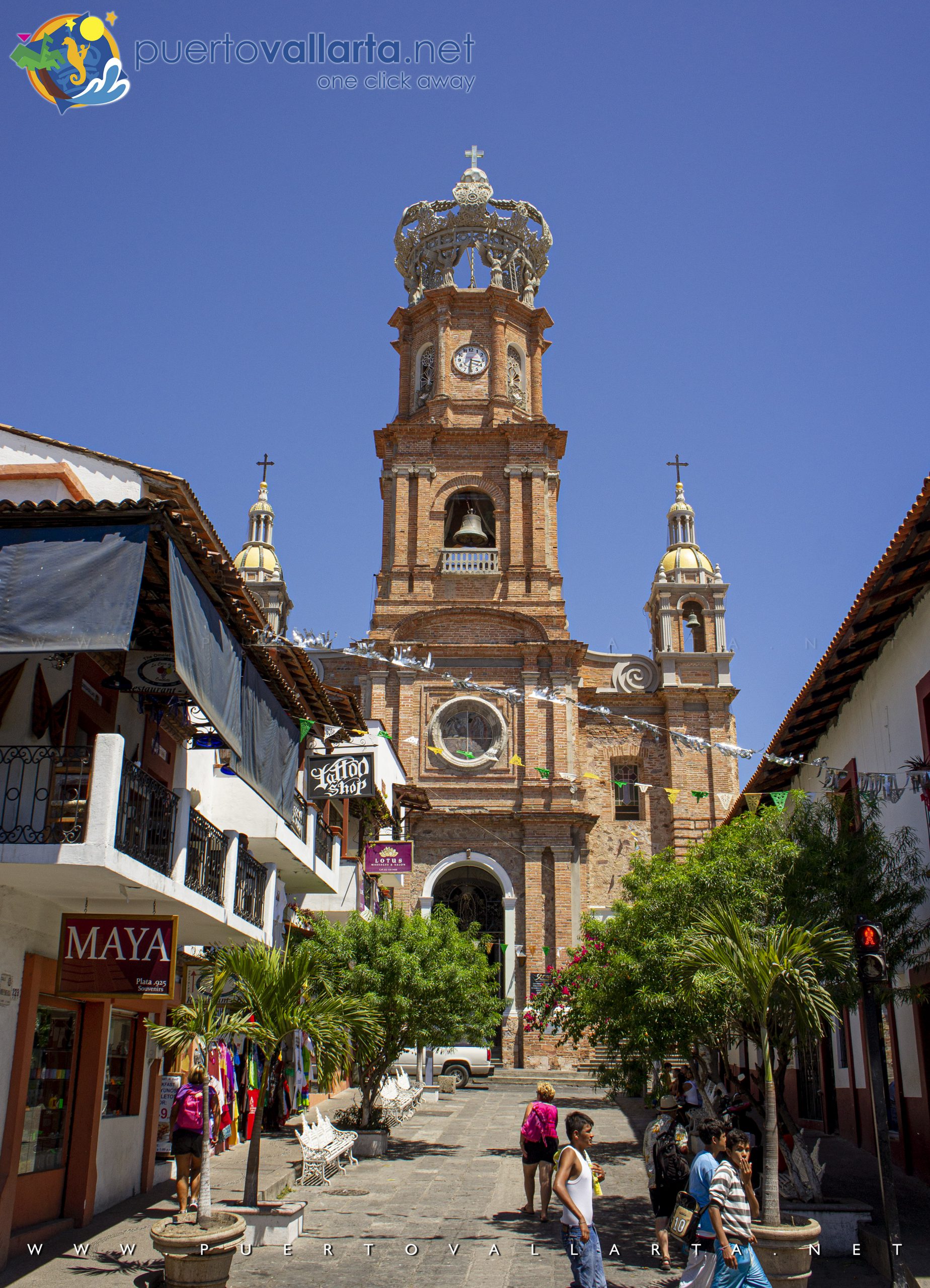 If you check out our list of things to do in town, you'll notice that most of them are free, a walk along the Malecon, a trip to Mismaloya or the southern beaches (yes, you may need to pay a water-taxi, but not to enjoy the beach), a stroll on the Marina Vallarta boardwalk, the Old Town, Los Muertos Beach and Pier, Cuale River Island, etc., you can do it all and save your money for World-class gourmet lunch or dinner at one of the hundreds of restaurants around town or even a romantic sailing trip around the bay.
There are 55 miles of the beautiful Banderas Bay to enjoy, both land and in the water are teeming with life (dolphins, manta rays, sea turtles and between November and March, even Humpback Whales).
Enjoy the surrounding nature, the Sierra Madre Mountains, bask on the golden sand beaches in the warm sunny weather, take trips north to the smaller towns (Bucerías, San Pancho, La Cruz) or up in the mountains to small colonial style towns like San Sebastian del Oeste, Mascota or Talpa de Allende where time stands still. You can even take a day trip to Tequila or southward to beautiful beaches like Mismaloya or isolated ones like Colomitos or Yelapa.
This is also birdwatching heaven, with more than 315 species of birds, including the Blue-Footed Booby on the Marieta Islands. Tours and activities abound, including zip line canopy tours, swimming with dolphins, golf, cruises, whale watching, scuba, snorkeling, surfing, water parks, a zoo, you can visit the award-winning Vallarta Botanical Gardens and much more.
So Puerto Vallarta is actually a place where ultramodern 5-star hotels coexist with cobblestone streets; Michelin Guide restaurants coexist with street-side food stands that offer simple, but fresh, seafood or typical Mexican tacos. Find out more.
When you mix all this together and then add a dash of characters unique to our city, such as artists and expats from around the globe who find inspiration here, along with a tourist industry committed to excellence and first-class service, this magical medley will also pull you into its spell. The final magic touch is the open, friendly personality of each and every citizen of PV, a welcoming spirit that has earned this fair city the title of the "World's Most Friendly City" by Condé Nast Travel magazine.
There you have it: magic is all around you in Puerto Vallarta and Jalisco.  All you have to do is take a minute, watch and before you know it, you'll be a part of the magic too. Continue reading on what to do here or more about our town.