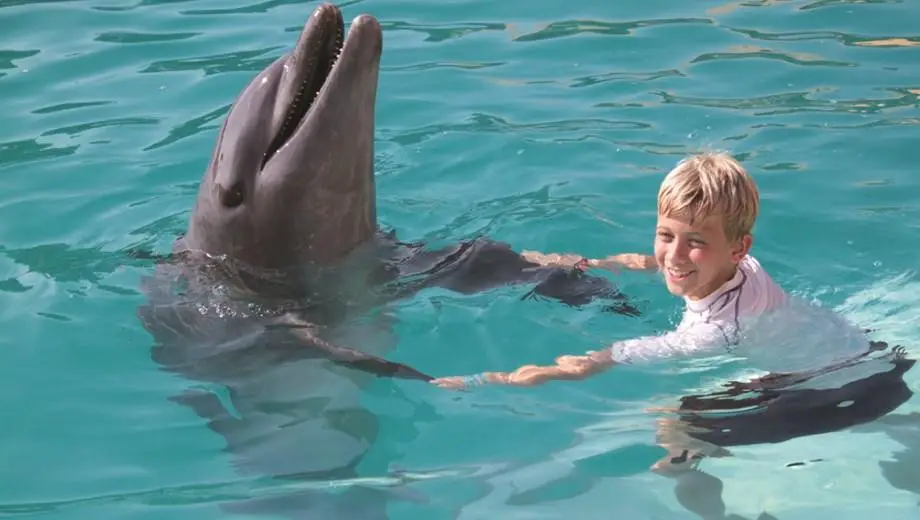 Duration
20 minutes
---
Tour Timings
10:00 A.M., 11:00 A.M., 12:00 P.M., 1:00 P.M., 2:00 P.M., 3:00 P.M., 4:00 P.M.
---
Meeting Points
Nuevo Vallarta. Directions will be included with your confirmation.
---
Tour Days
Sunday, Monday, Tuesday, Wednesday, Thursday, Friday, Saturday
---
Tour Type:
Cruise Passengers, Dolphins & Sea Lions, On the water
Description
Our Dolphin Connection encounters are perfect for whole families because they give adults, kids and non-swimmers of all ages a chance to interact with these friendly and intelligent mammals. For 20 minutes, you will learn all about the Pacific Bottlenose from the best possible teacher – one of our cheerful dolphins! As part of this small-group program, you'll communicate with your dolphin like the professionals do and make a new friend for life. The experience will be a truly magical one that you will never, ever forget.
A Dolphin Connection for the Whole Family
Under the guidance of our knowledgeable marine mammal specialists, children as young as one can bond with a dolphin through touch and play. Have you ever wondered what a dolphin feels like? Or dreamed of giving one of these playful animals a hug and getting a wet dolphin kiss in return? You and your family will do all that and more in our specially designed shallow-water lagoon.
Your program will begin with a short poolside introduction to our dolphins! Our trainers will share information about the Pacific Bottlenose's fascinating anatomy, what makes them unique among marine mammals, their history with human beings and their underwater social lives. From there, you'll get into the water and start interacting with your new dolphin friend. You'll feel their sleek skin, give them a treat, play with them, give them a smooch and even talk with them using hand signals.
Communicate Directly with the Dolphins
As part of our Dolphin Connection, you will learn to talk to a dolphin using the same hand signals that professional marine animal trainers use. On our shallow water platform, you'll be able to concentrate on the experience of getting to know your dolphin and letting them get to know you. Bonding is the focus of this dolphin encounter, and you'll discover that these curious creatures are just as interested in learning more about you! Throughout the encounter, you will feel the warmth and sense the intelligence of what we believe are the ocean's friendliest creatures.
---
Includes
---
What to Bring
Swimsuit
Biodegradable sunblock
Money for souvenirs & photos
Towel
---
Restrictions
Infants between 1-4 years old are FREE when accompanied by a paying adult (16 or older). Guests must call to confirm the FREE infant space.
Each child between the ages 5 and 11 must be accompanied by a paying adult (16 or older).
Child prices applies to children ages 5 to 11
Cameras are only allowed in the guest observation area
No jewelry or sunscreen allowed
Life jackets are provided and required
Each dolphin program is unique and based upon our groups, specialists and dolphins
All of our programs are designed with our dolphins' wellbeing in mind
Expecting mothers are restricted
---