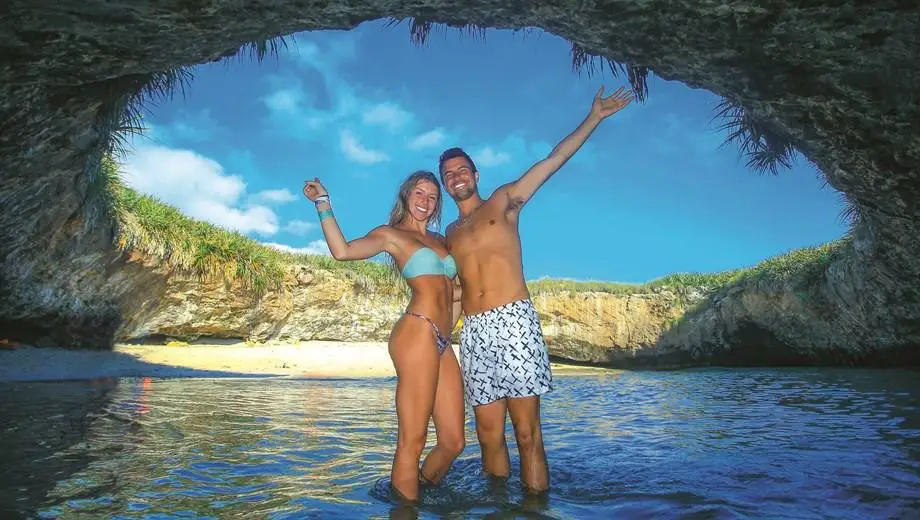 Duration
4 hours
---
Tour Timings
8:40 A.M., 9:00 A.M.
---
Meeting Points
Tour Office in Puerto Vallarta. Directions will be provided with your confirmation.
---
Tour Days
Sunday, Wednesday, Thursday, Friday, Saturday
---
Tour Type:
Ecotour, On the water, Outdoor Activities, Sea Adventures, Sightseeing, Snorkeling
Description
Playa Del Amor, commonly referred to as the Hidden Beach of Puerto Vallarta, is located in the Marietas Islands 22 miles west off the shore of Puerto Vallarta, Mexico. The beach features beautiful blue waters, all encased within an island cavern that only opens up to the sky above and the Pacific Ocean.
Searching for a breathtaking, secret beach? Mexico has many to offer. You just have to know where to look. Thankfully, our team is here to help. On our Marieta Islands Hidden Beach tour by the Pacific Ocean, we take you to one of the most beautiful, ecologically-diverse island paradises in all of Mexico. Take a walk on the iconic Lover's Beach, snorkel and explore the waters, and glimpse humpback whales from our whale watching boats. To help protect this beautiful, natural area, our team proudly donates a portion of each tour's proceeds toward the protection and the study of the Marietas National Park. Read on to learn more about this unforgettable tour, and book with us now!
These islands are full of ecologically diverse sanctuaries with a world-renowned beach nestled just out of sight. On our tour, you'll get a chance to take a walk on Playa del Amor, commonly known as "Lover's Beach," and enjoy its remarkable secluded beauty.
Exclusive access to the hidden beach isn't all this tour has to offer. We'll cruise around the islands on an eco-tour as we point out the unique wildlife and numerous species of birds. Enjoy an informative boat ride with our expert guide, and you may even witness a show from the nearby schools of dolphins as they leap out of the water throughout your journey.
---
Includes
Snack
Life Jacket
Water
Snorkel
Helmet
---
What to Bring
Swimsuit
Towel
Light Sweater
Hat
Biodegradable sunscreen
Extra cash for photos and souvenirs
An additional $90-peso conservation fee per person will be collected at check-in. A portion of the proceeds go toward local surveillance and conservation of the islands.
---
Restrictions
Minimum age: 10 years
Life Jackets Mandatory
Access to the hidden beach is not guaranteed and is dependent upon sea conditions
Use of sunscreen is prohibited in the Hidden Beach
Participants must be fit and able to swim 75m (200ft) from boat to beach. (Distance may vary based on sea conditions)
Very limited availability
People who suffer from heart disease, back or spine problems cannot participate in this activity
Expectant mothers are restricted from this tour
Due to federal regulations, and in an effort to protect the flight path of endemic birds, drones are prohibited in this tour. We appreciate your attention to this important policy.
---