Full walking tour of Camarones Beach, Downtown Puerto Vallarta (17/Dec./2021)
One of the cleanest and most important tourist beaches in Puerto Vallarta, Camarones Beach (Playa Camarones, "Shrimp Beach") is a wide piece of clear sand that extends from Villa Premiere on the north side to Jesus Langarica street right by Hotel Rosita. The beach also ends very close to the northern end of the Malecon in downtown PV.
Map of Camarones Beach (Playa Camarones), downtown Puerto Vallarta
This area includes dozens of diverse shops, bars and restaurants. Excellent sunbathing beach, you'll also enjoy the food and drinks at one of the many bars and restaurants that line the shore. You can partake in various activities such as parasailing, jet-skiing, SUP, or just relaxing on the shore.
The beach is some 90 feet wide and stretches for 2100 ft from the breakwater in front of Villa Premiere Hotel to the north, all the way to Jesus Langarica Street, right beside Hotel Rosita to the south.
Camarones Beach (Playa Camarones), drone view looking south, downtown Puerto Vallarta
Camarones Beach has been awarded a Blue Flag certification, an certification given to beaches that are clean, have low levels of pollution (strict standards), offer environmental protection, and that have managed to balance human presence without compromising the ecosystem. Playa Camarones is also one of the few beaches worldwide that can have this award despite being located in an urban area, something that clearly shows the city's commitment to take care of its beaches and surrounding sea and wildlife.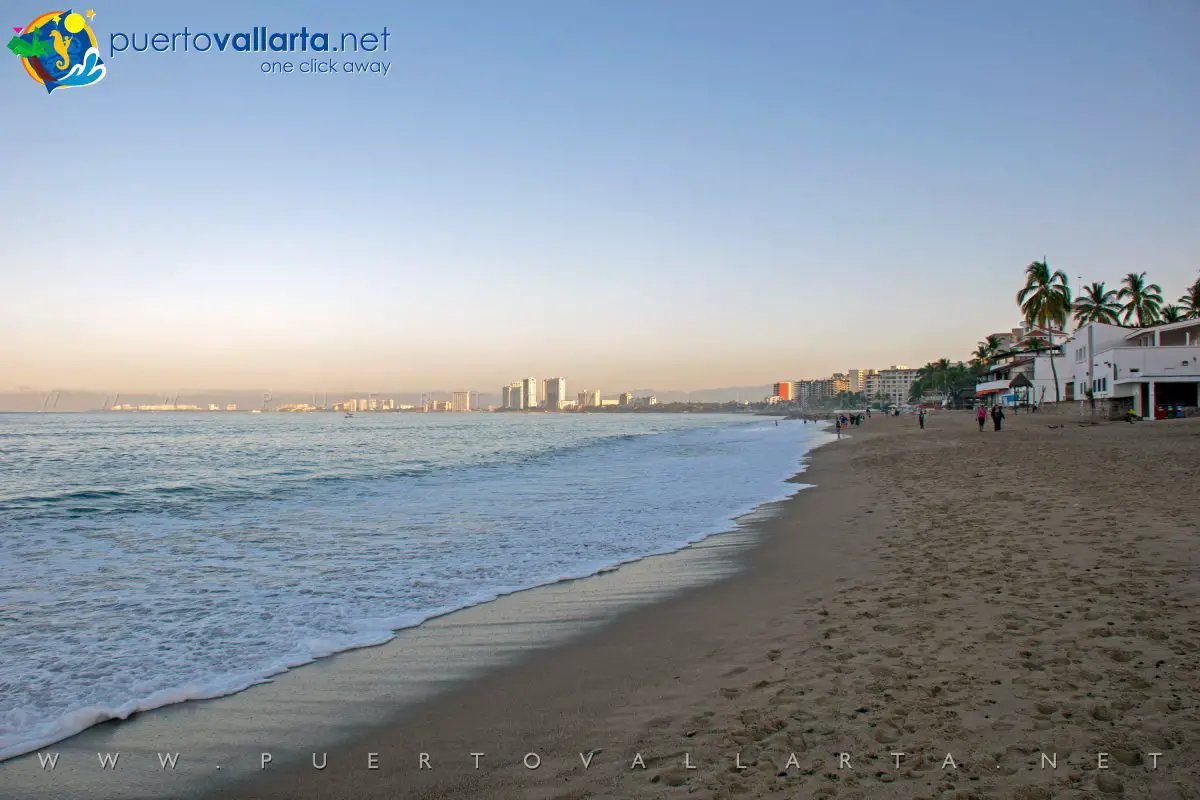 Playa Camarones beach, Downtown Puerto Vallarta
Where is Camarones Beach (Playa Camarones)
Aerial view of Playa Camarones Beach (Photo: Allan Scheie)
It is located along the edge of the northern part of downtown Puerto Vallarta. It starts on the north side by Villa Premiere, you can go in along San Salvador street, it's 2000 feet long and ends to the south by the rocks that are the foundations of the path that passes in front of Hotel Rosita and reaches "The Millennia" sculpture on the north end of the Malecon.
What to do at Camarones Beach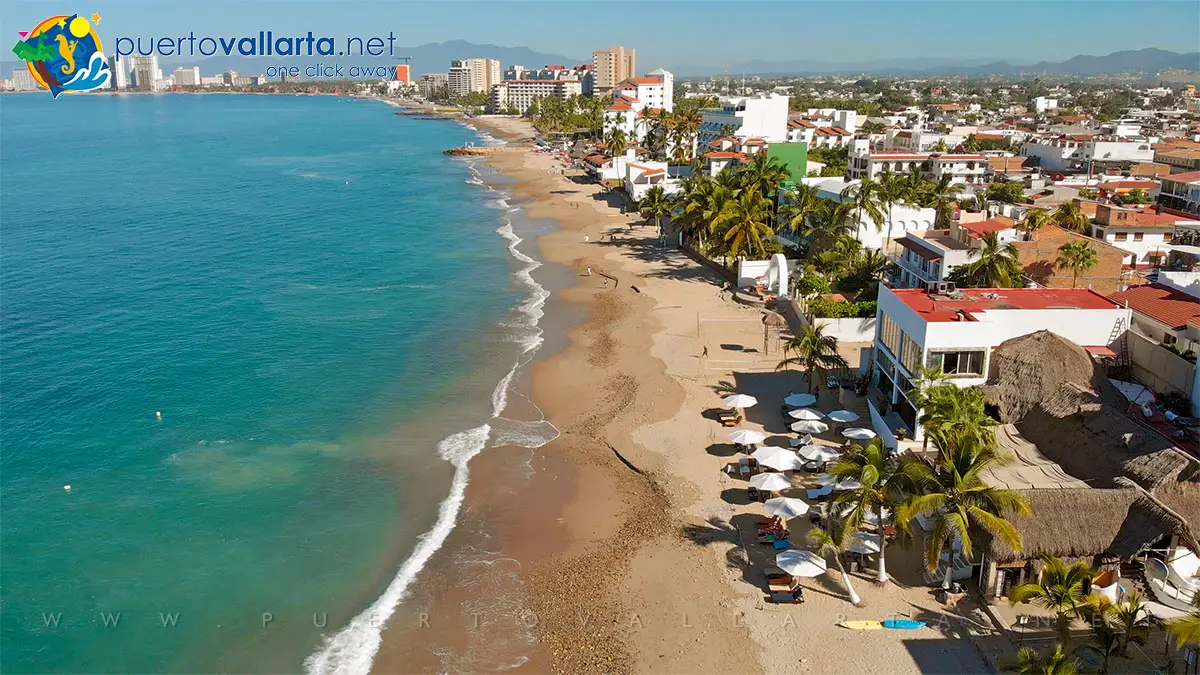 Camarones Beach looking north, downtown Puerto Vallarta Mexico
In general, it has a sandy surface, smooth and soft so it is great for practicing sports on the shore and long walks at sunset, many people enjoy spending a family weekend on the beach. It is also a common stroll for those who visit the beach with their pets, which is why you can, from time to time, find a furry friend during your walk along the beach. The waters are crystal clear and although the shore is a bit rocky at times when walking into the ocean the waves are calm, so it is a good place to swim peacefully. The southern part of the beach is very popular with those that practice shore fishing.
Gastronomy is great at Camarones, the local food is well represented in this area, the popular palapas are quite close and you can enjoy a plate of shrimp or fish accompanied by a good drink, some popular restaurants on this beach are El Barracuda and Mangos Beach Club.
Camarones Beach, downtown Puerto Vallarta
This beach is also a stronghold of the LGBT community, and in its calendar of events each year, a considerable number of meetings take place here, some of the parties and blowouts until the early hours. Other communities, such as the Expats, organize events in the nearby dining halls and some weekend barbecues on the shore. Camarones Beach is a meeting point for locals and foreigners alike.
As I already mentioned, this beach offers several options for sports and leisure activities, such as Stand-up Paddle (SUP), jet ski, parasailing, boat or horse rides and many more options for those who are not satisfied with just sunbathing.
How to get there
There are many access points to Camarones beach, this one by Hotel Villa Premiere
Getting to the beach is easy, all the streets that go to the west from Mexico Avenue (Avenida México) in downtown PV take you to the beach. If you are outside the downtown area you can get there quickly, any bus that has a "Centro" sign will go there. Do not hesitate to ask if, in doubt, you'll find out just how helpful people are here.
If you are coming from the main square or the Malecon, getting to Camarones Beach is very easy. Walk up the boardwalk all the way to the corner of 31 de Octubre street, you'll know you're there because Hotel Rosita is on the NW corner. Turn left along 31 de Octubre to the Millennia Statue and walk northward along the path there. After 250 feet (75m) you'll arrive at some stairs that take you down to Camarones Beach, right by Jesús Langarica street and the NW corner of Hotel Rosita.
Where to stay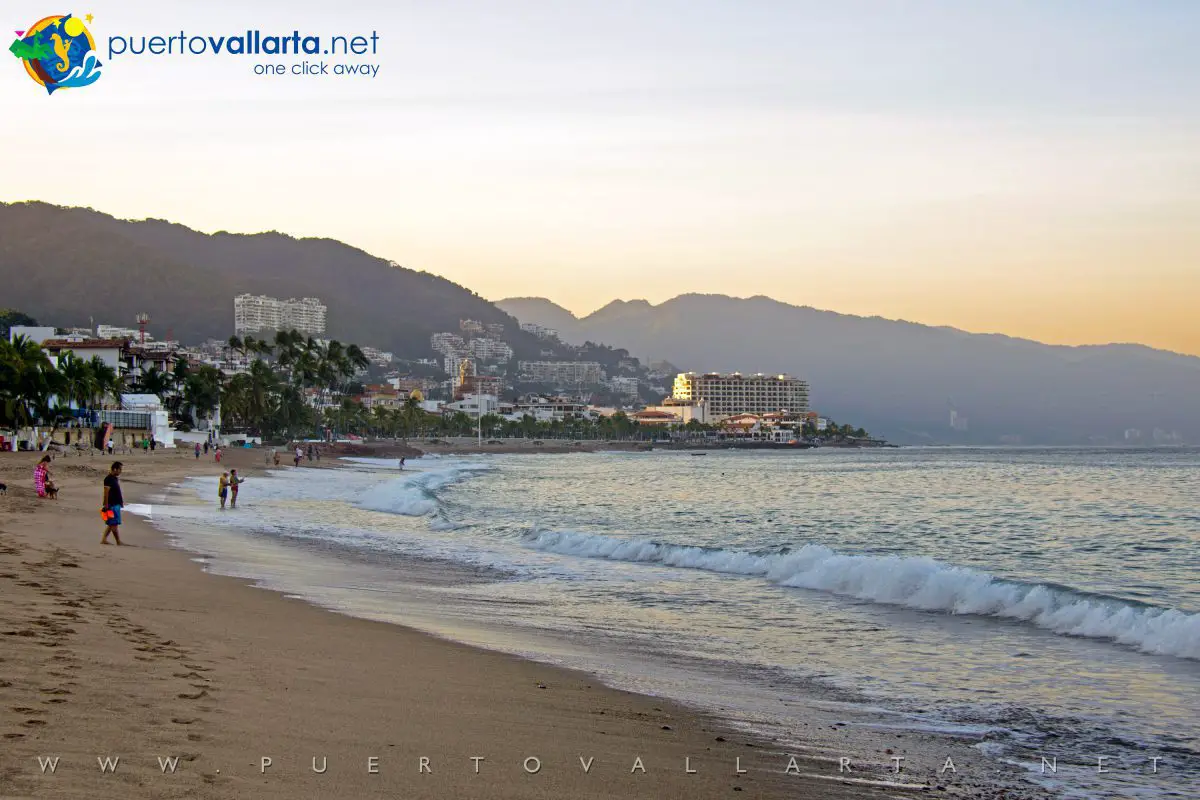 Downtown view from Playa Camarones
If you are looking for a nearby lodging option, Playa Camarones has the advantage of being located in the heart of Puerto Vallarta so you will find accommodations in any category and price.
Some outstanding accommodations in the vicinity are:
Hotel Portonovo
Hotel El Pescador
Hotel Rosita
Hotel Mocali
Buenaventura Grand Hotel and
Villa Premiere Boutique Hotel
Conclusion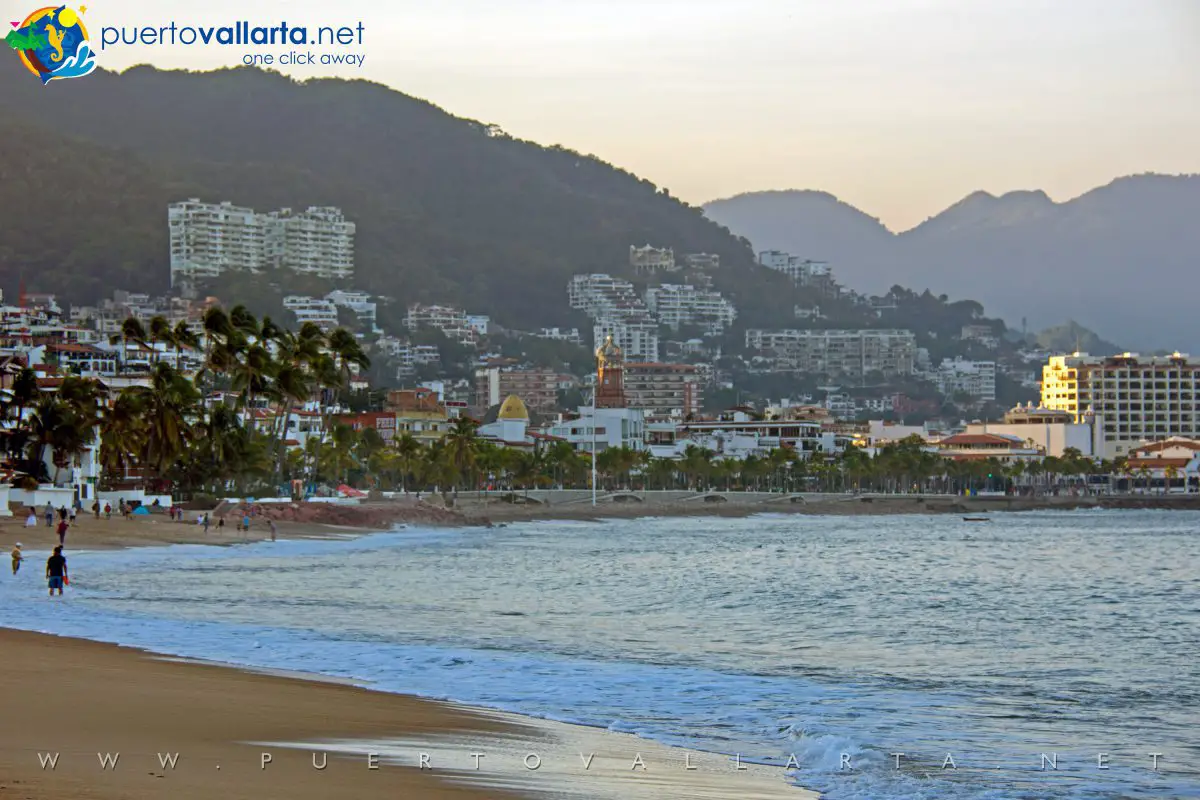 Camarones Beach, downtown Puerto Vallarta, view of the Malecón and the Parish in the distance
Camarones Beach in downtown Puerto Vallarta is irrefutable proof that human activity does not always result in the destruction of an ecosystem, that with appropriate regulation we can protect our environment and can be a sanctuary of nature for both locals and visitors. Playa Camarones has earned national and international recognition, some