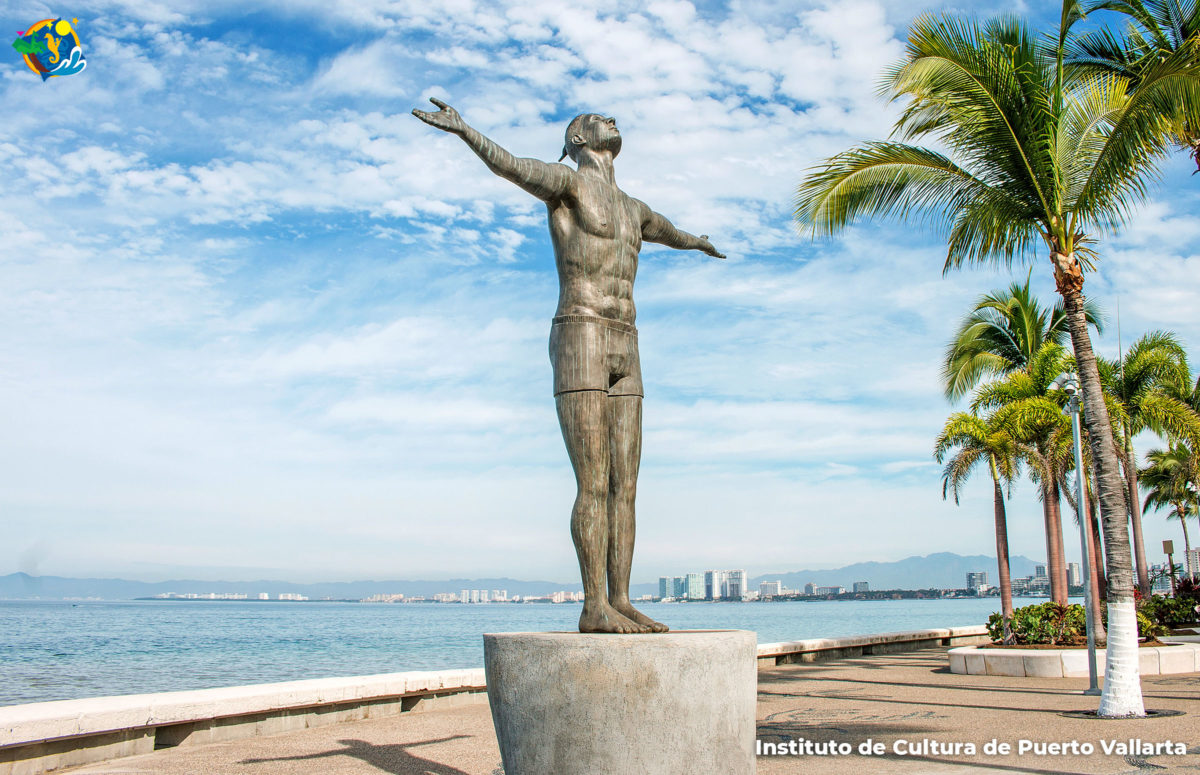 Lluvia (Rain) an impressive sculpture by Jovian on the Malecon
Introduction
Lluvia (Rain) is a new monumental sculpture unveiled December 10th, 2020 on the Malecon.
It depicts a young man standing with outstretched arms looking upward into the sky (or rain). It can remind you a bit of Christ the Redeemer in Rio de Janeiro. This figure not only seems to represent the connection of humans and nature but also seems to offer a welcome embrace (or hug) to all visitors.
It becomes the 34th sculpture placed along the edge of the sea in Puerto Vallarta.
About the sculpture
Lluvia by Jovian on the Puerto Vallarta Malecon
Mexican artist Jovian created "Lluvia", a tall impressive sculpture that stands at 3.5 meters tall (11.5 ft) and weighs 650 kilograms (more than 1400 pounds) that now becomes another important component of this open-air Art Gallery by the edge of the sea.
This very valuable sculpture was donated by the artist through Galeria Corsica to the Instituto Vallartense de Cultura (IVC) and the city.
Lluvia (2020) Jovian, night view
The official unveiling ceremony was presided by Arturo Dávalos (Puerto Vallarta's Mayor), Candelaria Tovar (Muncipal DIF president), Jean Pierre Renucci (Galeria Corsica owner) and Marina de los Santos (Vallarta Cultural Institute director).
Arturo Dávalos Peña, stated that "this beautiful sculpture will emblazon the Puerto Vallarta Malecon". Jean Pierre Renucci, stated that together with Jovian, the joint donation is an expression of their gratitude "to a city that has given us a lot and it is only fair to give back what it deserves."
Inspiration
Jovian comments on his inspiration for the sculpture:
"I conceived the piece as a representation of Puerto Vallarta and I decided to call it 'Rain' as rainy afternoons in Puerto Vallarta are spectacular.
I tried to present a man with open arms as a symbol of openness, positively receiving what the world offers him with a gesture of happiness and fulfillment eyes looking up into the rain without that affecting his peace but rather enjoying the water that falls on his body and making him feel free and alive.
That is what Vallarta is for me, a city with great openness, which welcomes locals and strangers with open arms. I have never known another city where people who come from other places feel so "at home". It is a lively city, with great freedom and diversity and it is always there, despite inclement weather, good and bad seasons, climatic phenomena, etc., undaunted waiting for new inspiration, new people, more water brought by the rains, in peace, enjoying what life gives it and transmitting that happiness to those who come to visit it."
Where is the sculpture?
As most sculptures in the downtown area, it is located where one of the sidestreets ends on the Malecon (Paseo Díaz Ordaz).
In this case, Lluvia is placed where Galeana street intersects with the seaside boardwalk, some steps from the Malecon Lighthouse.
Jovian
Biography
José Villavicencio Anaya, known by his artistic name Jovian, was born in Mexico City in 1965, where he studied International Relations at the Universidad Iberoamericana. His artistic interests led him to join the field of art, first as a manager and gallerist.
In the middle of the last decade, he started off on a new facet as an artist, venturing into painting, sculpting and object creation. Although he is self-taught, he has sought to set the foundations for his vocation by being part of various workshops:
"Des-Construcción" painting workshop, Agustín Castro López, Los Mangos Library, Puerto Vallarta, Jalisco, Mexico (2010)
Painting workshop "Of the Figurative, the Abstract", Agustín Castro López, Los Mangos Library, Puerto Vallarta, Jalisco, Mexico (2011)
Anatomy for Sculptors workshop, Rodrigo Vargas, in Mexico City, Mexico (2012)
Sculpture Techniques and Materials workshop, Jonathan Gómez, in Mexico City, Mexico (2012)
Figurative Modeling with Plasticine workshop, Jonathan Gómez, Mexico City, Mexico (2014)
Drawing and painting course "Reinterpreting the Human Figure", Ulises Licea, in Tepoztlan, Morelos, Mexico (2015)
"Arte Povera" workshop, Ulises Licea in the garbage dumps of Ciudad Nezahualcoyotl, of the State of Mexico, Mexico (2016).
His artistic work is known for his mixing multiple techniques and materials within a sculpture. His themes reflect the capacity for transformation and abstraction, through which he addresses current issues and social interests, with powerful and lively creations that put him in the vanguard of Mexican artistic postmodernity.
Onírico. Jovian
La muestra encuentra Onírico, una palabra que deviene del vocablo griego que puede entenderse como "ensueño", y que se emplea para nombrar a aquello que sale del mundo de las alucinaciones, lo irreal o de la fantasía que transcurre dentro del imaginario personal. pic.twitter.com/cixdHYcEGR

— Museo de Arte Contemporáneo Ateneo de Yucatán (@museo_macay) April 20, 2020
Currently, his work is part of private and public art collections such as the Patrimonial Acquis of the Ministry of Finance and Public Credit, Museum of the City of Mérida, San Luis Potosí Autonomous University, Metropolitan Museum of Monterrey and the Fernando García Ponce Museum, MACAY. He has been part of the Payment in Kind Program since 2017.
Individual Exhibits
"Pop Icons", Corsica Gallery, Puerto Vallarta, Jalisco, Mexico and San Jose del Cabo, Baja California Sur, Mexico (2012)
"Divas", Corsica Gallery, Puerto Vallarta, Jalisco, Mexico and San Jose del Cabo, Baja California Sur, Mexico (2013)
"Objects", Corsica Gallery, Puerto Vallarta, Jalisco, Mexico and San Jose del Cabo, Baja California Sur, Mexico (2014)
"Fashion Victims", Asia Contemporary Art Show, Hong Kong, People's Republic of China (2016)
"Sueños de Papel", Corsica Gallery, Puerto Vallarta, Jalisco, Mexico and San Jose del Cabo, Baja California Sur, Mexico (2016)
"Bronze", Corsica Gallery, Puerto Vallarta, Jalisco, Mexico (2017)
"Fashion Victims", South Side Gallery, Puerto Vallarta, Jalisco, Mexico (2017)
"Jovian", Hotel ME Los Cabos; Cabo San Lucas, Baja California Sur, Mexico (2018)
"All About Dogs", Corsica Gallery, Puerto Vallarta, Jalisco, Mexico (2018)
"Tattooed", South Side Gallery, Puerto Vallarta, Jalisco, Mexico (2018)
"Fashion Victims", Museum of the City of Mérida, Yucatán, Mexico (2018)
"Métissage", Caja Real Museum, UASLP, San Luis Potosí, SLP, Mexico (2018)
"Traspolaciones", Museum of Clay, Metepec, Estado de México, Mexico (2018)
"Fashion Victims", Metropolitan Museum of Monterrey, Monterrey, Nuevo León, Mexico (2019)
"Oneiric", Fernando García Ponce Museum MACAY, Mérida, Yucatán, Mexico (2020-2021)
"Construction-Deconstruction", Fernando García Ponce Museum MACAY, Mérida, Yucatán, Mexico (2020-2021)
"Oneiric", Corsica Gallery, Puerto Vallarta, Jalisco, Mexico (2021)