This angel was to replace a previous one carved of stone that was swept away by the 2002 hurricane that grazed Puerto Vallarta.
Behind the Los Arcos amphitheater (the Arches were part of a Hacienda in Guadalajara) you'll find "Angel of Hope and Messenger of Peace" (Angel de la Esperanza y Mensajero de la Paz) by Hector Manuel Montes García from 2007.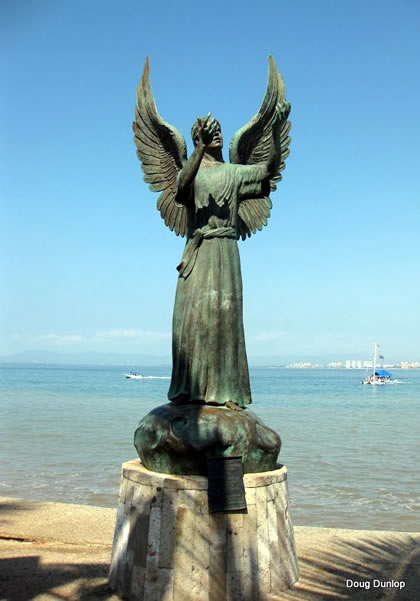 It is one of the Malecon's newer sculpture. Héctor Manuel Montes García is a Vallartan artist.
This bronze sculpture was unveiled by the Municipal President, Javier Bravo Carbajal, on August 6th, 1997 and was placed in the same place where a previous angel sculpture carved in stone had been but was swept away by Hurricane Kenna in 2002.
A plaque at the base of this sculpture states: "Always hoping for wellbeing and equality for all. Wisdom, love and above all peace for all of humanity." (Siempre con la esperanza de un bienestar e igualdad para todos. Sabiduría, amor y sobre todo paz a toda la humanidad).
This statue was removed while the Malecon was being rebuilt, in July 2012 the local government approved to replace it between the sea and Los Arcos (the Arches), but it still isn't there. Once it's there, please inform us.
Author: M. A. Gallardo