Many visit Puerto Vallarta to relax and chill out on the beach, but for those that enjoy learning more about a culture, those that enjoy deals and new experiences, shopping is a great opportunity.
Among the products that you may find interesting are silver jewelry, blown glass objects, local pottery, sarapes, clothing, masks and other artisan products. Puerto Vallarta also has a reputation as an art center, with many fine art galleries, something that sets it apart from most Mexican beach resort cities.
Visitors have the unique opportunity to purchase pieces by some of Mexico's most well-known contemporary painters and sculptors, as well as internationally renowned artists.
Excellent shops are scattered throughout. Some are near the beach, some in major hotels and many are located in the main downtown shopping area on the Malecon and along Juárez and Morelos Streets.
Some stores close from 2-4 PM. Most open around 10 AM and stay open until 8 PM. Malls (mentioned below) stay open all day, normally from 10-11 AM to 9 PM.
Markets & Flea Markets
Mercado Municipal Río Cuale
Vallarta's main flea market, the Mercado Municipal Río Cuale. It exists since the start of the XX Century but really took off in the late 1970s. An architectural project of Alejandro Zohn built between 1977 and 1979.
Mercado Municipal Río Cuale
The corridors now house dozens of stalls with a wide selection of items, from local handicrafts, typical clothing and jewelry at very attractive prices, remember to haggle. In the past, this market offered local produce too. On the second floor, you'll find small eateries that offer local traditional Mexican food, lunch and dinner.
Other flea markets
Pueblo Viejo Mercado de Artesanías
Pueblo Viejo Mercado de Artesanías
The Old Town Farmer's Market
(Open Saturdays from November to May) http://www.oldtownfm.com/ (at Lázaro Cárdenas Park).
Plaza Malecon Flea Market
Plaza Malecón Flea Market
Puerto Vallarta's antique store and art gallery district is along Morelos, one block behind the "Malecon" and also on Corona, a side street. Here you might find an old iron hitching ring for a horse, or maybe a pre-Columbian artifact.

La Colección
Puerto Vallarta is renowned for its pottery and ceramics, beautifully hand-blown glass. Talavera pottery is still made in the area using the same techniques employed by 16th Century Spanish potters.
The Huichol Indians, native to the State of Nayarit which borders closely with Vallarta, produce stunningly colorful pictures made from naturally colored Indian yarns and dramatic beaded painted masks that are loaded with native ritual symbolism.
Malls (Plazas), Supermarkets & Drugstores

Plaza Galerías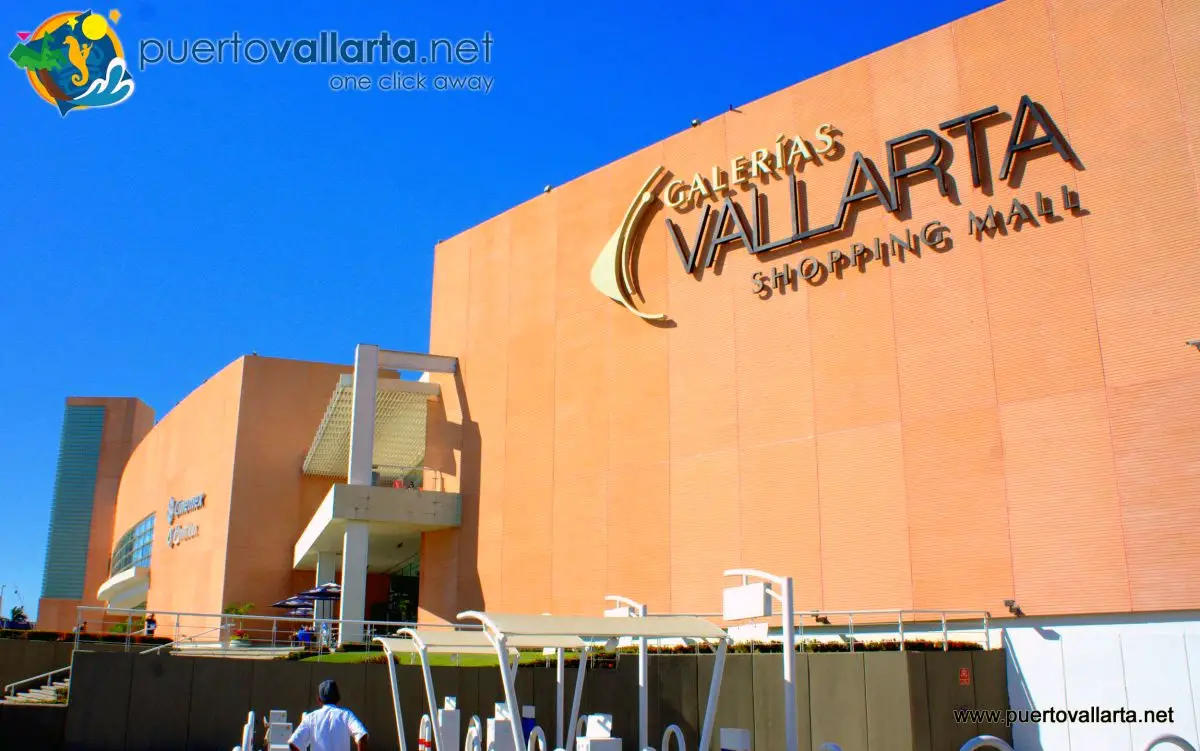 Mall
Some of the main plazas (Malls and Shopping arcades) in Vallarta are listed below.
La Isla
La Isla, in the hotel zone, Shopping is just part of the experience at La Isla Puerto Vallarta Shopping Village. The mall was designed in the spirit of a city square, with a river and fountains. This new outdoor shopping center has more than 80 stores, restaurants and top-level attractions.
Blvd. Francisco Medina Ascencio 2479, Zona Hotelera Norte
Puerto Vallarta, Jalisco 48333
Phone: (322) 209-0054
Macroplaza
Macroplaza, in the hotel zone, a newer plaza inaugurated at the end of 2009 with a Walmart supermarket, includes an Office Depot, Muebles América, a large movie complex (Cinemex) and dozens of smaller stores, restaurants and more in two floors.
Av. Francisco Villa  No. 1526 Col. Los Sauces, Puerto Vallarta.
Phone: 293-1020.
Locate on Map
Plaza Caracol
Plaza Caracol is located in mid-town (Colonia Versalles), in the hotel zone, includes a Soriana Supermarket, has many small shops, banks and boutiques, along with some ice-cream and fast food outlets.
Ampliación Av. Los Tules 178, Zona Hotelera Las Glorias, Puerto Vallarta
Phone: (322) 224-3444
Locate on Map
Plaza Galerías
Plaza Galerías, a large mall located just north of Walmart and Sam's on the Northern Hotel Zone. Many of the most important stores and restaurant chains are located here, along with shops, banks, movies and much more. From the second floor, you have a nice view of the Maritime Terminal and the cruise ships that arrive during the week.
Av. Francisco Medina Ascencio 2920 Col. Educación, Puerto Vallarta
Phone: (322) 209-0923
Locate on Map
http://www.galerias.com/GaleriasVallarta
Plaza Genovesa
Plaza Genovesa, also located in the hotel zone, a short distance south of Plaza Caracol. It offers many small shops, bank offices and a number of restaurants.
Av. Francisco Medina Ascencio, Las Glorias Zona Hotelera, Puerto Vallarta
Phone: (322) 224-4826
Locate on Map
Plaza Marina
Plaza Marina, in the Marina area, is a large mall, a few steps from the International Puerto Vallarta Airport. The plaza offers a Comercial Mexicana supermarket and stores, boutiques, banks, beauty salons and much more.
Blvd. Francisco Medina Ascencio Km. 8, Marina Vallarta
Phone: (322) 221-0060
Locate on Map. More details here.
Plaza Neptuno
Plaza Neptuno right at the entrance of Marina Vallarta, beside the large Whale Statue.
Av. Francisco M. Ascencio, Km 7.5 Col. Marina Vallarta.
Plaza Peninsula

Peninsula Plaza
Plaza Peninsula, not far south in the middle of the hotel zone, by the Peninsula Condo buildings you'll find this more exclusive mini-mall. There are some great restaurants, furniture stores, a Starbucks, various banks and even the Canadian consular offices are located here.
Av. Francisco Medina Ascencio 2485, Zona Hotelera Norte, Puerto Vallarta
Locate on Map
---
There are a number of larger supermarkets and grocery stores in Puerto Vallarta, including Walmart and Sam's, where you can buy food, clothing and just about everything. Read more on these supermarkets click here.
There are numerous "farmacias" (drugstores) around town, where you can buy everything from suntan lotions, medicine and essential food and drinks. Also, consider that many prescription drugs can be bought over the counter in Mexico at prices much lower than in North America and Europe. Read more in our health section.