Feed yourself
Though the newbies in town arrive looking for sun and beaches, those that have been coming back to the place know it for the great food and variety of restaurants available to tempt and pamper their tongues. You can find European style restaurants as elegant as they come with gourmet offerings, but you can just as well get fresh fish grilled on a stick on the beach or the good ol' tacos on the street stand. So, you can be sure you'll find it all here mostly very relaxed and well priced.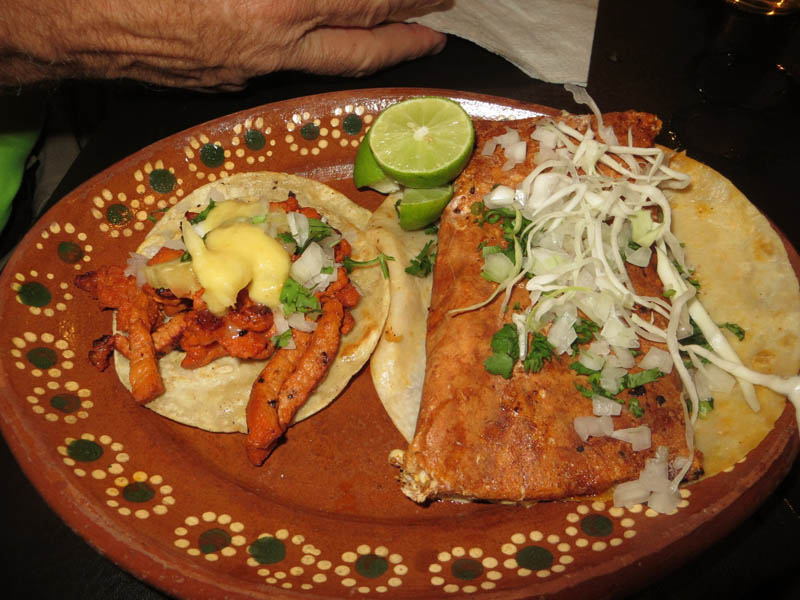 Local food & drinks
Agua de coco: fresh coconut juice, they'll cut open a fresh green coconut, and put the refreshing juice in a plastic bag (common Mexican method for juices). They then normally ask if you want the meat too, if so they cut it open, scrape the soft meat and cut into pieces, the norm in Mexico is to add lime juice and some chile powder, if not, tell them to just give it to you unseasoned.
Agua de Jamaica: a very refreshing and healthy juice made from red hibiscus flowers, great to cool down and with that color (as long as it's natural) you can imagine it's healthily full of antioxidants and stuff ;-)
Aguachile
Ceviche: raw seafood "cooked" by in lime juice. Can be mixed with tomato, coriander, avocado, onion, salt, and spices. The fish used is normally: mackerel, tuna, shrimp, octopus, and squid. can be served on tostadas.
Chilaquiles: a Mexican breakfast favorite, it's made different ways around the country, but in essence, it's salted totopos (what people might normally know as nachos) with a tomato-based sauce on top and then grated cheese that can be melted too. You can add chicken and eggs too and they can be red or green, depending on the tomato used, the red you already know, the green tomato is a Mexican specialty (tomatillo), very tasty, do ask for them without chili "sin picante" if you are not used to the strong spices used in Mexico.
Chiles en nogada
Coctel de camarones
Pescado embarazado (en-vara-asado)
Pescado zarandeado
Pozole
Raicilla: moonshine Mezcal, due to the production process is quite smokey and some say it's made with agaves that have hallucinogenic substances…
Tacos al pastor: tasty tacos made with pork meat cut from a spit shawarma style, add all the sauces you like, some parsley, onion and you can top it off with a piece of pineapple too, that they have there for the occasion.