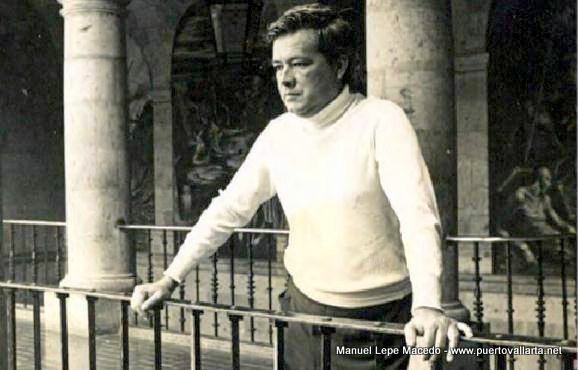 Manuel Lepe was born in Puerto Vallarta (Jalisco, Mexico) on April 17, 1936, a date the city celebrates annually as "Manuel Lepe Day".

The third of 11 sons and daughters of Mr. Francisco Lepe and Mrs. Dionicia Macedo.

His paintings with small angels, children, and the landscapes of Puerto Vallarta are part of Presidents' and Art Connoisseur collections around the world.

The Queen of England, Elizabeth II, owns one of his works on exhibit at the Royal Mews Museum, Windsor Castle, UK.

In 1976 he is named "True Painter of Mexico and Jalisco" by the Mexican President Luis Echeverría.

He died of a brain aneurysm on September 9, 1984, in Guadalajara, Jalisco, Mexico.
A mosaic mural, "Fishmongers" located in front of the Naval Museum on the Puerto Vallarta boardwalk (Malecon)
Born in Puerto Vallarta on April 17, 1936, Manuel Lepe transformed his paintings into an embassy of colors, spreading the message of the city's beautiful scenarios, and its most pure traditions, all over the world.
His work includes more than 2500 paintings spread all over the world in the hands and estates of many famous and important celebrities, including Elizabeth Taylor, Ronald Reagan, Queen Elizabeth II, John Huston, and many more, people that purchased them because they understood that their simplicity actually reflected a pure and unique art form.
The following content was mostly written by city historian, Juan Manuel Gómez Encarnación.
Puerto Vallarta painted its essence into the young mind of Manuel Lepe Macedo.
Manuel was a child in the 1940s, Vallarta at that point in time, knew nothing of its prosperous future in the world of tourism, but it offered contrasting white houses against the multitude of green jungle shades and the pristine emerald-colored waters of the bay.
It was a candid Vallarta; isolated by the rugged surrounding geography. This small town was one large family and they spoke the language of solidarity. 
This town marked him with its games, its traditions, shapes, colors, perfumes, sparkles and love… 
Thus, Manuel came out of his childhood transformed into a magician, a poet full of colorful verses, enchanted by the magic of his surroundings.
That Vallarta, with its transparent atmosphere, was able to express its dreams and longings through this, its child.
Manuel Lepe Macedo was able to stand out within the naïf artistic style due to his honesty and the correct use of color without having more studies and academic qualifications other than some suggestions from other people and what he received during his first four years in primary school.
One canvas after another, painting after painting, Manuel handed back the treasure he had received from his beloved town. Just as the biblical talents, Lepe multiplied his to offer Vallarta its rightful place in the world; to win a seat in the world of art for Puerto Vallarta.
"Mexico's National artist" as he was called by Mexican President Luis Echeverría Álvarez. "Vallarta's artist," as he was branded by historian Carlos Munguía Fregoso.
John Huston, the famous Hollywood director, stated: "Manuel Lepe makes paintings to bring joy to the hearts of the child in all of us."
Actor Peter O'Toole would say: "Manuel partakes in the ceremony of innocence."
Mr. Carlos Munguía Fregoso, city historian par excellence, said: "The work of Lepe is indeed an ode to innocence, joy, and of his love to his hometown."
He is considered a representative within the Naïve art style, and as such, Manuel Lepe managed to attain a prominent place among contemporary artists.
His work transcended the confines of Mexico and were included in the French Directory "Painters of the Century."
Lepe held forty-three exhibitions in his forty years of artistic life. Probably the most important of them all was the one at the Museum of Art and Science in Los Angeles, California in 1979, during the celebration of the International Year of the Child that was visited by over one million people."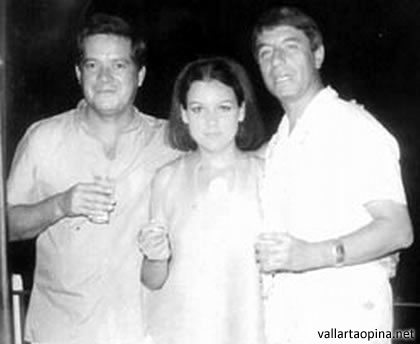 On April 16, 2010, Puerto Vallarta honored Manuel Lepe with the title of "Favorite Son of Vallarta."
Along with Priest Rafael Parra Castillo and Don Agustín Flores Contreras, Manuel Lepe Macedo's name is on the list of Puerto Vallarta illustrious citizens in The Encyclopedia of Mexican Municipalities. 
John Johns interviewed him for an article in Sundancer Magazine in February 1977 and states:
For one thing, Lepe's pictures are exclusively of his hometown of Puerto Vallarta, and, as Lepe points out, "Puerto Vallarta is filled with children. Just look around the town." he says. "Everywhere you look there are children, so they are reflected everywhere in my paintings. And maybe," he adds with a wink, "it is because I have never grown old."
When asked why he always included angels and children in his paintings, he replied: "I paint angels because Puerto Vallarta is a paradise, I paint kids because they have no worries or problems, they just want to play and be happy, and that's what I want to transmit in my paintings."
Exhibitions
San Francisco, California, USA – 1965
Newsteter Gallery, Denver, Colorado, USA – 1969
Two Squares Gallery, Denver Colorado, USA – 1961
Civic Center Auditorium, San Francisco, California, USA – 1973
Livingstone Gallery, San Francisco, California, USA – 1973
Galería Lepe, Puerto Vallarta, Mexico – 1973
Century Plaza Hotel, Los Angeles, California, USA – 1973
Newsteter Gallety, Denver, Colorado, USA – 1974
Centro de Arte Moderno, Guadalajara, Mexico – 1974
Galería Lepe, Puerto Vallarta, Mexico – 1974
Ex-convento del Carmen, Guadalajara, Mexico – 1977
La Tortolita Gallery, Tucson, Arizona, USA – 1977
One of One Gallery, Reno, Nevada, USA – 1978
Galería Lepe, Puerto Vallarta, Mexico – 1978
Cherry Creek Gallery of Fine Arts, Denver, Colorado, USA – 1978
Dallas Independent School District, Dallas, Texas, USA – 1979
California Museum of Science & Industry, Los Angeles, California, USA – 1979
Children's Orthopedic Hospital. Seattle, Washington, USA – 1980
Yolanda Fine Arts, Chicago, Illinois, USA – 1981
Somerstown Studios & Gallery, Ciudad de New York, N.Y. , USA – 1982
City Hall (Homage), Puerto Vallarta, Mexico – 1984
Galeria Uno (Homage), Puerto Vallarta, Mexico – 1984
Casa de la Cultura Jalisciense, Guadalajara, Mexico – 1984
Fiestas de Octubre, Guadalajara, Mexico. – 1984
Pasillo del Arte Televicentro, Guadalajara, Mexico – 1994
Hotel Westin Regina, Puerto Vallarta, Mexico – 1996
Hotel Joya de Mismaloya, Pto. Vallarta, Mexico – 1997
City Hall, Puerto Vallarta, Mexico – 1998
More information: