Today 50 years ago, September 22rd, 1963, Richard Burton and Elizabeth Taylor arrive in Mexico City from Toronto, on their way to Puerto Vallarta, where Burton was to stay three months, as the star in John Huston's "The Night of the Iguana".
They were mobbed by 500 teenagers at Mexico City Airport, Burton fought his way through the crowd protecting Liz Taylor, who lost a shoe and her purse and barely escaped in one piece (see photo). They were accompanied by 7-year-old Lisa Todd, Mrs. Taylor's daughter. Her two sons were at a boarding school in California, her adoptive daughter Maria was in London.
Elizabeth Taylor had put her film career on hold to relax a bit after the exhausting experience of "Cleopatra" and felt very proud in seeing Richard's career start to take off. He was to star in a challenging role alongside middle-aged and beautiful Ava Gardner, Deborah Kerr, a famous and refined English actress and the young and dangerous Sue Lyon just after her debut on Stanley Kubrick's "Lolita". 
Many say she came along and stayed glued to Burton's side to make sure he behaved among these three unique types of beauties all wrapped up in the hot tropical lush primeval atmosphere of Puerto Vallarta.

Cast (L to R): Sue Lyon, Richard Burton, Deborah Kerr and Ava Gardner
The press that arrived wanted fireworks, wanted scandal (though the relationship of the two already and still married Taylor and Burton already was one), they also sensed there might be competition between Liz and Ava, that their love affair might founder because of her.
Of course, Elizabeth was there close, especially so during the steamy scenes between Richard and Ava, just outside the shot, dressed at her best, in tight blouses, pants and, of course, her eye-catching jewelry.

Richard, Elizabeth and actor Stanley Baker enjoying Vallarta
They maybe thought that a trip to Mexico in a small remote fishing village surrounded by green lush mountains and deserted beaches might keep them away from the paparazzi and the curious prying eyes… they were disappointed when they arrived in the swarming mob of Mexico City.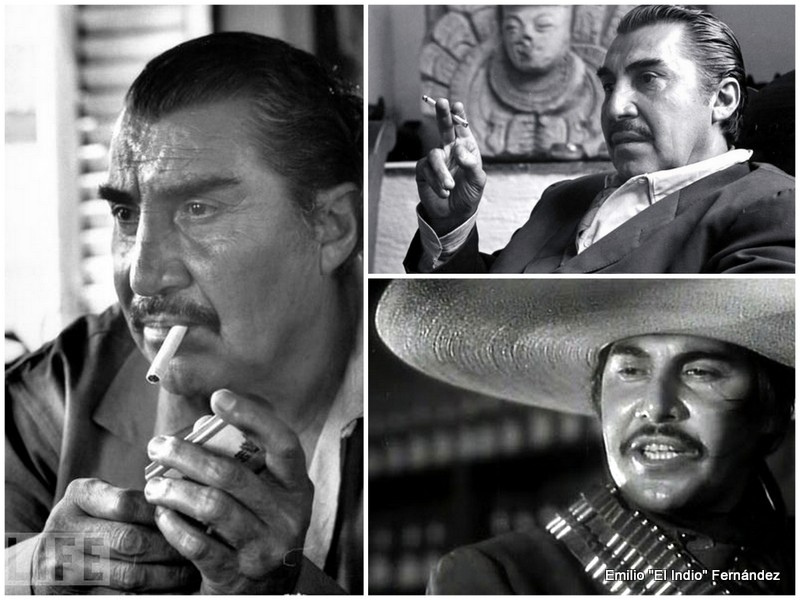 Emilio "El Indio" Fernández
Elizabeth panicked, even more so when she saw a man in a sombrero with pistols on his hips trying to usher them through the crowd. Richard is reported, before realizing who he was, to have yelled: "Get this maniac off the plane or I'll kill him". It was actually a very famous local actor, filmmaker called Emilio "El Indio" Fernández, whom John Huston had requested escort them in Mexico.

Liz & Dick enjoying the waves in Puerto Vallarta
So, 50 years ago today, was an important day for Puerto Vallarta, a small sleepy fishing village, only known to the locals, that received visitors from the Sierra, Guadalajara and a few from Mexico City jumped into the limelight as all the top Hollywood stars and the press all converged there. Nothing would ever be the same, neither for the stars nor for the town.
Author: M. A. Gallardo
More: