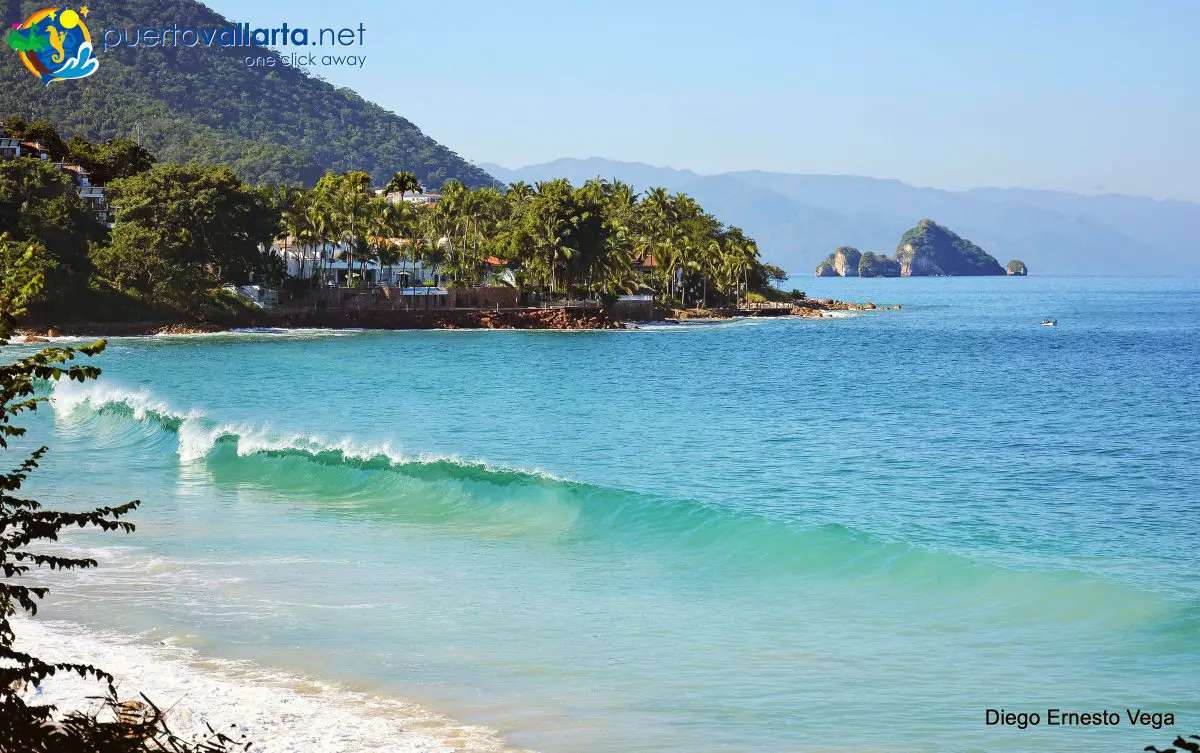 Beaches & sights between Puerto Vallarta and Mismaloya
Green and lush jungle hills tumble toward the sea along the shoreline south of Puerto Vallarta's romantic zone.
The South zone offers villas, condos, a series of world-class hotels and resorts and many of the nicest beaches in Vallarta.

Beaches between the Romantic Zone and Mismaloya (click for detail)
---
---
Conchas Chinas Beach
The first beach south of Puerto Vallarta's romantic zone is Conchas Chinas (Chinese shells or maybe curly shells) offers beautiful villas and the beach is rocky, offering small pools and lots of sea life, you can fish off the rocks and you can also snorkel here.
Playa Conchas Chinas recorrido completo (06/12/2019) Conchas Chinas Beach Puerto Vallarta Mexico
Conchas Chinas beach itself isn't really one beach but more like a series of small sandy coves separated by rocks that start off about a mile south of Playa Los Muertos and El Pulpito.
You can get to it by hiking along the tidepools from Playa Los Muertos and Amapas Beach or you can walk along the side streets south of the Romantic zone, you can also take a taxi or a bus going south.
---
Las Estacas Beach
Las Estacas is a beautiful 300 foot long gently curving white-gray sand beach found next to the south end of the Conchas Chinas residential area, it is in front of the Hyatt Ziva (ex-Dreams Resort also known as Camino Real Puerto Vallarta).
Where is Las Estacas Beach? The Hyatt Ziva beach in Puerto Vallarta
Great for kids and swimming but is only accessible through the Dreams Resort for guests or day-pass holders. There is a hidden path down to the beach, hard to find, just north of the resort, only if you are fit.
---
Los Venados Beach
Los Venados is a small crescent white sand beach on Km 3.5, on the highway south of Puerto Vallarta's romantic zone.
---
El Carrizo Beach
A beach that offers soft and regular waves and soft sand, very much like Las Estacas beach that is found 1 km to the north, you'll find this beach on kilometer 4.5 of the highway to Barra de Navidad. Waters are crystal clear, great for snorkeling, the sand is light grey in color and soft.
A beautiful beach that can only be accessed through the Playa del Sol, it features an artificial reef that holds back the waves and makes the beach fabulous for swimming and snorkeling. 
---
Punta Negra Beach
Beside Punta Negra Beach you'll find lots of condos, homes, and villas, the area is very quiet and only 5 kilometers (3 miles) south of downtown Vallarta. Great view of Los Arcos.
The beach is great for photos, the surf breaks beautifully here and the sand is adorned with palms and tropical vegetation.
---
Palmares Beach (El Paredon Beach)
Where is Palmares Beach in Puerto Vallarta Jalisco Mexico?
Actually the same beach as Punta Negra, but going south, beyond the Condos located there (Punta Negra Condominiums, Quinta Esmeralda and Los Palmares), you arrive at an area where there even is a lifeguard post, this part of the beach is known as Playa Palmares (Palm Grove beach) or also "El Paredón" (the big wall a little further toward Los Arcos), this beach is therefore located between Punta Negra and Garza Blanca, that's the next beach beyond the point seen in the photo above.
The beach is great for swimming, the surf is mostly soft though you do lack vegetation for shelter, so bring your parasol along.
Palmares Beach has a blue flag certification.
---
Garza Blanca Beach
😍 Playa Garza Blanca Beach Puerto Vallarta Jalisco Mexico 🏖
Playa Garza Blanca is a beach south of Puerto Vallarta, it is right next to the resort of the same name. Currently, it is much more beautiful and comfortable than it was a few years ago, at that time, storms and waves had taken away much of the clear soft sands that had covered the shore.

Garza Blanca Beach 2018
An effort was made to put a breakwater of boulders that have closed the beach off a little, also helping to reduce the swell and on the other hand, accumulates the sand and keeps it there too.
The shore is now covered with a soft, clear sand, this together with the gently curving shore makes and the colorful waters make it extremely attractive.

Garza Blanca Beach in 2012
The water is crystal clear and an intense green-blue emerald color, the clarity, and transparency is not by chance, the Blue Flag certification that Garza Blanca has obtained is an award/certification that is granted to beaches that fulfill a large number of requirements that guarantee not only the pristine waters but also protects the environment and the creatures that inhabit the area, as well as providing access to adequate toilets and trash cans.
Complete Playa Garza Blanca Beach article
---
Las Gemelas Beach
Conoce Playa Las Gemelas / Visit Las Gemelas Beach, Puerto Vallarta, Jalisco, Mexico
Playa Las Gemelas, two adjacent beaches (gemelas means twins), one in front of the Presidente Intercontinental Hotel and the other has public access. Services available for hotel guests or visitors with a day pass.
Located 20 minutes south of downtown Puerto Vallarta, you can take a taxi or a bus from Basilio Badillo and Constitución, the same one that takes you to Mismaloya.
The entrance to Las Gemelas Beach, among the most beautiful in the area, is a bit steep, so you need to be more or less in shape. Pack well with food and drinks as there isn't much to buy in the area.
Las Gemelas Beach complete article
---
Los Arcos National Marine Park
A useful landmark, great for snorkeling, scuba, and SUP, located half a mile north of Mismaloya, in a straight line, known as Los Arcos ecological reserve, surrounded by the blue waters of the Pacific this barnacle-covered rock attracts all manner of sea life.
Visita Los Arcos de Mismaloya / Going through The Arches in Puerto Vallarta
A profusion of manta rays, sea turtles, sharks (not dangerous ones, just in case), and dolphins are native to these waters, and huge schools of Jack tuna circle this tiny island in search of food.
Read more on Los Arcos de Mismaloya
---
Beat Bungee Jumping
Quite an experience for those that haven't tried it, a special one for those that have, jumping "into" the sea is certainly nicer than many other bungee jumps you can find in normal cities, you can even spot manta rays or other creatures in the clear emerald waters below.
Encore Bungee has once again opened the attraction on the south side on the way to Mismaloya. After tests and remodeling, they are open to the public. Open daily from 10 AM to 7 PM. More info on FB.
---
Zoológico de Puerto Vallarta (Vallarta Zoo)
Vallarta Zoo Tour, Mismaloya, Puerto Vallarta, Mexico
You'll find Vallarta Zoo in the valley that ends with Mismaloya and Mismaloya beach, an exotic lush tropical jungle, close to the village between river and mountains.
Open from 8 AM to 6 PM every day of the week, the entrance fee is around 7-8 dollars (100 pesos) for adults and 4 dollars for children (50 pesos – ages 3 to 11); Phone: (322) 228-0501.
---
Mismaloya Village & Mismaloya Beach
Impresionante Playa Mismaloya al sur de Puerto Vallarta Jalisco Mexico
Mismaloya Beach is the place that forever changed the future of the small fishing village called "Puerto Vallarta", from one day to the other transforming it into an attractive world-class tourist destination.
Who would have imagined that the arrival of John Huston (who was checking locations in Mexico where he could shoot his next movie, "The Night of the Iguana") would have such an impressive effect on everything in this town, something that has echoed through the decades.
Mismaloya is both a small fisherman village and a 300-yard long sandy beach on a beautiful jungle-fringed cove, 9 miles south of Puerto Vallarta.
Here you'll find several restaurants, mainly little palapas by the edge of the sea, on the other end of the cove there is a large resort, Barceló Puerto Vallarta.
---
Beaches & Attractions South of Mismaloya
South of Boca de Tomatlan are the beaches and villages that you could almost consider "island" beaches, that include Yelapa, Las Animas and Quimixto, they at least feel like that as access is only by sea, small picturesque towns caught in time await discovery there, do not miss them if you have a chance.

Beaches between Mismaloya and Yelapa and the Botanical Garden (click for detail)
---
Boca de Tomatlan village & beach
Boca de Tomatlán muelle malecón y playa 08/12/2019 Boca de Tomatlan Boardwalk & Beach Jalisco Mexico
Surrounded by jungle, Boca de Tomatlán is a small fishing village with an estuary on the south side, a nice beach and a beautiful cove where water taxis take off to the "island" beaches further south.
You'll find a number of small beachside restaurants that serve fresh fish and other products from the bay.
Read more, photos and videos of Boca de Tomatlan
---
Vallarta Botanical Gardens
Jardines Botánicos de Vallarta 12/12/2019 Vallarta Botanical Gardens, Puerto Vallarta Jalisco Mexico
Vallarta Botanical Gardens was established by Bob Price. This beautiful place is full of flowers, wild plants, and blue agaves, framed by the impressive mountains of the Sierra Madre Occidental.
A great place for those interested in plants or maybe just a good meal or drink while enjoying the spectacular scenery.
Vallarta Botanical Garden is located on Km. 24 on the Coastal Highway from Puerto Vallarta to Barra de Navidad, the phone number is (322) 223-6182. http://www.vbgardens.org
Read full Vallarta Botanical Gardens article, more photos and a review
---
Las Animas Beach
Playa Las Ánimas / Las Animas Beach, Cabo Corrientes, Jalisco, Mexico
The first of the secluded and remote beaches you'll reach going south on the panga you rent or the water taxi you take south from Boca de Tomatlan. Las Ánimas is a picturesque beach where a sweeping arch of rock promontories, white sand meet the waters of the bay.
A quiet beach, a great place to spend a day in the sun, with a good book or if you just want to get away from it all and do absolutely nothing. You can also swim and snorkel in the calm waters of the cove.
Palapa-style beach restaurants serve up fresh seafood. Swimming, snorkeling, reading, and eating, in total peace and quiet, are not that bad of a way to spend a day, a week or a lifetime. Horses can be rented and there are limited water sports available from the beach.
Read more on Las Animas beach
---
Quimixto Beach & Village
Playa Quimixto a Cascada, recorrido completo / Full hike Quimixto Beach to Waterfall, Jalisco Mexico
This tropical island type village makes you feel like you've transported yourself to the South Seas. A couple of large palapa restaurants dominate the landscape. This is one of the largest fishing villages in the south of Banderas Bay.
There is a beautiful waterfall within walking (hiking) distance of the beach.
A few homes along the beach and not much else but peace and tranquillity here. This is a regular stop on the run to Yelapa by many cruises and tours. A very placid and idyllic setting. Horses can be rented here.
Enjoy the beach, the waterfall hike and explore the town.
Read more, more photos of Quimixto
---
Majahuitas Beach
Playa Majahuitas toda la playa / Tour of Majahuitas Beach, Cabo Corrientes, Jalisco, Mexico
Continuing south you'll arrive at a small jungle-fringed cove (only accessible by boat), you'll find a small hotel called Majahuitas (Majahuas), the beach is very isolated and therefore mostly yours to enjoy, except when the tour boats arrive.
You can snorkel and dive here in the crystal clear waters on the north and south ends of the cove, you'll find moray eels, sea cucumbers, rays and a wide variety of colorful fish.
The boats and tours arrive and anchor in the small bay of Majahuitas, to get there you have to use smaller boats or swim.
The beach now offers what is called Majahuitas Beach Club, there are palapas that offer food and drink, in addition to their tables and umbrellas, there is parasailing, horses and more. If you hear about a small hotel called Majahuitas Resort we need to remind you that it is closed permanently.
Read more, more photos of Majahuitas
---
Yelapa village & beach
Yelapa, playa principal paseo completo 09/12/2019 Yelapa beach tour, Cabo Corrientes Jalisco, Mexico
Yelapa, a small town just 40 minutes south of Puerto Vallarta (by boat), at the foot of the majestic mountains of the Sierra Madre Occidental.
Artists and writers live for places like these, the tranquility and privacy make it the perfect place for many of them from around the world. The village is quaint, the life is simple, the surrounding beauty irresistible.