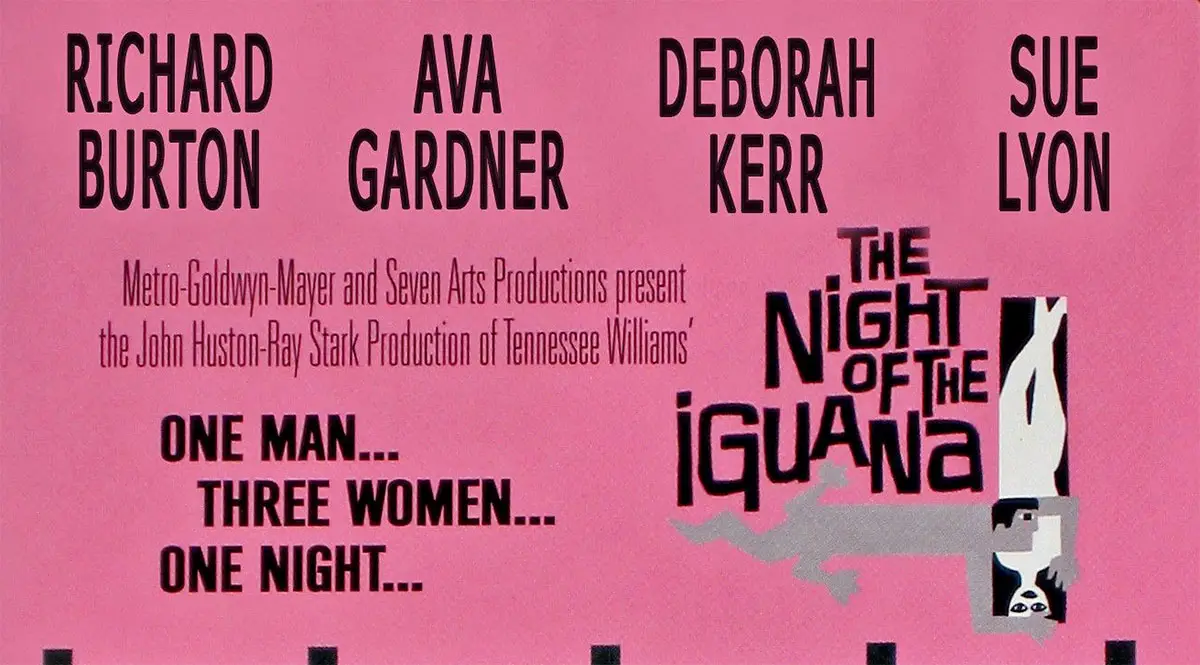 The Night of the Iguana poster (1963) John Huston
John Huston, Richard Burton and Elizabeth Taylor had their, work, lives and their love inextricably bound with Puerto Vallarta and the Banderas Bay.
Undoubtedly the city and its surroundings have much to thank them for the bounty they received, not only from their presence but through their support over the years.
Even though John Huston had visited the town when it only had a few thousand souls in 1929, while navigating up the Pacific coast on one of his innumerable trips to his beloved Mexico, plus another time while scouting for locations for Typee (a movie he never shot), not much had changed when he came back in the early 1960s with a new movie project, "The Night of the Iguana", and a location for the set called Mismaloya, tipped off by a local entrepreneur.
The Night of the Iguana (1964) - HQ Trailer
The Night of the Iguana (1964) – HQ Trailer
It's hard to imagine, no matter how picturesque Puerto Vallarta and its beautiful beaches were, how did it ever come to their attention. I mean, yes, a small village can be interesting, but it was all very primitive, what was it, really, that lured them here and why did they end up staying so long, for decades?
Part of the reason was its isolation, something that Liz Taylor must have enjoyed, she couldn't travel anywhere without being mobbed, on the other hand, John Huston enjoyed that aspect too and the weather helped him with his emphysema in his later years.
How did they find Puerto Vallarta?
I think we could "blame" various personalities for this fateful discovery. One would be Huston himself and his love of "Ol' Mexico"; another would be Tennessee Williams and his short story which he placed in Acapulco in the 1940s; we must include Ray Stark who offered the movie project to Huston, and finally, and most importantly, Guillermo Wulff, a Mexico City engineer and local entrepreneur, who had many high-level contacts within the Mexican Government, even friend of the Mexican President of the time and those that followed and an ambitious project of his.
He was interested in giving one of his real estate projects, based in Mismaloya, some "Hollywood" Jet-set appeal, though, in the end, it would actually bankrupt him, but that's another story…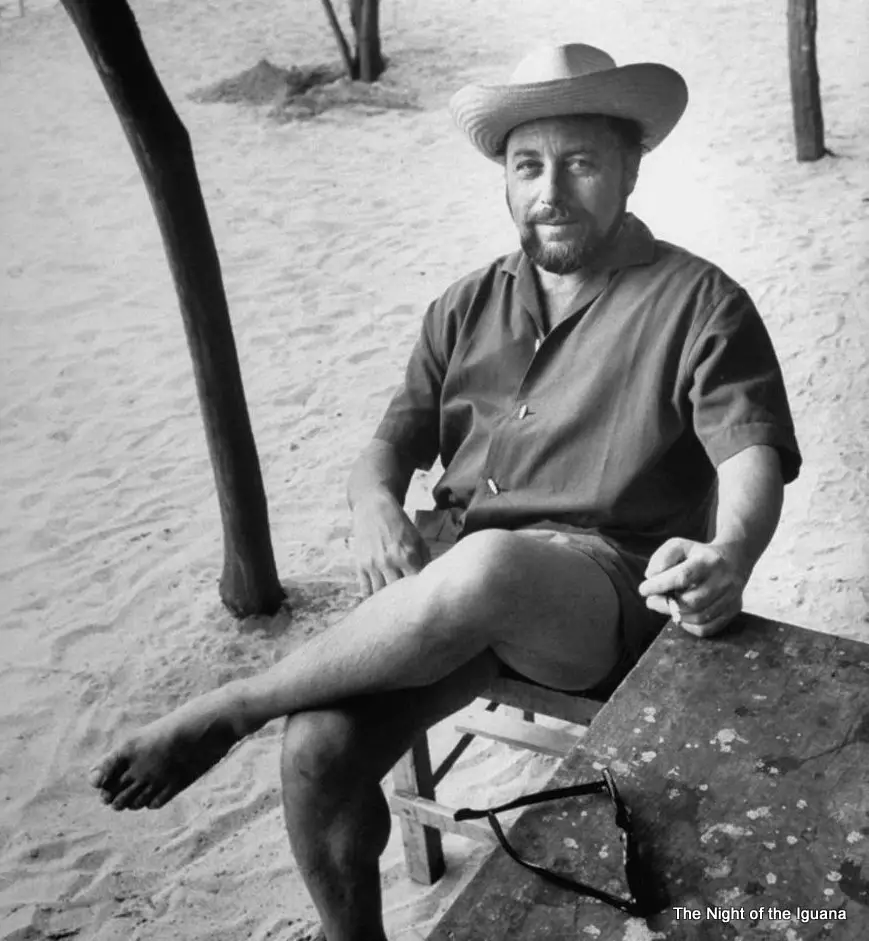 In 1940 Tennessee Williams vacationed at Hotel Costa Verde outside Acapulco and his experiences became the basis for a short story he published in 1948, entitled "The Night of the Iguana". Most of Tennessee's plays are downers, exposing the less admirable qualities in human beings, in keeping with Williams' own defeatist view of life and the world, this work was no exception.
The hotel featured hammocks slung outside screen doors and a private tropical beach surrounded by jungle forest. While he lodged there, Williams was surprised by the inertia and indifference the guests showed to all worldly events and even the Second World War, he blamed it on the relentless sun, heat and strong drinks.
In 1962, Ray Stark (Raymond Otto Stark), one of the most influential men in Hollywood's film industry at the time, and one of John Huston's great friends asked him if he was interested in making a movie adaptation of Williams' short story, which had already been a great success on Broadway as a theater play.
Stark must have considered him the obvious choice, Huston was at that time already well known as a guru of all things Mexico. With a few movies filmed on location in the country, including the 1948 "The Treasure of the Sierra Madre", one of Hollywood's first movies filmed outside the US, in Durango and Tampico.
John accepted immediately, on the one hand, based on their friendship, the respect he felt for Ray's ideas and his respect for Tennessee Williams, on the other hand, it was another great opportunity to go to Mexico, something that he never said no to.
John made regular trips to Mexico, he always returned to Mexico because, as he said, "it's one of the countries I like best in the World", so this project certainly was a perfect fit and it would also let him have a go on a stage play by Tennessee Williams, whom he considered a genius capable of presenting complicated characters exceptionally well.
John Huston and Anthony Veiller wrote the screenplay and then it was a matter of finding where in Mexico to film it.
Sidney "Sy" Bartlett, an American author and screenwriter/producer of Hollywood films that knew about Guillermo's project suggested to John Huston that that could be the location for his new movie. That's how things were set up for Huston's and Guillermo Wulff's meeting in Los Angeles. Wulff offered Mismaloya, a beach south of Puerto Vallarta as the perfect place for his "The Night of the Iguana" movie, he pitched the project and Huston bought the idea.
He had recently obtained a concession from the Mexican President himself, Adolfo López Mateos, to develop a real estate project there.
Wulff's idea was to use the location for a classy tourist complex once the film was a wrap. He offered Huston a cut in the profits in exchange for them investing a bit more on the set making it a bit more solid and durable. This was an idea that in the end was to be catastrophic for the businessman.
Huston talked it over with Ray Stark, they liked the idea and decided to visit the place.
In the early 1960s, Puerto Vallarta was a small town of only fifteen thousand inhabitants, a quiet fisherman village with only one road connecting it to the rest of Mexico that when it rained was impassable. The trip to Guadalajara took 16 hours, compared with the 4 hours of today. The best way to get there was by air.
Though John Huston had visited Puerto Vallarta in the late 1920s, when the town had a few thousand inhabitants, he had not considered it for the project itself.
Mismaloya at the time was a perfect combination of pristine emerald water, soft clear sand beach with lush jungle right to the edge of the ocean, Huston compared it to the South Pacific islands.
As there were no roads to Mismaloya itself, access was only available by sea, something that certainly complicated things enormously, but Huston was used to that, he enjoyed adding an extra dose of realism to his movies, both by avoiding studios and shooting on location and by placing people under duress, he knew this got the best out of them all. An attitude that has helped his movies better stand the test of time.
When choosing the cast Ray and John agreed that Richard Burton would be great for the role and that Deborah Kerr would be the itinerant artist in the play, Ava Gardner would be Maxine (role played by Bettie Davis on the stage play on Broadway).
Burton and Kerr agreed to participate but Ava required a bit more work. Both Huston and Stark travelled to Madrid, Spain, where they stayed four nights wining and dining her. John couldn't stand the rhythm and bailed out at the start, it was Stark that finished the job and in the end got Ava to agree to participate.
The decision to use the Mismaloya location close to Puerto Vallarta and in Mexico, for "The Night of the Iguana" was, as Huston stated because just as with the actors he chose, a real location improved a movie in creating a true and believable atmosphere:
"The location, just like an actor, gives something to the picture, you know, envelops it in an atmosphere."
John Huston
The actors had agreed to film somewhere exotic, but none of them imagined just what Huston had in mind! A place where there were no telephones, roads, electricity, running water, full of iguanas, bugs, and even scorpions!
One thing Stark and Huston disagreed on was the movie being in black and white instead of colour. Huston thought the vibrant colours of the jungle and surroundings would distract from the story. Later, in his autobiography, he admits that it was a mistake and colour would have underscored the human yearnings and temptations within the story.
Anyway, having decided to film in black and white influenced the choice for Director of Cinematography for which he chose a pioneer from the Golden Age of Mexican movies, Gabriel Figueroa. "The cameraman is, of course, cast for the picture just the same as an actor would be," said Huston, "you decide what you want on the screen and then go to the right man for that." Figueroa's wonderful black and white cinematography also earned him an Academy Award nomination.
The conjunction of so many unique celebrities and personalities, a famous director, producer, various top actors and actresses with their partners and lovers, many of them with previous personal interrelationships, all thrown together in a remote tropical location was a potentially explosive combination that would surely brew a lot of juicy gossips and tabloid news. The movie became a media magnet right from the start.
The already famous John Huston on his 25th cinema production, Hollywood's top-paid celebrity Elizabeth Taylor & her lover, Richard Burton (both married to others at the time), arrived in Puerto Vallarta at the end of September 1963, after a stop in Mexico City where they were met by a swarming crowd, on September 22.
There a gun-toting, Emilio "El Indio" Fernández was to usher them to safety from the Beatlemania-like frenzy, but only got them to panic and Richard reportedly yelled, "Get this maniac off the plane or I'll kill him!". Nobody had told him about Emilio and it was obvious, by his looks, he was a paid hitman 😉 or someone like that.
Tennessee Williams also came down at the time for some on-site real-time screenplay consulting & modifications.
Liz Taylor, who at the time was still legally married to Eddie Fisher (Mr. Taylor #3), arrived accompanying her lover, Richard Burton (also known as Mr. Taylor #4, something that irritated him enormously) who was still married to his own Welsh wife, Sybil.
The assistant of Richard Burton's agent, Hugh French, was Michael Wilding, better known as Mr. Taylor #2, and this was just one of the many inbred relationships this group dragged along to Puerto Vallarta.
All this made the movie a world gossip sensation even before it was filmed, and it was in the news more than any other production that year, this was simultaneously the gestation of Puerto Vallarta as a world-famous tourist destination too.
Today this would not create much of a stir, but in 1963, it was a media bomb, and in the strongly catholic Mexico, even more, where there were some reactionaries that even called for the whole "degenerate" band to be thrown out before they infected the place (as appears in a scene of the movie). The following quote is from "Siempre", a local newspaper:
"… our children of 10 to 15 are being introduced to sex, booze, drugs, vice, and carnal bestiality by the garbage from the United States: gangsters, nymphomaniacs, heroin-addicted blondes."
The local Catholic convent broke their vow of silence to protest Elizabeth Taylor's presence in the city, saying she was "living in sin" with Richard Burton (2010. Kashner, Schoenberger).
Even the Director was expecting trouble, so to "loosen" things up he gave gold-plated Derringer pistols to Stark, Ava, Richard, Elizabeth, Deborah and Sue, each with 5 bullets engraved with the names of the other collaborators… or victims.
The journalists were really excited, you couldn't ask for more and they came down in droves, so many that even John Huston ended up saying that there were more press journalists there than iguanas on the movie set!
But, in the end, it all went fine, nobody partook in using the guns, nobody was injured or killed, nothing really scandalous occurred. Everything went as "smooth as silk" as Huston himself said.
The disappointed press, without something outrageous to write about, turned their attention to Puerto Vallarta for inspiration and this, John said, "was the beginning of its popularity, which was to be a mixed blessing."
The movie received four Oscar nominations, of which it won one, for Best Costume Design in a black-and-white film (Dorothy Jeakins). Other nominations included Greyson Hall, for Best Supporting Actress in her role as Judith Fellowes (Charlotte's chaperone), Stephen B. Grimes, for Best Art Direction in a black-and-white film and Gabriel Figueroa for Best Black-and-white Cinematography. Ava Gardner was also nominated for a Golden Globe and a BAFTA as best actress.
The movie did well at the box office though it was not a smash hit as were some of the previous movies by the director, though this was to become normal in John Huston's career, because he always tried new things, took risks and never really followed a formula, he didn't take the easy road. He did add a happy ending to the movie though, something that many years later, when Huston met Williams once again, in London, the author brought up the subject of Puerto Vallarta and the movie and said, "I still don't like the ending, John!".
After shooting the movie and having rented a home in Vallarta, in 1976, John Huston decided to install himself for some time in the rustic Las Caletas, within the Chacala Indian community south of a place called Boca de Tomatlan. He leased the land for ten years, with an option for 10 more years, and after that period both the land and anything he had built on it would pass over to the Indian community.
Huston enjoyed the many years he lived in Puerto Vallarta, you can read about it in his autobiography, An Open Book, published in 1980 where he recounts that among other things, the weather was very good for his health too. [As a side note, his Wikipedia entry doesn't mention a peep about him living here, though it was a very important period of his life… it's strange and suspicious.]
Elizabeth and Richard (Liz & Dick, as they were called, something Richard detested) also loved the place and stayed in town, their passion blossomed, they really enjoyed themselves here, they were celebrities, but they were well respected and they could have a semblance of normal life here.
In this small town they enjoyed the freedom they couldn't other places, they could wander around town, go to the beach, sail around the bay, go shopping and live without being hounded by fans and press. They actually became part of the local community and participated in community work, donations and as well as actings as voluntary promoters of the town, including a period in the 1980's when the town got a bad reputation due to some drug-related crimes.
Richard Burton bought Liz the house they had initially rented on Zaragoza Street "Casa Kimberley", which incidentally, Guillermo Wulff had built in 1957, a 9-bedroom villa in the area called Gringo Gulch, a few blocks up the hill from the main square. He also bought the villa across the street and Wulff built a bridge between the two villas, based on "The Bridge of Sighs" in Venice.
The couple, despite their extravagant life, diamonds, luxury, jet-set status, and excesses purchased properties in Gstaad in Switzerland, Céligny in France, a home in Hampshire and the homes in Puerto Vallarta, but Vallarta was the place where Elizabeth Taylor would feel most at home.
Huston, Taylor, and Burton stayed connected with the city for many decades, Elizabeth Taylor visited Puerto Vallarta for the last time in 1999.
When Liz Taylor divorced Richard Burton, he came back with his new wife, Susan Hunt (ex-wife of the famous F1 driver), who has also kept in touch with friends and the city ever since.
A film festival was held in the city for many years and included prizes in their honour, the John Huston Award for best director, the Elizabeth Taylor award for best actress and the Richard Burton Award for best actor.
There is a statue of Huston on the River Cuale island, unveiled for the 25th anniversary of the shooting of "The Night of the Iguana", in 1989.
More recently an event and exhibit were held for the 50th Anniversary, with photos, movies, and talks.
So their legacy, despite so many decades, has not been totally, and should not be, forgotten.
Author: M. A. Gallardo
---
ON THE TRAIL OF THE IGUANA – Vintage behind-the-scenes documentary filmed in Puerto Vallarta
"On the trail of the Iguana" (The Original Movie Promo), very interesting
More:
References:
An Open Book. 1980. John Huston.
Furious Love. 2010. Sam Kashner & Nancy Schoenberger.
Huston's Gamble, 2006, Night of the Iguana featurette


(they mention it was filmed in Baja California, which of course is wrong).

John Huston, Wikipedia.
John Huston Interview. 1981. Waldemar Verdugo Fuentes. Vogue.
On the Trail of the Iguana, 2006, The Night of the Iguana Behind the scenes, included in the reissued DVD.
Puerto Vallarta and mis recuerdos. 1982, Catalina Montes de Oca de Contreras.
Rope's End, Scott Kenan.
Tennessee Williams. Wikipedia.
The Lady Eve's Reel Life blog: http://eves-reel-life.blogspot.com
The Night of the Iguana, Classic Film Freak, IMDB, Wikipedia.
The Night of the Iguana. 1964. Metro-Goldwyn-Mayer.