Puerto Vallarta Sign and The Boy on the Seahorse by Rafael Zamarripa (1976) Malecon Vallarta
A great Puerto Vallarta landmark was unveiled during the World Tourism Day events in 2016.
It's a very beautiful sign with colorful letters that spell out "Puerto Vallarta", it flanks the iconic Rafael Zamarripa "Seahorse Statue" on downtown Malecon.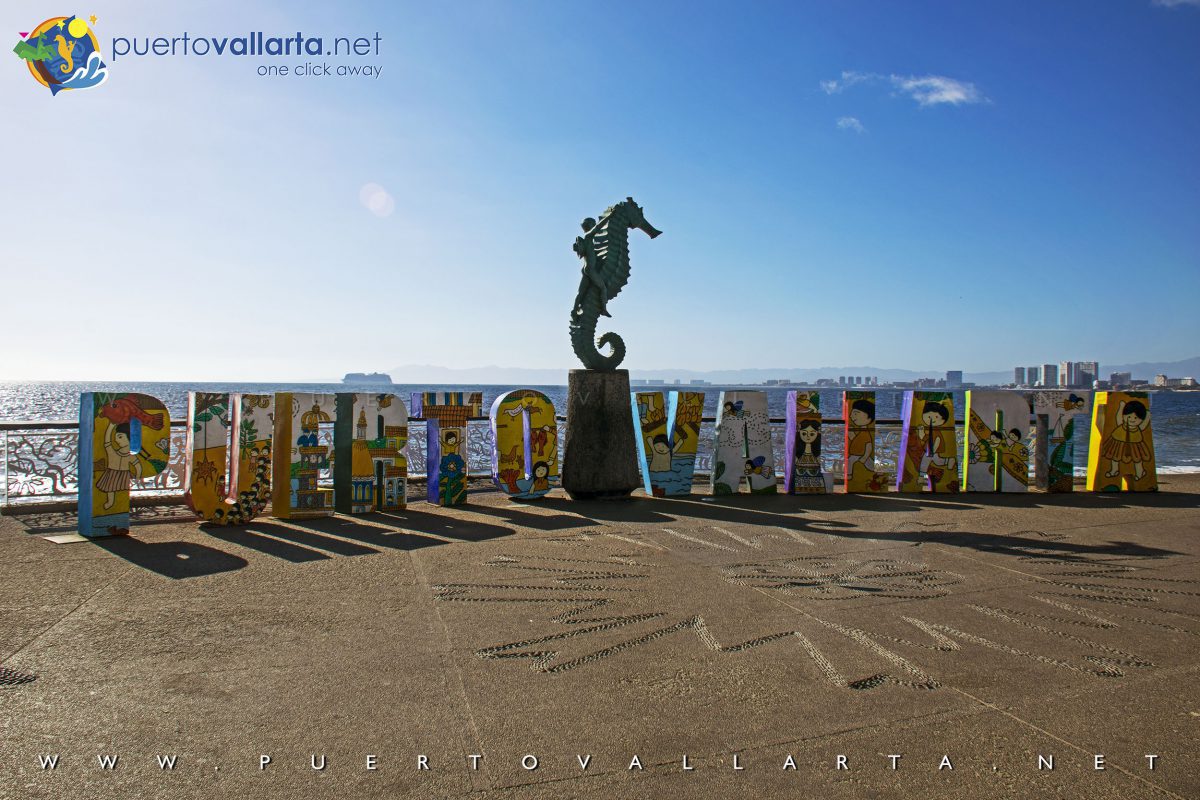 The Boy on the Seahorse, Puerto Vallarta Letter/Sign
The PV City Sign has been moved around town, to the Marina Vallarta, and by the Amphitheater a little further down the seaside promenade, but it has returned to its current Malecon location.
The Puerto Vallarta letters are designed and made by the sculptor and artist Carlos Terres, the same artist that was in charge of replacing the destroyed crown of the iconic Our Lady of Guadalupe Parish in the downtown area.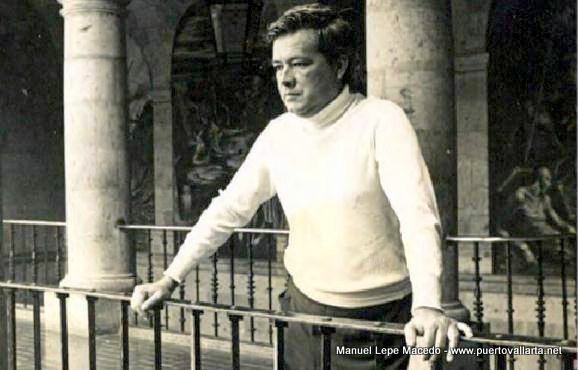 Each letter includes design elements and decorations based on the art of Manuel Lepe Macedo, the most famous city artist who is well known for his naïf-style art and his love of all the traditional city traditions and motifs.
It's a great place to get (one of many places around time) a souvenir photo with the colorful sign, the beautiful seahorse statue, and both sea and sky as a backdrop.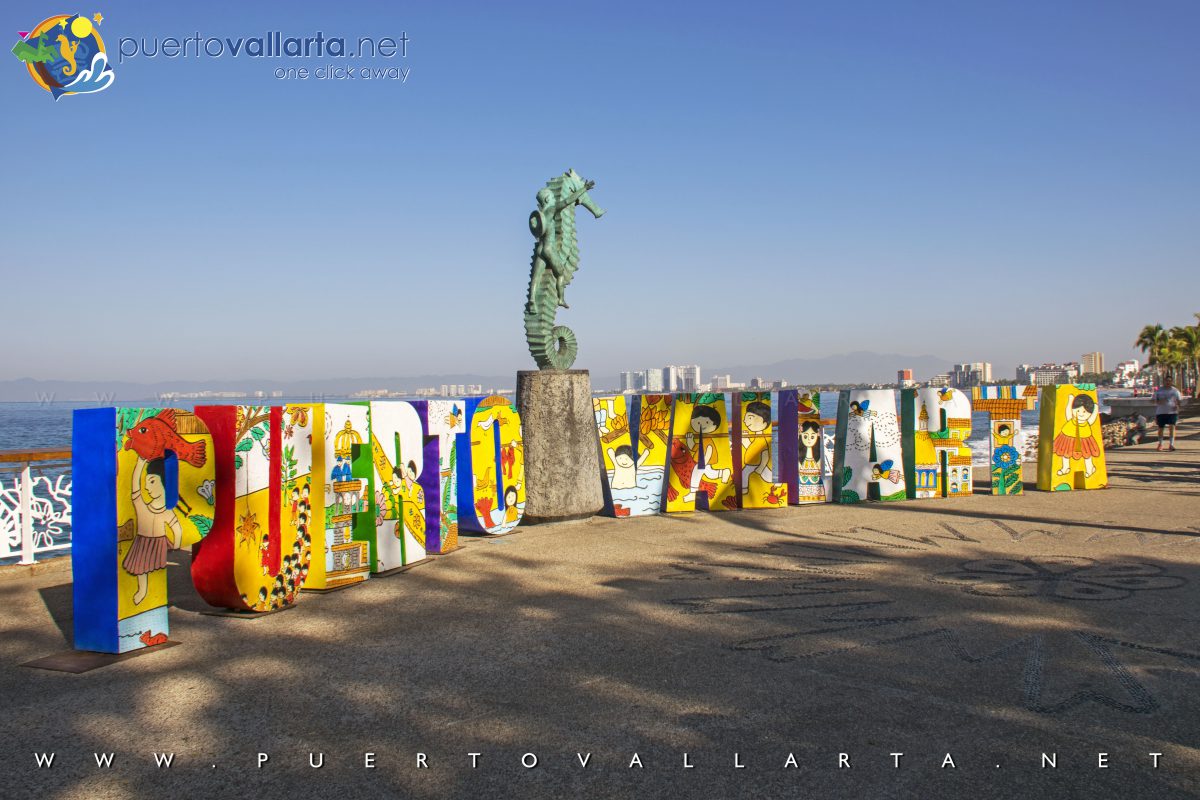 Puerto Vallarta Malecon / Boardwalk & The Seahorse Statue
Where is the Puerto Vallarta Sign on the Malecon
The PV sign/letters move around from time to time. They were originally close to Galeana and the Malecon. They then were moved over to flank the seahorse statue. Recently I've seen them placed in front of the arches (Los Arcos del Malecón) maybe to disincentivize events and shows in the COVID period. I am sure they will move again soon. Just rest assured they will be somewhere on the Malecon/Boardwalk.
Another city sign at Las Juntas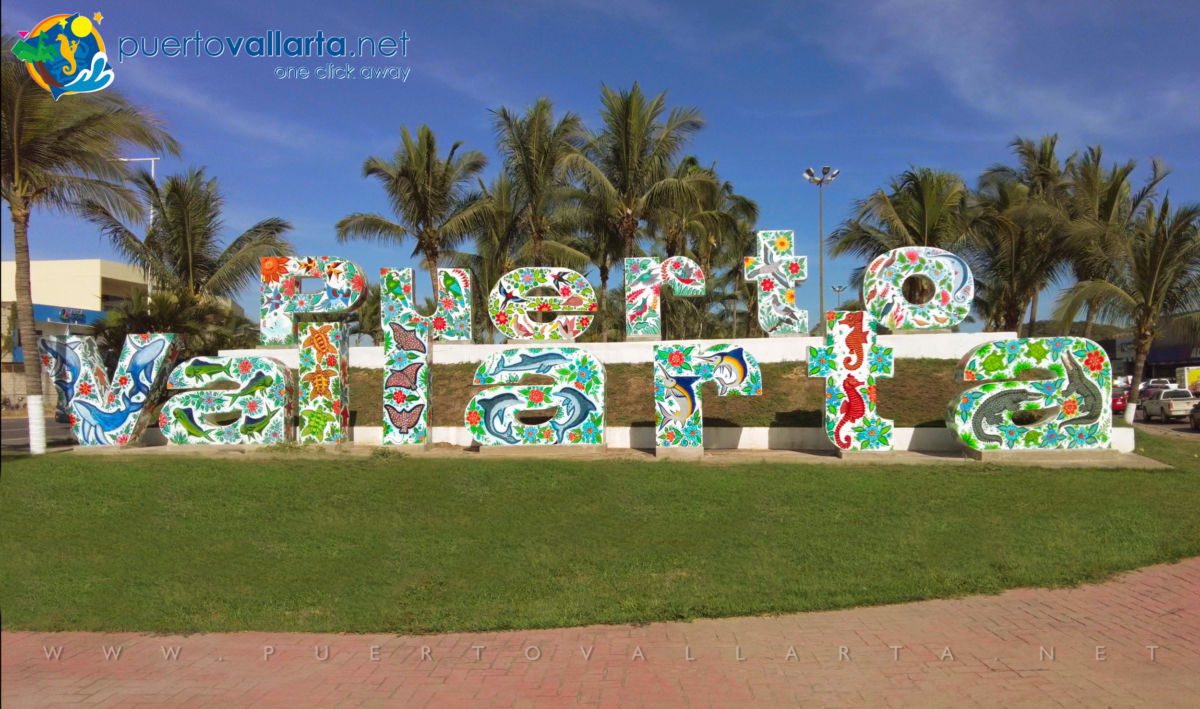 Welcome to Puerto Vallarta at Las Juntas on the way into Puerto Vallarta
The prior Puerto Vallarta Sign on the Malecon is one of two in town.
The other one, a welcome sign on the way into the city is located at Las Juntas was originally designed by Natasha Moraga, a local Puerto Vallarta artist.
The newest version of the Puerto Vallarta Welcome sign was unveiled on September 30, 2021, it was decorated and painted by Jose Tomas Esparza Leon and his sons and represents the local plant and animal life of the region.
Puerto Vallarta's ex-mayor, Jorge Quintero Alvarado, stated:
"It is an excellent artistic piece that is offered right here on the way into this tourist destination, so we are proud of the work they have done".
Location Map
Last Updated on 27/12/2021 by Puerto Vallarta Net