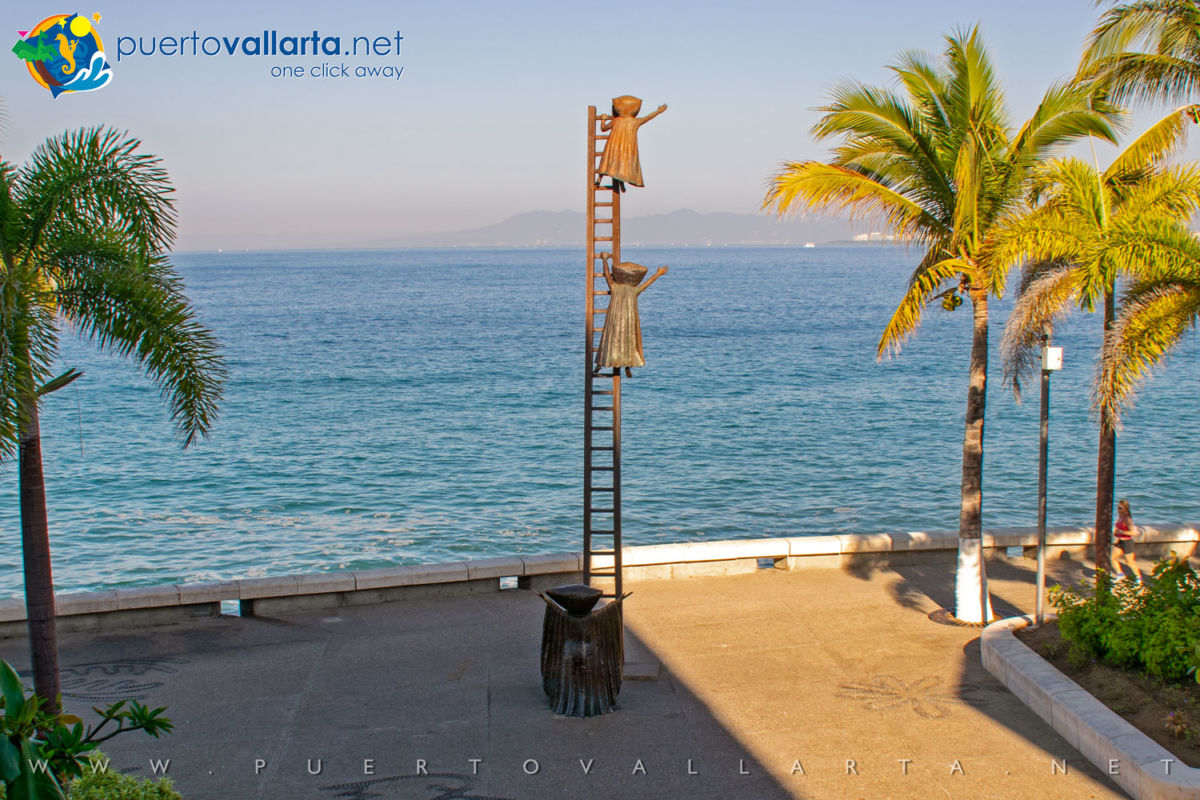 "In Search of Reason" by Sergio Bustamante on the Malecon in Puerto Vallarta
Introduction
The "Ladder sculpture" in Puerto Vallarta, a monumental sculpture by Sergio Bustamante on the Malecon, is both controversial and interesting, strange and fun all at the same time, certainly a piece you can't pass without noticing it.
"In Search of Reason / Searching for (the) Reason" (En Busca de la Razón) by the famous Mexican artist, Sergio Bustamante, a very distinctive 30-foot high statue with three strange pillow-headed figures and a ladder that two of them are climbing, like looking for an answer farther and above the normal limits of humanity, maybe up in the sky or beyond.
What does the sculpture symbolize?
Sergio Bustamante states that the sculpture was inspired by Nobel Peace Prize winner, philosopher and logician, Bertrand Arthur William Russell and his writings:
"When the intensity of emotional conviction subsides, a man who is in the habit of reasoning will search for logical grounds in favour of the belief which he finds in himself."
In Search of Reason "Ladder sculpture" (Sergio Bustamante)
This surrealistic Sergio Bustamante sculpture is definitively interesting and strange at the same time, the individuals, their shapes, the title of the work, all make you wonder.
It all starts with a philosophical problem, the dilemma we have as a species, which also affected Bernard Russell, who worried that humans were not really reasoning when interpreting their world and not striving to protect life on Earth, rather the exact contrary, wars, atomic bombs and continuously guided by basic fears that in turn lead to dogma and prejudice.
In Search of Reason (En búsqueda de la razón) by Sergio Bustamante
About the sculpture
People like to climb up this statue and take their photographs which are fine just as long as they don't fall off during the photo shoot.
The sculpture actually tempts audiences to interact, and there are few tourists that haven't climbed up the ladder to have a souvenir photo shot on it. This isn't such a surprise when you hear that it is also the artist's wish:
"I like getting people to interact with it, with my art." So enjoy it, the artist wants you to. Sergio says about the piece: "It's about freedom".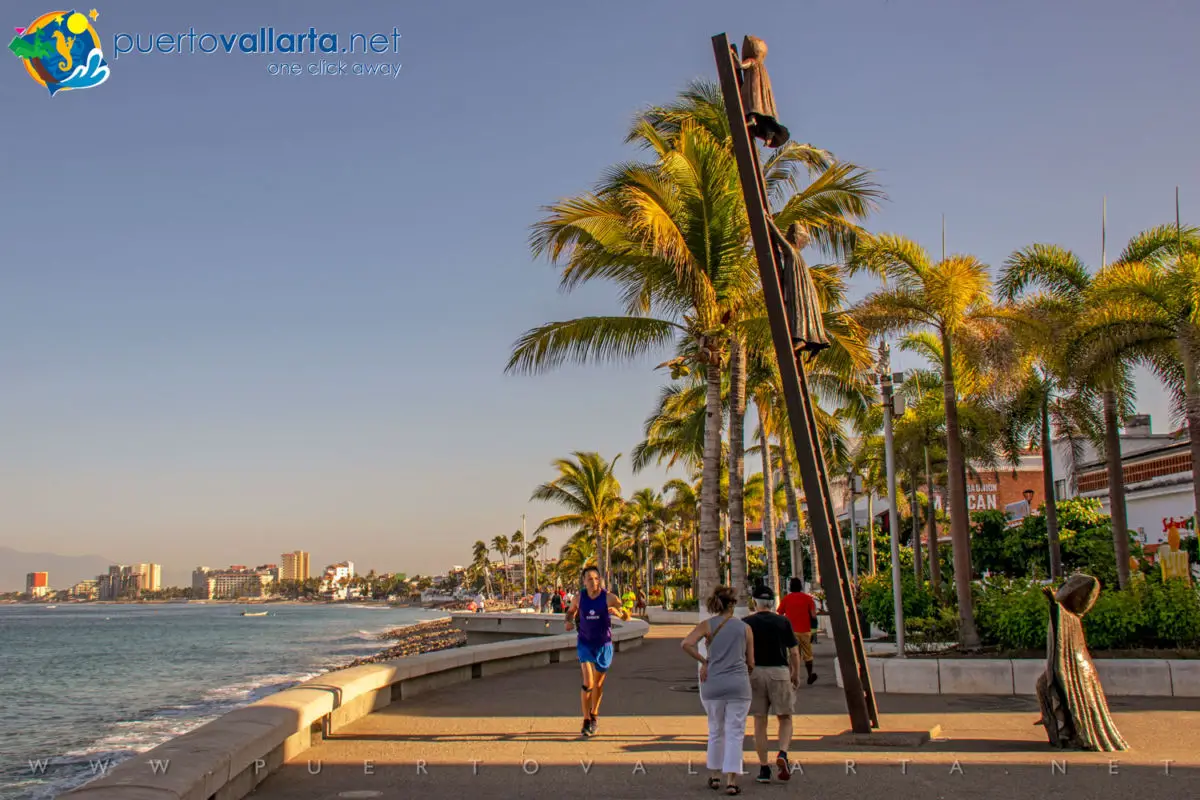 In Search of Reason – Sergio Bustamante, Puerto Vallarta Malecon
Definitively one of the most impressive statues on the seaside boardwalk. You'll find the sculpture where Corona Street ends on the Malecon.
This sculpture was unveiled on the Malecon on July 4th, 2000.
This bronze sculpture measures some 30 feet tall (9 meters).
In Search of Reason ("Ladder sculpture") (Sergio Bustamante) Puerto Vallarta Malecon
Where is the ladder sculpture in Puerto Vallarta?
Despite the name that appears in Google Maps, it is not called "Ladder to Heaven" which someone just made up. The real name is "En Busca de la Razón" which can be translated to "In Search of Reason" or "In Search of the Reason".
It's located where Corona Street meets Paseo Díaz Ordaz, better known as the Malecon.
If you are walking along the boardwalk promenade, you'll find it between "La Rotonda del Mar" (The Rotunda of the Sea) to the north and "Lluvia" (Rain) to the south.
Location Map
About Sergio Bustamante