The Washer Woman, Jim Demetro, Puerto Vallarta
About the sculpture
You'll find this sculpture "The Washer Woman" by Jim Demetro in front of the buildings that replaced the lush and beautiful gardens of Molino de Agua.
This bronze sculpture on the wall of the Molino de Agua Condominium by artist Jim Demetro depicts a woman scrubbing her clothes on a rock, as was traditional in the Cuale River and is still done by many people along the edges of this and other rivers in Jalisco and Mexico.
Cafe Franzi by the water wheel, Cuale River Island 1980
The water wheel behind her is a "Molino de agua", there was one on the Island for some time and there was also a hotel with the same name.
The sculptor, Jim Demetro, had a local 76-year-old woman as his model for this, one of Puerto Vallarta's traditional washerwomen, hoping to preserve this local custom in bronze.
The Washer Woman, Jim Demetro
The local washerwomen would walk to the river banks with packs of clothes on their heads. There they would build rustic palapas with three sticks and a couple of palm fronds, creating a bit of shade and a respite to the hot sun and heat while they washed their own family's laundry and for some extra pesos, that of other families in town, in the river flow, laying it out on flat stones, scrubbing and hitting them on the flat stones.
About the artist
Jim Demetro, wife and daughter with one of their sculptures, Elizabeth Taylor and Richard Burton
Jim Demetro is from Battle Ground in Washington state. Since 1992, he has worked sculpting professionally and has produced nearly 50 works of public art.
During his 13 years living in Puerto Vallarta, he has donated a number of public sculptures to his favorite city including these iconic Vallarta Dancers on the Malecon, one in front of Molino de Agua condos, The washerwoman, The Fishermen on Los Muertos Beach, Ándale Bernardo (the donkey statue) at Lázaro Cárdenas Square and other statues around town.
Artist Gallery Website: http://demetro.net/
Location
You'll find this beautiful sculpture to your left when crossing the mouth of the Cuale River, over the bridge laid out at the end of the Malecón II, this is the start of the Romanic Zone (Old Vallarta) and to your right, the beach is the one known as Olas Altas.
Author: M. A. Gallardo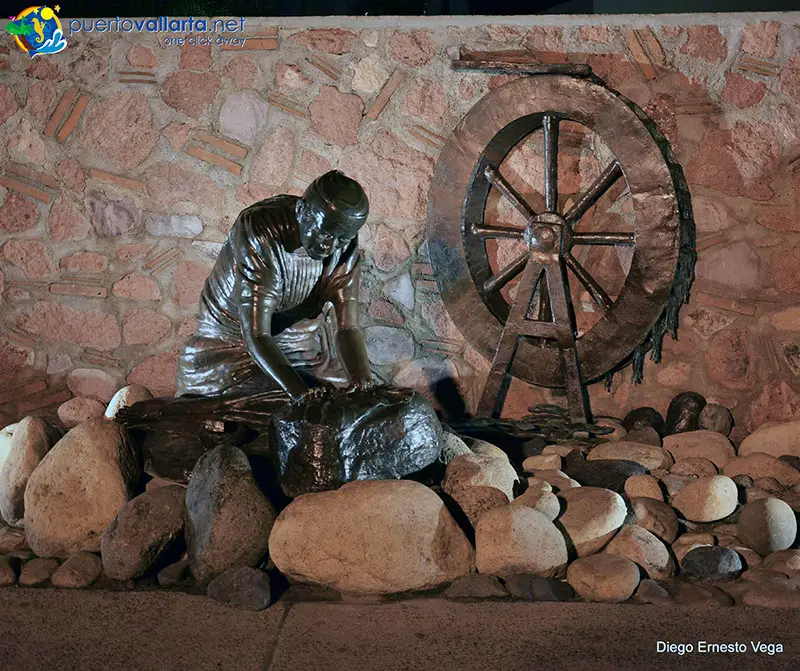 Washer Woman, Jim Demetro, Puerto Vallarta