Viejo Vallarta (Old Vallarta), Old Town, the South Side, Colonia Emiliano Zapata, now also called the "Romantic Zone", is just south of Downtown PV. It's the busiest part of Puerto Vallarta, streets are smaller, there are more shops, cafes, bars and restaurants per square foot here than anywhere else in town.
You'll notice you cross bridges over the Cuale river when going south from downtown Puerto Vallarta, that's when you know you are arriving at the South Side "Zona Romantica".
If you walk along the Malecon past the Arches and the Naval Museum, you'll get to a pedestrian bridge with a lookout that crosses the river too. That's another way of getting to the Old Town of PV.
Menu:
Here the signature cobblestone village streets that crossed the Cuale River from the northern downtown, extend into the traditional Mexican part of the old town and where you really enjoy Vallarta. Truth be told, this area is newer than downtown PV, but it does feel more like a pueblo.
There are quite a few smaller hotels and inns in this part of town, most are between Olas Altas and the beach, in this case, small is friendlier and more relaxed, plus, you don't need a walled-in resort here, all the nightlife is a step away and during the day you can enjoy the different food options in a long list of restaurants for all tastes.
Stroll through town, watch your step as sidewalks are irregular at times, though the local government is working to improve this without eliminating the quaint town feel of the place. Shops, art galleries, bookstores, markets, cafes, small restaurants, and street-side taco stands are part of the scenery.
This is the part of town most recurrent visitors stay at and the ex-pats enjoy at night.
---
Los Muertos Beach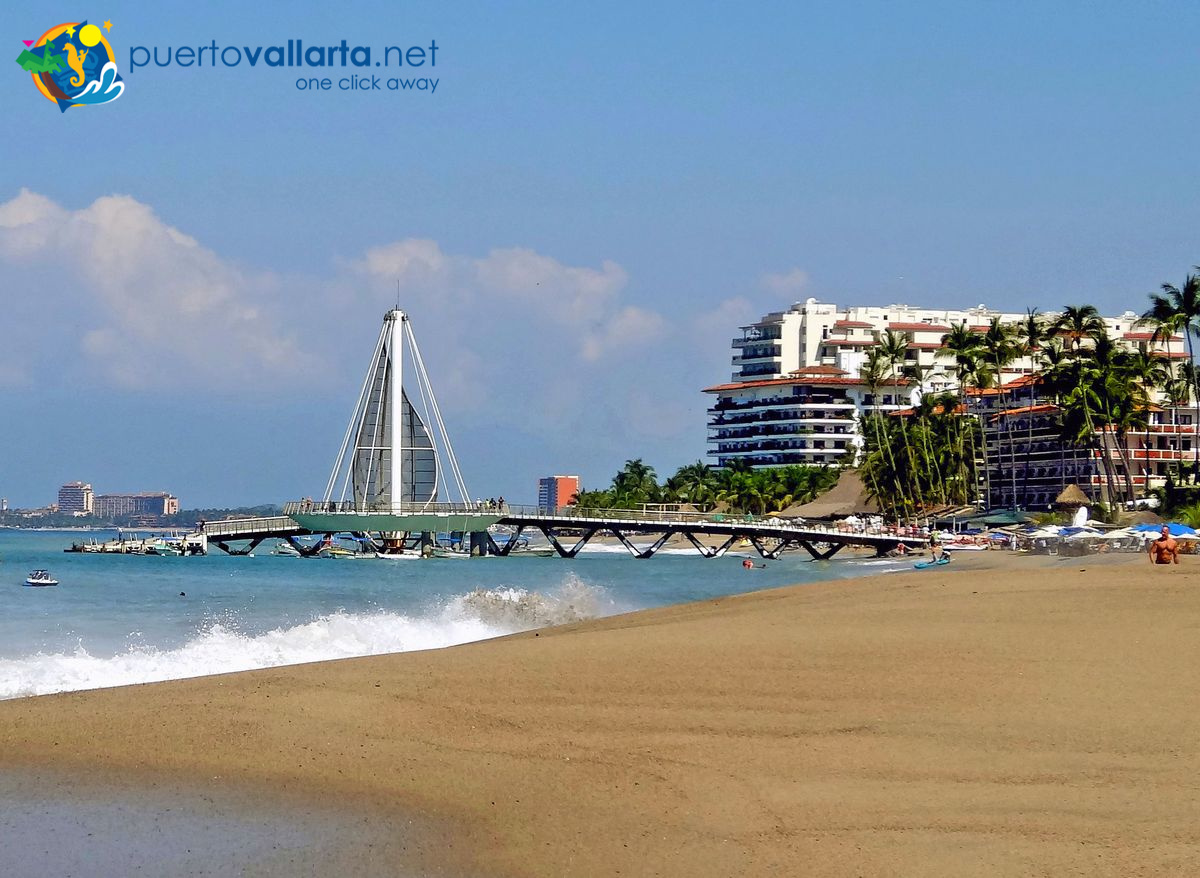 Playa Los Muertos is the top attraction in Old Vallarta, the beach is crowded compared to the rest of the beaches in Vallarta, but that also means that if you enjoy people watching, you'll have fun here, vendors, activities, food, beers, parasailing, a swim in the ocean (the waves aren't big, play in the sand with your kids.
Then enjoy the bars and cafés, at night there are quite a few very good restaurants on the beach and with famous and romantic Vallarta sunsets.
Read the full Los Muertos beach article
---
Pier at Playa Los Muertos
After almost three years, the Pier at Los Muertos Beach has been inaugurated with fireworks, music, and fun, on January 4th, 2013.
The pier is one of the main elements in an ambitious renewal program for downtown Puerto Vallarta that includes a series of important projects around the town. These will add to the main existing attractions for both local and international visitors.
In this case, the pier has become an important attraction for Francisca Rodríguez street and the surrounding areas and both the streets and pedestrian access has been improved.
Read the full Los Muertos pier article
---
Old Town Farmers Market (Tianguis Cultural)
Old Town Farmers' Market has become one of the best weekend attractions in Puerto Vallarta, locals and ex-pats enjoy purchasing and sampling fresh local produce.
The Market is a producer-only market, which means all vendors must make, bake or grow the products they sell here, no Walmart or Soriana here. Phew!
Old Town Farmers Market Puerto Vallarta Full Tour (07/12/2019) Tianguis Cultural en Viejo Vallarta
You'll find a great selection of organic vegetables, exotic fruits, chocolates, coffees, cheese, ice cream and local meats, handmade tortillas, cookies, pies and more. Local artisans sell their jewelry, soaps, paintings, pottery and more.
You can also eat lunch and enjoy local foods, enjoy some "aguas frescas" or fresh-pressed juices, baked goods, tamales, burritos and much more.
Old Farmer's Market is wheelchair accessible, pet-friendly, you can park under Lazaro Cárdenas park. Live music adds a vibe to the market.
Open every Saturday from the first Saturday of November to the last Saturday of April between 9:30 am and 2 pm. Now located at Lázaro Cárdenas Park.
---
Cafe Street
Strolling through the romantic zone is food for the heart. As you step through the entrance of any of the restaurants in this area, you breathe that special "something" in the air that provides an irresistible temptation to stop and sample the delicious seafood cuisine and international dishes prepared by international chefs from all parts of the world, as well as fabulous desserts, refreshing beverages and fragrant coffees. Many cafes line Olas Altas and the side streets.