Introduction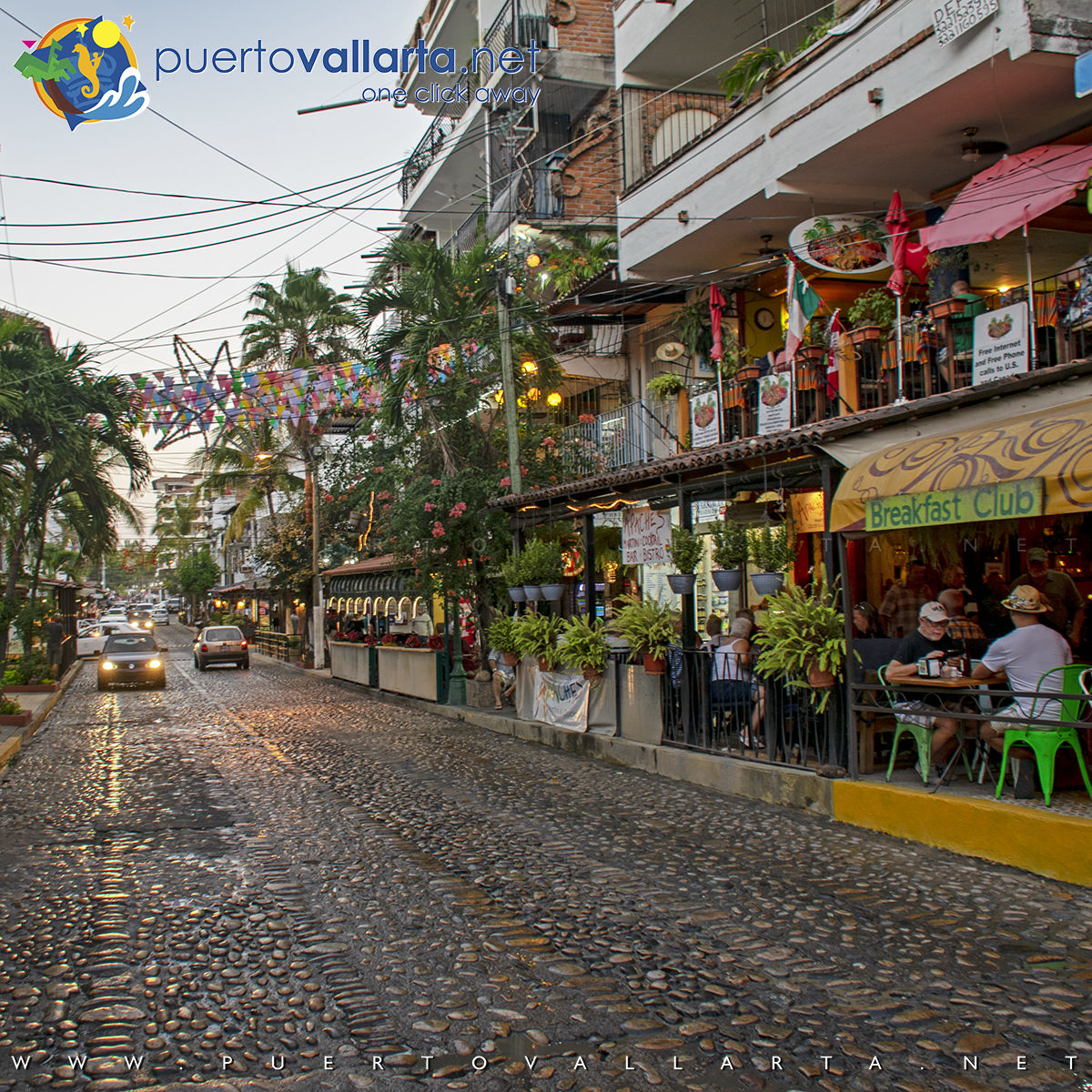 Olas Altas Street, Romantic Zone, Puerto Vallarta
Puerto Vallarta's Romantic Zone, also known as Viejo Vallarta (Old Vallarta), Old Town and the South Side, is just south of downtown Puerto Vallarta and is one of the busiest parts in town, the streets are smaller and there is a higher concentration of cafes, bars, shops and restaurants per square foot than almost anywhere else in the city.
Your trip to Puerto Vallarta is not complete without enjoying this neighbourhood (barrio) in the Romantic Zone, as with the downtown area, this is where you'll experience the heart and soul of this, the once sleepy fisherman village and its Mexican culture.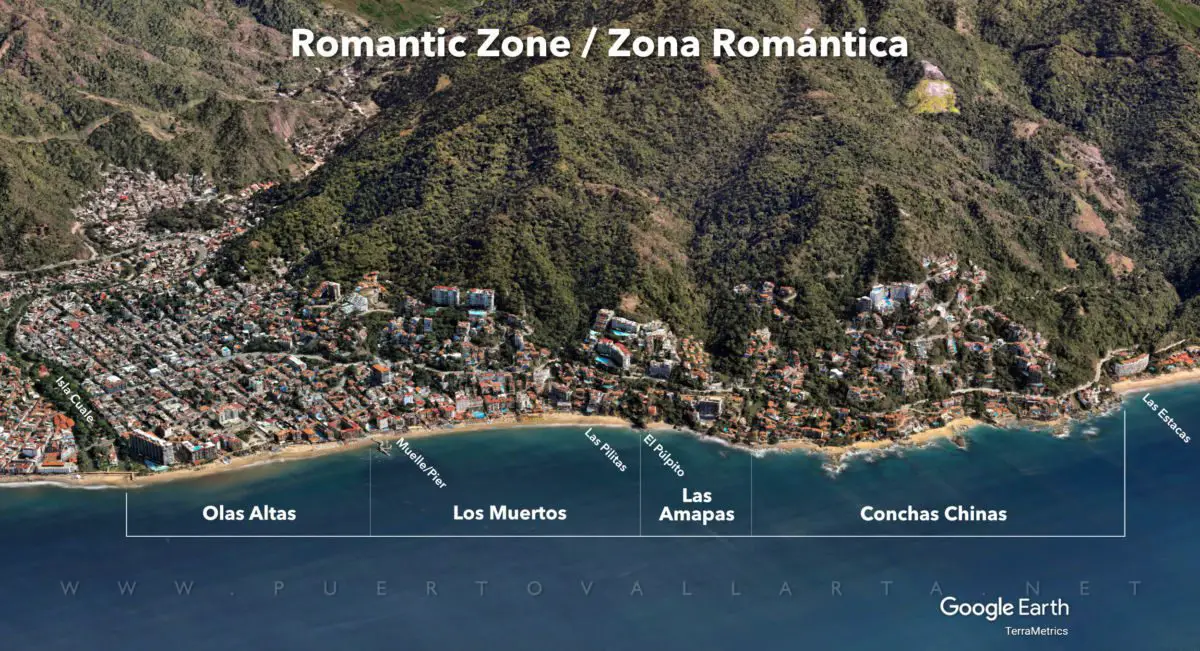 Romantic Zone (Old Town), Puerto Vallarta, Google Earth
The signature Mexican cobblestone village streets crossed over from north of the Cuale River and extend into this, a newer development (from around the 1950s and 60s) in a traditional Mexican design with a pueblo-like feel. The older buildings take you back to simpler times and the people here are extremely welcoming and friendly, so you'll find yourself coming back time and again, plus there is always something going on in this part of town.
Here you'll find many of the smaller hotels, posadas and inns (less luxury, but much more friendly and laid-back) – you can check our hotel map – and you'll see many are between Olas Altas street and the beach. I recommend this option for those that want to experience a more authentic Mexico.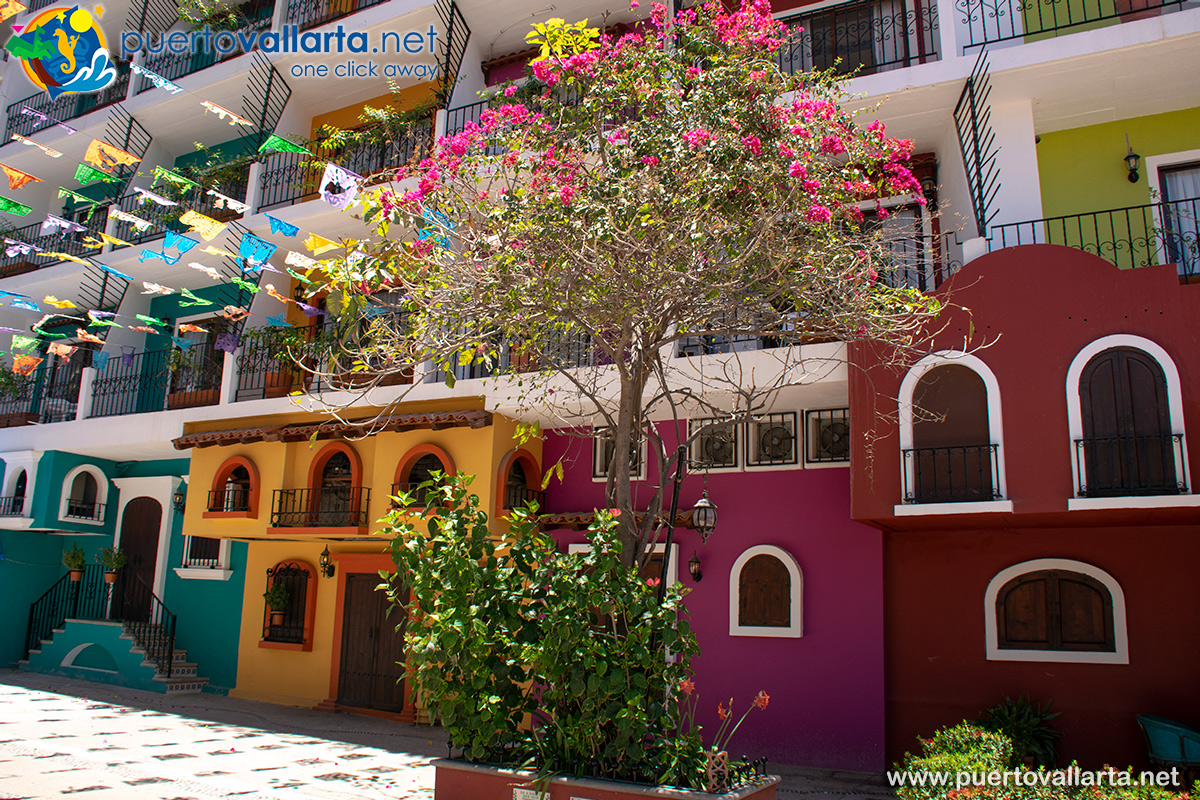 Colorful facades in the Old Town (Romantic Zone), Puerto Vallarta
There's no need to be walled up in a resort here, all the nightlife and excitement is just a step away and for the daytime meals you can really take advantage of the different food and budget options either at one of the many restaurants or even tacos and other food stands you can find in the houses or streets.
Enjoy walking around the place, the sidewalks can at times be challenging, though quite recently the city government improved many of the sidewalks on the main streets, unifying the design with the ones north of the Cuale River.
How to get there
Viejo Vallarta (Old Vallarta), Old Town, the South Side, Colonia Emiliano Zapata, now also called the "Romantic Zone", is just south of the downtown area of downtown area of Puerto Vallarta. It's the busiest part of Puerto Vallarta, streets are smaller, there are more shops, cafes, bars and restaurants per square foot here than anywhere else in town.
It is bounded by the Cuale River to the north, Las Estacas Beach (Hyatt Ziva) to the south. It is also known as the South Side and Colonia Emiliano Zapata.
It is a practical division of the area within Banderas Bay and is mostly used for tourist and practical reasons, this makes it a bit flexible, so don't be surprised if you see it defined differently elsewhere, just take that into account and don't be disappointed.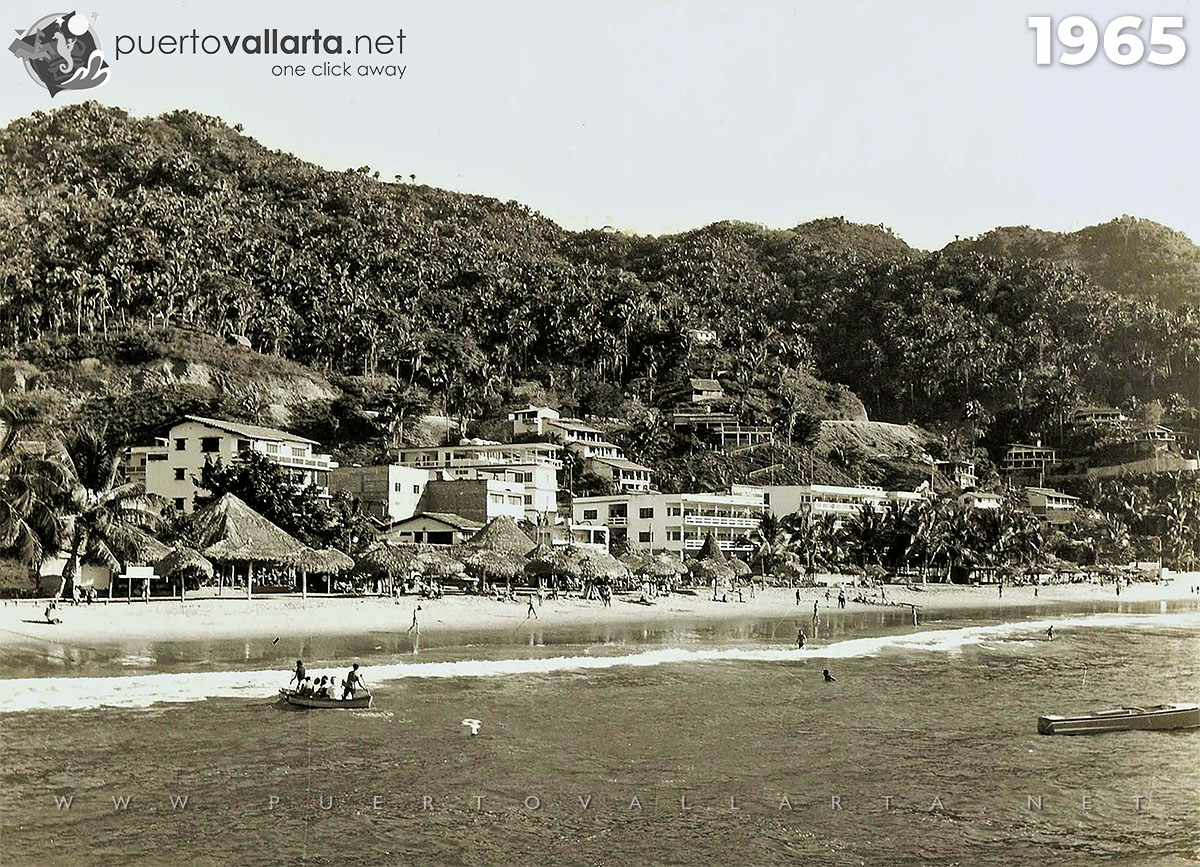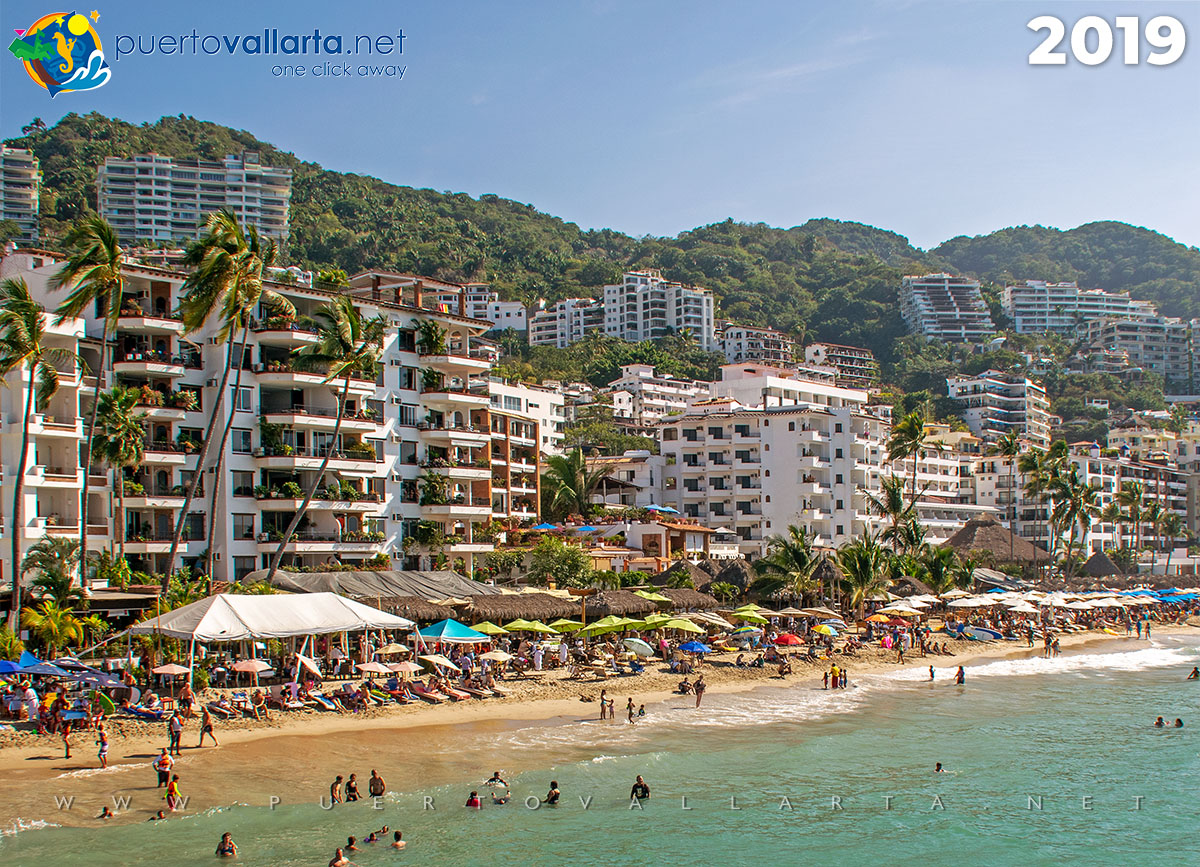 You'll notice you cross bridges over the Cuale river when going south from downtown Puerto Vallarta, that's when you know you are arriving at the South Side "Zona Romantica".
If you walk along the Malecon past the Arches and the Naval Museum, you'll get to a pedestrian bridge with a lookout that crosses the river too. That's another way of getting to the Old Town of PV.
What to do
You'll find innumerable art galleries, shops (jewelry, antiques, handicrafts, shoes, Talavera and tiles), bookstores, markets, coffee shops (cafés), bars, large and small restaurants and many street-side taco stands on the side streets that are also part of the general scenery. There are also ice-cream parlours (I love the lemon (lime) ice cream from La Michoacana), bakeries, barbers, Tequila and the list goes on. Old Vallarta is my preferred place when it comes to breakfast options, there are many great options and you can't go wrong.
Olas Altas Street, Romantic Zone (Old Town), Puerto Vallarta
Another important attraction of this part of town are the beaches,