The main natural attractions that make Puerto Vallarta a truly magical place are three:
The Sierra Madre mountain range.
Rivers flowing down from the mountains,
The Pacific Ocean, its tropical beaches, and the Banderas Bay.
They can all be found and enjoyed in Vallarta, making it an astounding and picturesque travel destination.
Check out our PV Beach Guide with photos, images, and panoramas.
Complete List of Beaches
Part of the beauty and fun of traveling to a new place is having the opportunity to enjoy the beauties the local nature offers.
In the case of Vallarta, one of the main attractions are the beaches in the area. Many of them offer a suite of activities to partake in, from scuba diving and snorkeling to just strolling down the golden sands.
Where you have a view you can enjoy the frolicking humpback whales and dolphins in the bay, meditate to the soothing and relaxing sound of the waves or enjoy one of the beautiful and romantic sunsets.
Here we list the best ones in the area and it's up to you to choose the one that is best based on your taste and interests.
Beach Location Maps for PV & Banderas Bay
---
 We have a separate section with the Top 5 Beaches in PV, and another list with the Top 10 Beaches in Puerto Vallarta and the surrounding area.
---
Featured Beaches from North to South
Destiladeras Beach (Playa Destiladeras)
You'll find Destiladeras Beach west of La Cruz de Huanacaxtle, on the road to Punta de Mita in the Banderas Bay, this is the Pacific Ocean coast of the state of Nayarit in Mexico.
It is 30 minutes from Nuevo Vallarta, approximately on the Km. 7 on the old road that goes to Punta Mita. It is also 23 miles from Puerto Vallarta's main square, which is about 50 to 60 minutes from the downtown PV area.
The beach offers hotels and restaurants but still is a nice natural beach not so affected by human development.
It is one of the most popular beaches among the locals, they know it is a wide, shallow water beach, something that makes it incredibly kid-friendly. Little by little it's becoming less of a secret and is now also visited by tourists from the US and Canada.
Complete article on Destiladeras Beach
---
Bucerias
What to do in Bucerias, Beach & Market, Riviera Nayarit, Mexico
Bucerias is a small attractive town located in the Banderas Bay in the state of Nayarit between La Cruz de Huanacaxtle to the north and Nuevo Vallarta to the south and is part of what is now called Riviera Nayarit.
The locals are simple, sincere and kind people, they are proud of their town and their clean beautiful beach. The 5-mile long beach itself offers soft sand and calm waves.
Among the various attractions and sightseeing landmarks in Bucerias, we could mention the Iglesia a la Señora de la Paz (Our Lady of Peace Church) and the remodeled main plaza, the local beach, is a great place to relax, take walks, take a trip on horseback or an ATV, especially when you do so in the afternoon and can enjoy the impressive sunsets that are a part of the bay panorama, during the summer afternoons the sun sets behind the hills that surround the western edge of the bay and not the sea.
Read the complete Bucerías article
---
Playa de Oro Beach (Playa de Oro)
It's located north of downtown P.V. in the hotel zone, Playa de Oro (literally Gold Beach) is an enjoyable, safe and sandy place to enjoy the sea, flanked by rocks at each end they create a little bay that is distinctive and welcoming at the same time.
How's Playa de Oro Beach in Puerto Vallarta's Hotel Zone? (Gold Beach)
Surrounded by an arc of hotels and resorts, you'll enjoy a variety of recreational activities and water sports that include parasailing, water skiing and popular for swimming too. Playa de Oro is one of the many fine beaches in Vallarta, both for residents and visitors.
Public access to Playa de Oro:
---
Los Muertos Beach (Playa de Los Muertos) & Olas Altas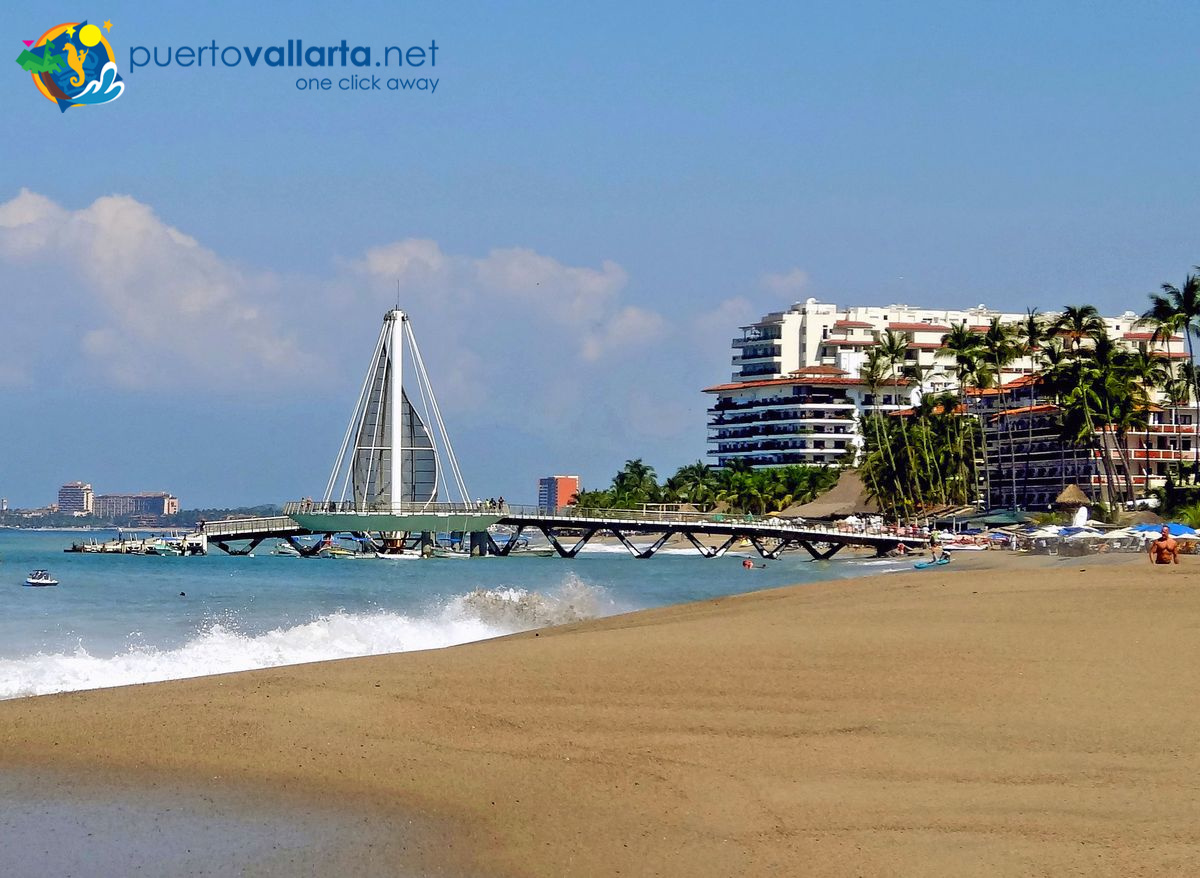 Probably the most famous, most visited and most popular beaches in town, Los Muertos Beach and Olas Altas are located on the south side of the Malecon and Cuale River Island, quite a few international hotels and resorts serve as its background, great for people watching, families and it's fine for swimming and other seaside activities.
Los Muertos Beach in Puerto Vallarta from the ground and from a drone
The area surrounding it is known as the Old Town or Zona Romantica, the beach here is intended for families, newlyweds, and is a wonderful place to just watch a sunset and at the same time have a drink or enjoy a delicious meal. El Dorado, on Los Muertos, has been receiving celebrities since 1960, when Eva Gardner, Richard Burton and Elizabeth Taylor, would stop by there and enjoy a beer (or more than one!).
Olas Altas starts off where the bridge over from the Malecon II, by the Cuale River and ends by Daiquiri Dick's at Basilio Badillo, from there on, the beach is called Los Muertos.
Olas Altas and Los Muertos offer an impressive selection of restaurants, bars, galleries, clothing stores and souvenir shops, among other attractions, not to mention plenty of locals and foreigners.
Add to this formula the recently remodeled Los Muertos Pier, a great stroll, a place to take the water taxis north and south, plus a beautiful place to enjoy the sunsets.
Los Muertos Beach Location
---
Conchas Chinas (Playa Conchas Chinas)
Conchas Chinas (which can be translated as Chinese Shells or in more colloquial Mexican-Spanish: Curvy Shells), is one of the fascinating beaches you are likely to find in the area, located in the South Zone, just south of the Romantic Zone, only a few minutes south of downtown Pto. Vallarta, flanked by lush mountains on one side and aquamarine waters lapping at the clean, sandy yellow beach.
Enjoy natural tide pools formed by the encircling rocks, a fried fish on a stick, relax and enjoy yourself as you rarely have before. The transparent waters offer you a clear view of the depths where you'll see a wide array of fish and other sea animals that are found in the area, an experience you will likely never forget. Proof that is is one of the cleanest Pto. Vta. town beaches available.
Two of the best public access locations are: https://goo.gl/maps/tGu4s & Conchas Chinas and Las Amapas: https://goo.gl/maps/8NI58
Conchas Chinas Beach Location
More on Conchas Chinas Beach in downtown PV
---
Garza Blanca Beach (Playa Garza Blanca)
Don't write Garza Blanca Beach off your list just yet. There is still public access if you follow the northern and southern edges of the development there are paths that lead to the shore.
It is a small and unobtrusive stretch of sand located on the 7th kilometer (4 miles) on the Pacific Coast Highway, south of Las Gemelas in the south zone. Its pristine white sand and aquamarine waters will delight your senses.
Visit it and relax, breathe and feel the tranquility of this nice location.
Read the complete Garza Blanca Beach article
Public access on the south side: https://goo.gl/maps/EYoPu
and on the north side: https://goo.gl/maps/yw9vH
---
Las Gemelas Beach (Playa Las Gemelas)
Las Gemelas (Twin Beach as it would be translated), are two beaches, which are approximately 100 yards in length each, made notable by their fine white sand, clear water, and gentle waves on the shore.
On both of them, you'll find a number of water activities to choose from. Swimming, snorkeling, kayaking, hiking, you can also climb the rocks that divide both the two sand stretches and search for crabs and minnows, finally, you can just relax enjoying the sun under a group of palm trees.
Here's the public access to the beach on Google Streetview: https://goo.gl/maps/BdfW8
Las Gemelas Beach Location
Complete article on Las Gemelas Beach
---
Los Arcos National Marine Park
This amazing marine park is located between Las Gemelas and Mismaloya. Don't miss the opportunity to boat, snorkel or dive through the deep tunnels, caves, colorful reefs and arches of these wonderful islands. Acquaint yourself with the many forms of marine life and birds that live at and around Los Arcos. These islands appear to float on the surface of some of the deepest waters of the Pacific.
Snorkeling Los Arcos, Puerto Vallarta, Mexico
If you enjoy scuba diving, the area around Los Arcos has many beautiful fish, the sea bottom has some interesting pipefish that poke out of the sand too. So don't forget to visit these islands and water parks, as their unforgettable image will come to mind every time you think of PV in the future.
You can get a photo of Los Arcos from the beach at this location: https://goo.gl/maps/cqCbZ
Read a complete article on Los Arcos de Mismaloya
Los Arcos Lookout Location
---
Mismaloya Beach (Playa Mismaloya)
Located at the southernmost point of the south of Puerto Vallarta, Mismaloya is at the foot of the mountains and offers a beautiful blue-green bay for your day trip. If you want some of the best views the area has to offer, plus beautiful attractions along the way, luxurious hotels, great restaurants and terraces over the beach take a slower trip down the coast to Mismaloya.
Stunning Mismaloya Beach, 20 minutes south of Puerto Vallarta, Mexico
The beach itself is very famous for having been the one chosen by John Huston to film Tennessee Williams' "The Night of the Iguana" in 1962-63. The ruins of the movie set remain at the far end to the South on the hill. In the rainy season, the beautiful river that feeds the bay swells up, offering a wide variety of flowers, fauna and colorful birds for the visiting bird watchers.
Public access to Mismaloya via this street beside the Barceló hotel: https://goo.gl/maps/LrrGp
---
Boca de Tomatlan Beach (Playa Boca de Tomatlán)
Between small hills, trees and palm trees, where the sweet waters of a river mix with the sea, lies a small fishing village called Boca de Tomatlan, this is the last beach to the South of Vallarta that is accessible from the highway before it curves inland. On its shores are several small rustic restaurants.
¿Por qué visitar Boca de Tomatlán en Puerto Vallarta, Jalisco México?
This is a great place to hire the famous pangas or water taxis that can take you to "island" style beaches & towns of Yelapa and Quimixto. After you enjoy the calm beach, the estuary and the calm you can get on board your panga and zoom off to discover more of the Pacific Ocean beaches to the south.
Boca Location Map
Read more on Boca de Tomatlan, photos, and videos
---
Colomitos Beach (Playa Colomitos)
Located 1000 yards (5 minutes in water taxi) to the west of Boca de Tomatlán (11 miles / 17 km from Puerto Vallarta's main square), Colomitos Beach (Playa Colomitos) is a small little clear-sand beach located between the clear emerald sea waves, rounded rocks and a small creek and waterfall that sneaks out of the lush tropical jungle.
There are two ways to get to the beach and cove, one, the easiest and recommended, for those that are not into hiking through the jungle and going up and down slopes, is by sea in one of the local "pangas", water taxis that depart from the pier in Boca de Tomatlan (they charge a few dollars per person for the ride).
To start off this adventure I would recommend you travel by land southward from downtown PV to Boca de Tomatlán, where you can take the water taxi going to the other western beaches (Las Animas, Quimixto, Majahuitas, and Yelapa) as they will first go by Colomitos' small bay and beach on their normal route (see map above). Check out the water taxi schedule. 
---
Caballo Beach (Playa Caballo)
A nice, relatively isolated beach just north of Las Animas Beach in the south zone of the Banderas Bay.
You can get there directly by water taxi (panga) just ask to be left off at Playa Caballo, if you are not looking to get wet, maybe it's best to arrive at the pier at Las Animas walk northeast along the beach, take the path to Hotelito Mio and to the right of the hotel is Caballo Beach, if you continue northeast you'll get to Casitas Maraika, that has a small nice beach just to the right of it too.
The beach has light yellow sand, clear emerald green-blue waters, the waves can be stronger than the ones at Las Animas. Because Las Animas is a popular beach destination for a number of bay cruises, if you want a bit more privacy and want to enjoy a calmer day at the beach, you should consider walking to this beach. If you need a drink and snack, you can go to the bar of Casitas Maraika and enjoy the view.
El Caballo Location Map
---
Las Animas Beach (Playa Las Animas)
Where is Las Animas Beach in Puerto Vallarta? Tips for your day trip?
Las Animas is distinguished by its golden sands, to the right of the division by a line of stones is the tourist area, on the left is a much more private location called Playa Caballo (Horse Beach).
Behind it stands the imposing mountain and in front of it the Pacific Ocean, colored a light blue because of the shallows and low depth, making it perfect for swimming, snorkeling, diving, and kayaking. Or if you just want to relax, sunbathe on one of the folding chairs in front of their many restaurants after you have had a delicious meal of fresh fish and shellfish.
Las Animas Beach Location
---
Quimixto Beach (Playa Quimixto)
You can only get to Quimixto by boat or panga, those of you who are looking for new stories and adventures, you'll find the little village of Quimixto, with a population of approximately 250 inhabitants. Visitors to this beach can either walk or ride a rented horse into the jungle where you'll eventually find a large waterfall with a deep big lagoon for swimming or snorkeling. Afterwards, you can return to the beach and enjoy a home-style meal at any of the Mexican seafood restaurants that are there.
To discover and enjoy the sea life on Quimixto, don't forget to dive into its welcoming waters, where you'll be amazed by a new world of tropical fish, sea turtles, coral, and much more.
Quimixto Location
Read more on Quimixto, Cabo Corrientes
---
Majahuitas Beach (Playa Majahuitas)
This small colorful location offers a small beach with fine white sand, Majahuitas lies at the foot of a lush jungle, accompanied by the sounds of the jungle fauna, lapped by the soft blue waters of the bay.
Why visit Majahuitas Beach South of Puerto Vallarta Jalisco Mexico
Wander around in this spectacular place, with its transparent waters and a sunken canyon that you should see for yourself. Climb aboard for an adventure on a kayak, or simply stroll along the beach enjoy the sound of the waves, listen to the birds and try to catch a glimpse of iguanas or lizards.
Majahuitas Beach Location
---
Yelapa Beach (Playa Yelapa)
Do you know Yelapa South of Puerto Vallarta in Jalisco Mexico? What To Expect There
Want to go to a place where waters meet and swirl. This is the original meaning of the name Yelapa, a picturesque beachside village, which opens its doors for you to explore its landscape, about 40 minutes away from Boca de Tomatlan by water taxi. This is a place distinguished by its colorful surroundings, its tradition, its kind and gentle people, who for the most part, dedicate their lives to fishing and tourism. As it's a traditional village, you must try their Mexican food dishes, fresh fish, and lobster.
Yelapa, the perfect place to lose yourself in the jungle, wade through rivers or take up sports such as swimming in the soft water, diving or fishing. You can also take long hikes from the village until you reach the waterfall, more than fifty feet high, falling from the mountain during the rainy season (June to September). Those who have had enough of the rides and excitement can simply choose to relax on the beach for hours on end.
Yelapa, due to its distance from normal civilization makes you feel as if you were on a tropical island, free from the normal stress, far from it all, you suddenly start feeling, hearing, enjoying all the new things that surround you, the big ground crabs, the silent flight of the bats, the romantic glow of the fireflies that come out at dusk, it's a natural symphony just waiting for you to relax and listen in.
Yelapa Location
---
 Cabo Corrientes
Mayto Beach
Continuing along the bay you'll soon arrive at Mayto Beach, where you'll encounter an impressive diversity of plants and animals, including the largest sea turtle conservation / release camp in the state of Jalisco.
Check out Playa Mayto Beach in Cabo Corrientes Jalisco Mexico
Campamento Tortuguero / Sea Turtle Protection Camp: https://www.facebook.com/campamentomayto
Rancho Sol y Mar http://www.ranchosolymar.com
Tehuamixtle Beach
If you are hungry, don't miss out on Tehuamixtle beach, which is known for its large oysters and shrimp at very accessible prices, it is also a small beach 600 ft. (200 meters) long.
Read more about Tehuamixtle Beach
Tehuamixtle Beach in Cabo Corrientes, 2 hours S of Puerto Vallarta
Not far from there lies Villa Del Mar, where the waves become agitated and vivid green imposing vistas abound. There is an estuary here where you can enjoy kayaking, or if you stay on land, just enjoy the diversity of locally grown crops, including tropical fruits.
Lo De Marcos (Nayarit)
Between Rincón de Guayabitos and San Francisco (San Pancho) you'll find the humble town of Lo De Marcos, quite nice and picturesque, the town is quiet, relaxed and quite nice. The cobblestone streets lead you to the beach, a nice wide clean beige colored beach about 2.5 kilometers long (1.5 miles). There are a few small palapa bar-restaurants by the beach and mostly private vacation homes and bungalows you can rent, line the edges of Lo De Marcos.
Travel Video Discover Lo de Marcos, Riviera Nayarit, Mexico
The water is fine, waves are not too large, but they break really close to the edge, so we're guessing it's not a great surfing spot, closer to the southern end of the beach waves break further in the sea, it might be a better place to surf.
The variety, nature, blessed weather and clean ocean, are a cornucopia for you to enjoy and cherish. Memories for a lifetime are carved into your mind by beauty, fun, and love, we hope you'll find them in abundance here in Puerto Vallarta and the surrounding areas. Enjoy!
FAQs
Nurse Sharks
It's the most common shark in the Puerto Vallarta area, they are what you would call a vacuum shark which is how they normally feed. They tend to stay most of the time invisible and completely still in the sands of shallow waters.
Whitetip Sharks
Recognizable for the white tip on the tip of their dorsal, tail and pectoral fins. You need to go searching for them to see them as they rarely wander within the bay because they live in deeper and colder waters.
Whale sharks
One shark species that is a not so rare visitor in the bay is the Whale Shark (Rhincodon typus), a harmless plankton-feeding shark, the largest fish in the ocean.