YEARLY EVENTS: January | February | March | April | May | June | July | August | September | October | November | December
Other events – Public Holidays in Vallarta
JANUARY
January 1 – New Year's Day (Año Nuevo) in Mexico and Puerto Vallarta is a national holiday. Banks and public government offices remain closed for the day. Take a stroll along El Malecon and enjoy all the different events, at night there'll be fireworks and ships in the Bay.
January 6 – Three Kings Day (Día de Reyes) is a traditional gift-giving day for kids and a moment to eat the "Rosca" (try to avoid the little baby Jesus hidden in it) and drink warm chocolate. It's a Mexican holiday when children receive toys and gifts in honor of the Three Kings' visit to baby Jesus.
Some restaurants, hotels and The International Friendship Club, one of Puerto Vallarta's largest charities, annually visit local hospitals and rural communities bringing truckloads of toys for the needy local children, read more on Puerto Vallarta Non-profit Organizations and Charities.
DECEMBER – MID-MARCH
Whale watching: Each winter season a growing number of tourists and locals enjoy tours that take them out to see the migrating Humpback whales in Banderas Bay.
From December to April, these gentle giants can be seen breaching out of the water as parents instruct their baby calves in the ways of their watery world.
Local eco-tour operators are licensed by the National Environmental Agency to assure respectful watching of these magnificent mammals.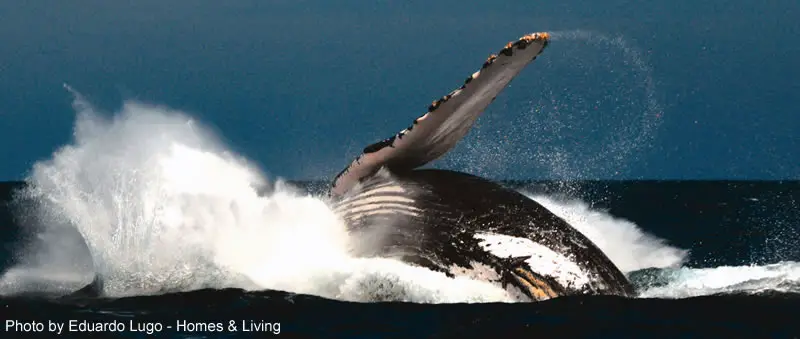 FEBRUARY
February 5 – Anniversary of the Mexican Constitution, national holiday and it includes a parade through downtown PV. Banks and public government offices remain closed.
February 14 – Friendship Day (Día de Amistad – Valentine's Day); in Mexico, it's not just about love, but also friendship, as well, is celebrated on February 14. Special menus in most the local restaurants, and live music to dance in different Latino ambiance nightclubs. You need to reserve in advance if you don't want to wait for ages and get into a fight with your fiancee ;-).
February 24 – Day of the Mexican Flag. Local Mexican celebration.
24 de Febrero, Día de la Bandera
Regatta Action!
Banderas Bay fills with sails as a series of regattas and takes full advantage of the gentle breezes, clear skies and calm waters surrounding Puerto Vallarta. Read more at http://www.vallartayachtclub.org/
MARCH
First Tuesday – Carnaval Day. Party with masks, kids parade in the streets.
First Wednesday of the month – Ash Wednesday.
March 21 – Benito Juarez Day is a national holiday honoring the renowned former president who is known as the "Lincoln of Mexico." March 21 First Day of Spring, and the beginning of the Springbreak season.
APRIL
Semana Santa and Pascua, (Easter Break); Puerto Vallarta is at its peak occupancy during this pre-Easter Holy week, this period is a normal national vacation and there's "spring break" from school, and many local families, mainly Guadalajara and surroundings, take the opportunity to bask at the beach and enjoy beautiful Puerto Vallarta.
April 9 & 10  – Bank holidays.
April 30 – Día del Niño (Children's Day). Local children participate in a parade on the streets and enjoy the party.
MAY
May Cultural Festival (Festival Cultural de Mayo)
Every year the local government organizes the "Festival Cultural de Mayo", with events and activities all through the month. Important local, national and international artists (painters, musicians, actors, etc.) participate in various concerts, events, and happenings all over the city and the surroundings.
XIUTLA con el Jarabe Tapatío en la Clausura del Festival Cultural de Mayo 2012
Puerto Vallarta International Sports Classic
Various sports events are held around town. Exact dates vary, but always held in May. Click here for more info.
Internacional Sport Classic Vallarta2013
May 1 – Labor Day, a national holiday. Banks and public government offices are closed.
May 5 – "Cinco de Mayo", celebrating the defeat of the French Army at Puebla in 1862, a national holiday. Banks and public government offices remain closed. In the USA known as "5 de Mayo", though in Mexico it's not as important an event.
May 10 – Mother's Day (Día de la Madre), a national holiday. Mexicans really go out of their way to show their respect for their mothers, despite the "macho" background the country may have, mothers, have always been deeply revered and admired. Father's day was created more recently and as an afterthought…
Fiestas de Mayo (May Fiestas, most of May). Traditional fair throughout the month, complete with games and attractions, livestock, exhibits, food, drinks, and entertainment. It is held in an open field in the charming neighborhood of El Pitillal; across from the cruise ship terminal.
May 24 – Springbreakers arrive during the following 6 weeks.
May 31 – Puerto Vallarta Anniversary day (birthday). Events along the Malecon and a great fireworks display.
MAY – DECEMBER Sea Turtle Preservation Months. Turtle Preservation Program; Puerto Vallarta has implemented a community-wide preservation program that combines protected nurseries for turtle eggs, plus educational projects. Turtle liberation ceremonies are held daily during the season at participating hotel beaches. In addition, Vallarta eco-tour operators host nighttime tours to research camps designed to protect the eggs where visitors witness sea turtles laying eggs in their natural habitat and the release of the baby turtles as they make their initial voyage to the sea. Puerto Vallarta's coastline is among the most important breeding grounds in the world for numerous endangered species of sea turtles. The Puerto Vallarta Sea Turtle Protection Project is a joint effort of the Puerto Vallarta Hotel Association, city government and federal authorities.
Liberó tortugas en Puerto Vallarta / Playa Boca de Tomates
JUNE
June 1, Navy Day (Día de la Marina). A Mexican National event since 1942, it's held in memory of those that June 1, 1917, sailed out in the ship "Tabasco" in Veracruz, the first Mexican merchant ship. This day, in all Mexican harbors, they honor the sailors that have lost their lives on duty, not only in battle, but all activities related to the sea.
The event is mainly held at sea with all the city's Navy ships in an offshore parade, they are followed by tour boats and fishermen that then hold a ceremony to honor navy personnel.
All fishermen towns in the area also hold their own special celebrations out to see and it their towns, you can enjoy this more traditional event for example in Yelapa, see more:
Yelapa Celebra el Día de la Marina
June (Third Sunday), Father's Day. Not such a big event as Mother's Day, but stores love it and remind you all June about it.
June 20 – Solstice
JULY
July 2 – National Elections Day. Held in Mexico every six years (next during 2012).
July 6 – End of the Spring break season
End of July – Mexican school season vacations, begins
July to December – Turtle release programmes at many hotels in Puerto Vallarta.
AUGUST
End of August – National vacation season ends. Schools resume activities.
Turtle release programmes at many hotels in Puerto Vallarta.
SEPTEMBER
Fiestas Patrias!
Mexico's independence – read a complete article
Commemorated during the month of September, with the famed Independence Eve celebration taking place on the 15th. On this night, the central plaza is filled with revellers participating in the traditional "grito", or Cry for Independence. The following day is a national holiday, celebrated with a parade through the center of town and continuing festivities.
September 14 – Charro Day. Mexican Charros (Mexican cowboys) parade through town in the morning (beginning at 10:00 am) wearing traditional charro outfits with beautifully decorated jackets, pants, and sombreros. Their finely brushed horses are decked with their best equipment and saddlery.
Festivities continue throughout the day and evening at various charro rings, celebrations include bullfights, calf roping, traditional Mexican food, and dancing.
DIA DEL CHARRO PUERTO VALLARTA 2017
September 15 – Independence Eve. On this night, the central plaza is filled with revellers participating in the traditional "El Grito", or cry for independence. Led by the Mayor from the balcony in City Hall, it is preceded by the lighting of the flame of independence and a parade through the center of town. Then, at 11:00 p.m., the cry "Viva Mexico" is shouted out, followed by an impressive fireworks display. Food stands, music and folkloric dance performances are also part of the festivities. Special celebrations and live music to dance in different Latino ambiance nightclubs.
Así se vivió el grito de Independencia en Puerto Vallarta
September 16 – Independence Day. The festivities continue on Independence Day, a national holiday celebrated by more brilliant fireworks and a parade that winds through Puerto Vallarta's downtown area. A national holiday, banks and public government offices remain closed.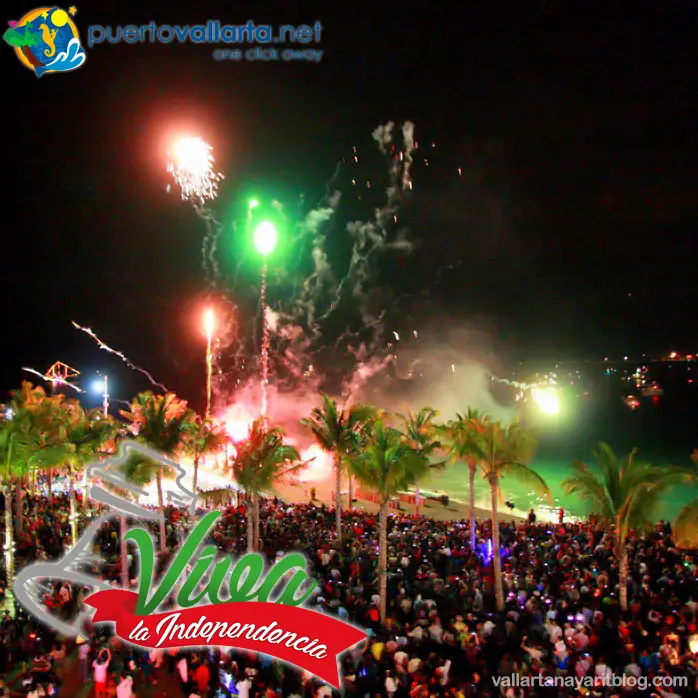 September 22 – Equinox
Turtle release programmes at many hotels in Puerto Vallarta.
OCTOBER
Art Walk starts off at the end of October until the end of May. read more in our museum and culture section.
October 31 – Halloween. In Mexico, you'll also find costume parties and trick-or-treating. Local custom dictates that costumes be on the ghoulish side, and local discos offer cash prizes up into the thousand-dollar range. The real bewitching hour, however, comes a few days later with the day of the Dead… Special contests and celebrations in discos and Latino ambiance nightclubs.
NOVEMBER
November 1 – All Soul's Day (Día de Todos Santos); on this day, Mexicans pay homage to the souls of the children who have passed on. Tradition states that the departed descend from the heavens on this day, so family members prepare for their arrival by leaving sugar skeletons, skulls and treats on altars custom-designed for the occasion. Each year City Hall offers a special alter exhibition, as does the Cultural Center on Rio Cuale Island. Restaurants, nightclubs, and stores also create altars. November 1 is also the date of the annual "Informe" or National State of the Union Address by the nation's president. All banks and government offices are closed.
November 2 – Day of the Dead (Día de Los Muertos). Families hold graveside vigils on this night or at least leave their favorite food and drink (normally Tequila) on a special altar constructed in their home or on the tomb of their departed ancestors. Bakeries are filled with sweets shaped in the symbols of death, and flowers and memorials fill the cemetery. Particularly popular are marigolds, the sacred Aztec flower that represents death.
El Festival de Día de Muertos en #PuertoVallarta se vivió con mucha emoción
During November (dates change):
Puerto Vallarta Art Festival: Each November, the exceptional Festival de las Artes takes place, featuring a month-long series of art gallery shows and open-air, beachside theater performances. An impressive range of artwork is displayed from artists throughout Mexico. All events are free to the public.
Festival Gourmet Internacional de Puerto Vallarta: Mexico's premier culinary event is the annual Puerto Vallarta Gourmet Festival, over a period of 10 days. It serves to showcase a spicy blend of culinary talents between the local chefs at participating restaurants and over 20 guest chefs from internationally acclaimed restaurants and hotels throughout the world.
The Epicurean fete features gourmet cooking classes, sunset wine tasting and special gourmet menus at all participating venues available to diners only during the festival.
Founded in 1995, the festival has continued to attract thousands of attendees each year. http://festivalgourmet.com/
Festival Gourmet Internacional Puerto Vallarta 2016
November 20 – Mexican Revolution Anniversary. Banks and public government offices remain closed. A parade through the center of town marks the anniversary celebration of the Revolution of 1910-1917.
International Fishing Tournament Marlin & Sailfish: Mid-End of November – The state of Jalisco's renowned International Sailfish Tournament (Torneo Internacional Jalisco Pez Vela) one of the most prestigious and traditional national and international tournaments on the West Coast. Hosts hundreds of coastal and inland fishermen from across the globe to Puerto Vallarta.
Anglers compete for the fish in Vallarta's picturesque Banderas Bay. Prizes are awarded to the boat with the largest sailfish, marlin, wahoo, and dorado caught (that comply with local regulations).
The event takes place over a weekend in mid-November annually. www.fishvallarta.com
November 27 – Thanksgiving Day. Special dinners are served in the hotels and fine restaurants in town.
Turtle release programmes at many hotels in Puerto Vallarta.
DECEMBER
Surf Classic in Sayulita
This annual event for surfers draws people from all over the world to this major surfing destination in Sayulita. www.sayulitalife.com
December 1 – 12 "Guadalupe" Processions, Fiestas Guadalupanas.
During these twelve days, processions take place to the Guadalupe Processions; during these twelve days, take place in the downtown cathedral that bears the name of the patron saint of both Puerto Vallarta and of Mexico. Guadalupe Day (Día de Nuestra Señora de Guadalupe), is celebrated on December 12, and almost every business, hotel, restaurant, neighborhood and civic association make a procession to the church for a special mass they have devoted to the Virgin. For the larger groups, these processions resemble a small parade, with folkloric dancers, floats, singing and even fireworks following their brief mass. The Tourist Department downtown displays a poster each year listing the day and time of each organization's scheduled processions.
Fiestas Guadalupanas, Procesiones de la Virgen de Guadalupe, Puerto Vallarta Plaza / Main Square
December 12 – Festival of the Virgin of Guadalupe (Virgin of Guadalupe Festival). This important religious and social holiday marks the anniversary of the day the Virgin Guadalupe made her miraculous appearance to a peasant in Mexico. The processions (see above) culminate on this day. On this day, fireworks abound and the central plaza is filled with people street vendors selling fruits and other local specialties. This date also marks Puerto Vallarta's "birthday." In 1851, Don Guadalupe Sánchez Torres founded Puerto Vallarta, when he brought his family and a few friends to settle in an area alongside the Cuale River.
December 12 – Guadalupe Day in Quimixto; the small, south shore community of Quimixto pays homage to the Virgin Guadalupe on this eventful day. Baptisms, first communions and sometimes weddings take place within the local community, culminating with a procession of small "flotilla" decorative fishing boats at 10:00 a.m., which makes its way down the shoreline. The women and children that fill the 'pangas' sing hymns in the Virgin Guadalupe's honor.
December 12 – Anniversary of the foundation of Puerto Vallarta. A special ceremony at the City Hall Council, and Fiesta at the Malecon. The founding of Puerto Vallarta by Don Guadalupe Sanchez Torres in 1851.
December 21 – Solstice.
December 16 – December 24 – Christmas Week.
All over Mexico, families, businesses, and neighborhoods celebrate the holidays with parties, known as "posadas." This tradition is a re-enactment of Joseph and Mary's search for lodging in Bethlehem. Processions are formed to designated houses and carrying candles, the people ask for lodging through a melodic song. The host will refuse several times before finally opening wide the door, signifying the start of the party. The main Christmas celebration is a traditional Mexican family dinner on Christmas Eve, followed by Midnight Mass.
December 25 – Christmas Day (Navidad). Religious celebration and a national holiday. Banks and public government offices are closed.
December 31 – New Year's Eve. All around the Bay area, there are vibrant fiestas also in Puerto Vallarta at hotels, nightclubs, and homes. In a very special celebration, people get together at the Malecon in Viejo Vallarta, and in Olas Altas Street at Playa de Los Muertos Beach. Special dinners are served in the hotels and fine restaurants. Some of them have live music to dance, if not you will find live music at the Latin music nightclubs, until 6 A.M.
Turtle release programmes at many hotels in Puerto Vallarta.
Please take note that there are probably other scheduled activities including golf tournaments, shows, concerts, theater and more.
Public Holidays in Puerto Vallarta
So you plan in advance, the public holidays in Puerto Vallarta and Mexico in general, are the following:
January 1st – New Years Day.
February 5th – Anniversary of the Mexican Constitution.
March 21st – Benito Juárez Birthday.
May 1st – Labour Day.
September 16th – Mexico's Independence Day.
November 20th – Day of the Mexican Revolution.
December 1st (every 6 years) – Elect President is empowered.
December 25th – Christmas Day.
Federal and Local Law can determine a holiday due to local elections: in Puerto Vallarta, it's on November 12th.
On these days, all banks, public offices, and many times specialty stores are closed.
Detailed day to day list of events in Puerto Vallarta, we recommend: