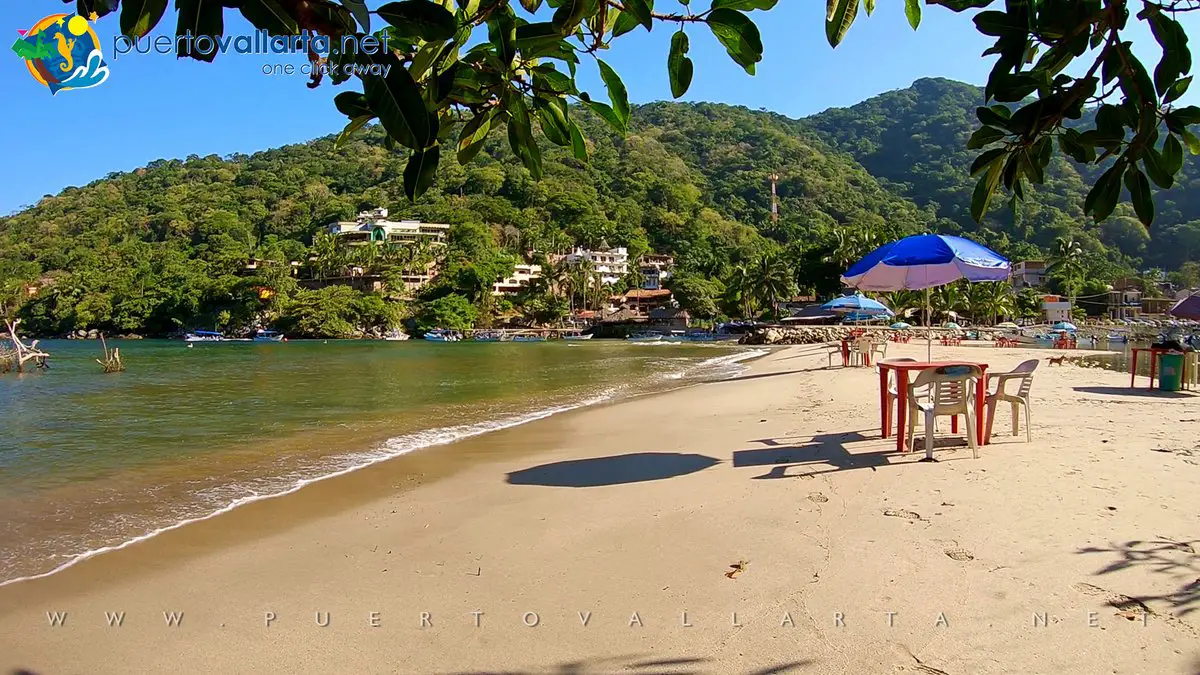 Exploring the beaches of the South Zone
When you travel to Puerto Vallarta, beaches are one of the main things you have on your mind. Relaxing at the beach, absorbing warmth, enjoying a stress-free day just basking in the waves, drinking your favorite cocktail, eating some exotic dish of shrimp or grilled fish, you fill in the dots.
The beaches close to town can fill up easily, especially during the high season months. If that is the case when you come down to friendly Puerto Vallarta, then a trip down south to the beaches south of Mismaloya might just be what your doctor's recipe has recommended.
Many great beaches in the southern part of the bay are wonderful exactly because they aren't accessible by land. You'll need to catch a water taxi (locally called "pangas") to get there and the easiest and fastest way to get one is to go to Boca de Tomatlan.
How to get to Boca
The easiest and cheapest way is to catch a public transport bus to Boca in Puerto Vallarta on the corner of Basilio Badillo street and Constitución street in Old Vallarta (Romantic Zone), the same place and the same bus that also takes you to Mismaloya beach in the south zone.
Now all of the busses in Puerto Vallarta are white, check if they have a sign saying "Boca" if in doubt you can always check with the driver (Va a Boca?"). The bus fare is normally around half a dollar (US/one-way), in Dec. 2021 it was still $10 pesos.
Water Taxi Prices
The following list has the water taxi prices that are the standard in 2021, there is a chance they change a bit depending on the season and from water taxi to water taxi. So do ask before you get on, just to make sure you feel fine with the price and avoid any unpleasant surprises (never happened to me though, but better safe than sorry). The Mexican peso varies but at this time it's about 20 pesos per USA dollar.
| | Price (One-way) |
| --- | --- |
| Boca de Tomatlan to Colomitos Beach | $50.00 MX pesos | $2.50 USD |
| Boca de Tomatlan to Las Animas Beach | $60.00 MX pesos | $3.00 USD |
| Boca de Tomatlan to Quimixto Beach & Town | $80.00 MX pesos | $4.00 USD |
| Boca de Tomatlan to Majahuitas Beach | $90.00 MX pesos | $4.50 USD |
| Boca de Tomatlan to Yelapa Beach & Town | $120.00 MX pesos | $6.00 USD |
If you are planning to visit each beach along the way and would like to combine your trip with a visit to the Arches (Los Arcos) another option is to rent a boat for the day or afternoon. Please contact us if that is something you'd like and we'll get you a good deal with a reliable and fun panga captain.
Map of the South Zone Beaches
The following map shows the beaches of the south zone. You'll notice I've not added the price to Las Caletas, that's because it is a beach concession and you can only go there through a tour operator (Vallarta Adventures). There are free drinks and activities on this beach and it'd be expensive to provide service if anybody could just land there without restrictions 😉.