Introduction
Los Arcos is located in the South Zone of Puerto Vallarta in the Bay of Banderas 7 miles or 20 minutes from Puerto Vallarta's Main Square along Federal Highway 200, you leave the Romantic Zone traveling south on Insurgentes street, they are found very close to Mismaloya beach (hence the name).
It is a protected area that over the years has become a wonderful place for diving, swimming, snorkeling, Stand-Up Paddle (SUP), Yoga SUP, kayaking and tourism in general.
Although they are seen from downtown Puerto Vallarta, do not confuse The Mismaloya Arches "Los Arcos de Mismaloya" with "Los Arcos del Malecón", the latter are some decorative arches found on Puerto Vallarta's boardwalk and are a tourist attraction close to the main square. If you are interested, you can read more about The Puerto Vallarta Malecon Arches here.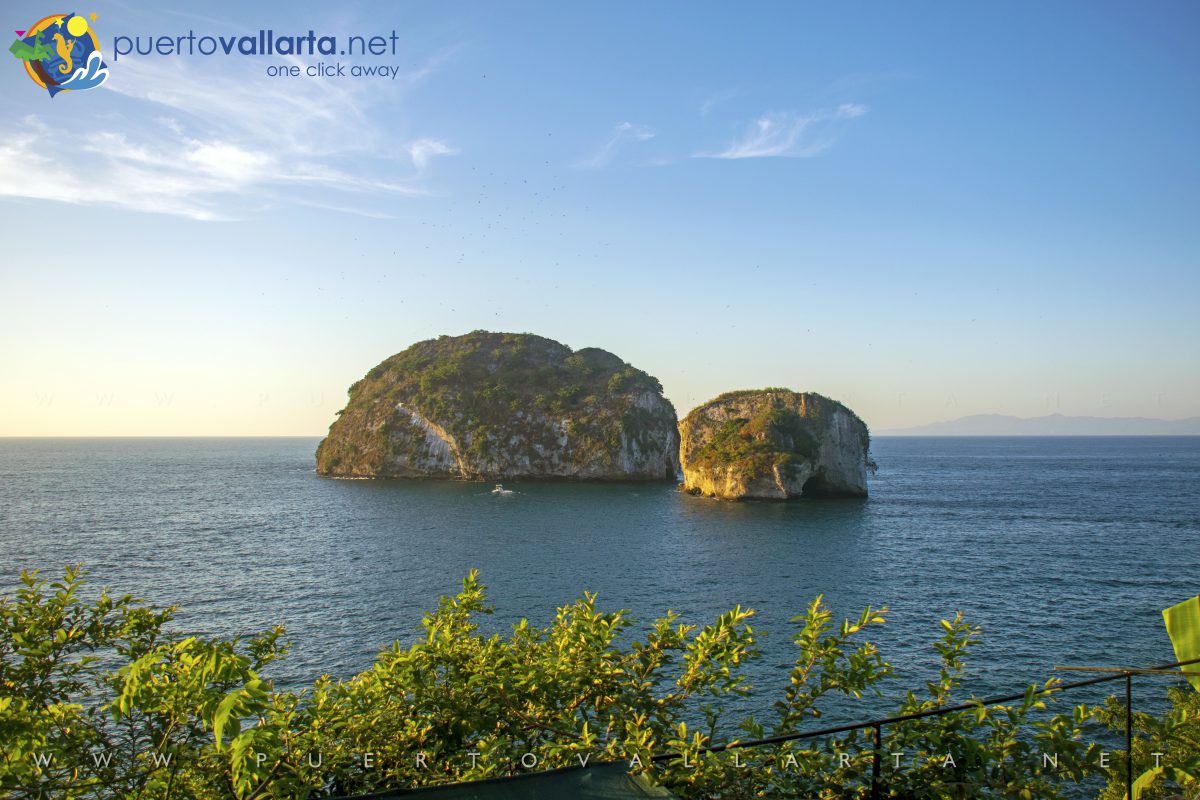 Los Arcos de Mismaloya (The Mismaloya Arches), Puerto Vallarta, Jalisco, Mexico
We are talking about the well-known and popular "Los Arcos", a group of beautiful granite islands and islets that protrude from the sea surface just south of PV. In 1975 they were declared a Refuge Area for the Protection of Marine Flora and Fauna by the then Secretary of Industry and Commerce.
Since 1984 they have been classified as a Mexican National Marine Park. Now it is illegal to remove and disturb the bird specimens, damage the reef and fish in Los Arcos area, that's why marine life is once again abundant despite the abuse and overfishing of the 20th century.
Roca de Los Arcos (The Arches Rock, left) y Roca de La Tortuga (Turtle Rock, right) Los Arcos de Mismaloya
There was a time when these large rock formations were called "Las Peñas" (The Rocks), in fact, all of Puerto Vallarta was called that way: Las Peñas or Peñitas thanks to these unique large rocks near the edge of the sea and, before that known as "El Carrizal". Read more about Puerto Vallarta's history.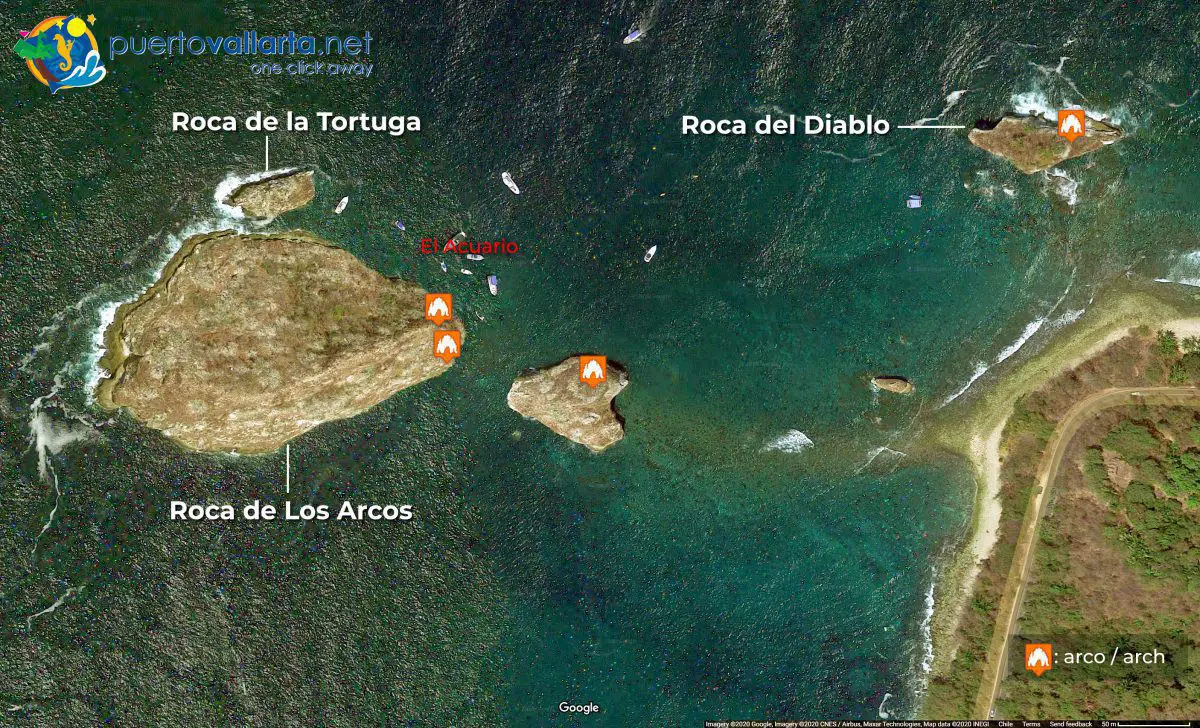 Los Arcos de Mismaloya, satellite view, The Arches Rock, Turtle Rock, Devil's Rock & where the arches are located
What is Los Arcos de Mismaloya (The Mismaloya Arches)?
Los Arcos de Mismaloya close-up
They are a beautiful group of five rocky granite islets that protrude from the sea surface south of Vallarta, it also happens to be the deepest part of the Banderas Bay and is teaming with life, especially since it has been on a protected status, free from fishing and hunting for many decades.
There are many online articles that state there are 4 islets, but when you visit them you will immediately realize that there are five and if in doubt, you can clearly see that in satellite photos as well, the fifth islet is small, but it is also worthy.
The three largest islands/islets are called Roca de Los Arcos (The Rock of the Arches), Roca de la Tortuga (Turtle Rock), and Roca del Diablo (Devil's Rock), the latter having a dark shadow on the cliff on one side that people say looks like the devil. Check it out below and see what you think :-).
La Roca del Diablo (The Devil's Rock), The Mismaloya Arches, Puerto Vallarta
The largest islets are 180 and 140 feet above sea level (54 & 43 MASL), the largest islet is 160 meters (525 ft) wide and 250 m (820 feet) long. The waters of this park are said to be among the deepest in the entire bay, with depths ranging between 9 and 480 meters (30 and 1575 feet).
The arches and islets did not exist several thousand years ago, they were hills that were part of the mountainous coastal range we have today. The sea with the passage of time wore down these hills and mountains that included a solid granite core. Erosion gradually exposed these granite headlands in the shape of rocks or islands, as we see them today, and also separated them from the mainland.
Los Arcos de Mismaloya (The Mismaloya Arches)
The constant erosive power of the sea over thousands of years has also opened a series of arches, which are what give it its name. Some are quite large and long, so much so that you can even navigate through them in a small motorboat. They also continue below the surface of the sea, so you also find incredible underwater tunnels and arches.
Los Arcos National Marine Park is found at sea between two beaches, Mismaloya and Las Gemelas. If you go catch a water taxi from these beaches you will reach Los Arcos in less than 10 minutes. It's a very popular snorkeling and scuba diving destination thanks, not only to the rich fauna, but also due to the underwater caves, deep tunnels, various shallow arches, some navigable and others not, and its impressive reef.
Biodiversity