Visita Los Arcos de Mismaloya / Going through The Arches in Puerto Vallarta
Introduction
Los Arcos is located in the South Zone of Puerto Vallarta in the Bay of Banderas 7 miles or 20 minutes from Puerto Vallarta's Main Square along Federal Highway 200, you leave the Romantic Zone traveling south on Insurgentes street, they are found very close to Mismaloya beach (hence the name).
It is a protected area that over the years has become a wonderful place for diving, swimming, snorkeling, Stand-Up Paddle (SUP), Yoga SUP, kayaking and tourism in general.
Although they are seen from downtown Puerto Vallarta, do not confuse The Mismaloya Arches "Los Arcos de Mismaloya" with "Los Arcos del Malecón", the latter are some decorative arches found on Puerto Vallarta's boardwalk and are a tourist attraction close to the main square. If you are interested, you can read more about The Puerto Vallarta Malecon Arches here.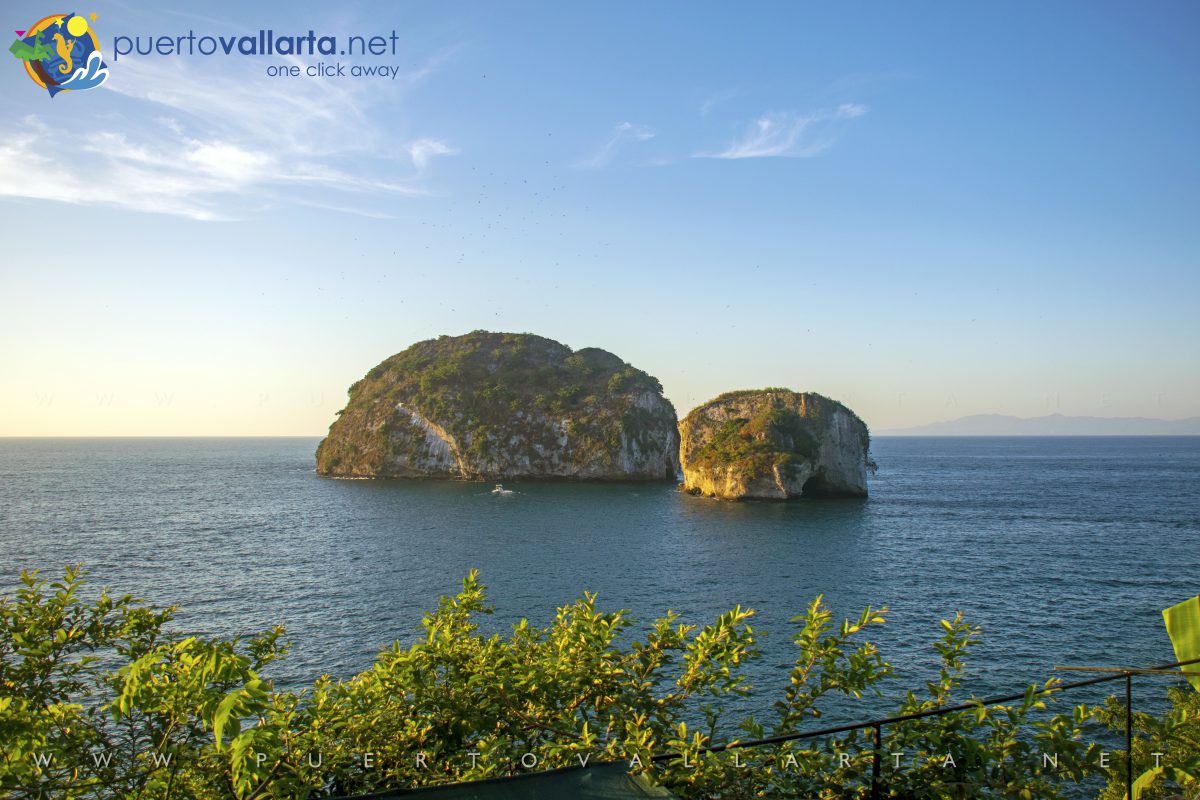 Los Arcos de Mismaloya (The Mismaloya Arches), Puerto Vallarta, Jalisco, Mexico
We are talking about the well-known and popular "Los Arcos", a group of beautiful granite islands and islets that protrude from the sea surface just south of PV. In 1975 they were declared a Refuge Area for the Protection of Marine Flora and Fauna by the then Secretary of Industry and Commerce.
Since 1984 they have been classified as a Mexican National Marine Park. Now it is illegal to remove and disturb the bird specimens, damage the reef and fish in Los Arcos area, that's why marine life is once again abundant despite the abuse and overfishing of the 20th century.
There was a time when these large rock formations were called "Las Peñas" (The Rocks), in fact all of Puerto Vallarta was called that way: Las Peñas or Peñitas thanks to these unique large rocks near the edge of the sea and, before that known as "El Carrizal". Read more about Puerto Vallarta's history.
What is Los Arcos de Mismaloya (The Mismaloya Arches)?
They are a beautiful group of five rocky granite islets that protrude from the sea surface south of Vallarta, it also happens to be the deepest part of the Banderas Bay and is teaming with life, especially since it has been on a protected status, free from fishing and hunting for many decades.
There are many online articles that state there are 4 islets, but when you visit them you will immediately realize that there are five and if in doubt, you can clearly see that in satellite photos as well, the fifth islet is small, but it is also worthy.
The three largest islands/islets are called Roca de Los Arcos (The Rock of the Arches), Roca de la Tortuga (Turtle Rock) and Roca del Diablo (Devil's Rock), the latter having a dark shadow on the cliff on one side that people say looks like the devil. Check it out below and see what you think :-).
The largest islets are 180 and 140 feet above sea level (54 & 43 MASL), the largest islet is 160 meters (525 ft) wide and 250 m (820 feet) long. The waters of this park are said to be among the deepest in the entire bay, with depths ranging between 9 and 480 meters (30 and 1575 feet).
The arches and islets did not exist several thousand years ago, they were hills that were part of the mountainous coastal range we have today. The sea with the passage of time wore down these hills and mountains that included a solid granite core. Erosion gradually exposed these granite headlands in the shape of rocks or islands, as we see them today and also separated them from the mainland.
The constant erosive power of the sea over thousands of years has also opened a series of arches, which are what give it its name. Some are quite large and long, so much so that you can even navigate through them in a small motorboat. They also continue below the surface of the sea, so you also find incredible underwater tunnels and arches.
Los Arcos National Marine Park is found at sea between two beaches, Mismaloya and Las Gemelas. If you go catch a water taxi from these beaches you will reach Los Arcos in less than 10 minutes. It's a very popular snorkeling and scuba diving destination thanks, not only to the rich fauna, but also due to the underwater caves, deep tunnels, various shallow arches, some navigable and others not, and its impressive reef.
Biodiversity
Various seabirds breed here, some of the important species are boobies (blue-footed boobies), seahawks, some species of parakeets, cormorants, pelicans and others.
Note that the Blue-footed Booby can be seen in very few places in the world apart from Los Arcos: in the Sea of ​​Cortez, the Marietas Islands (another Marine Park in the Bay of Banderas, one of the Biosphere reserves protected by the UNESCO) and the Galapagos Islands.
Just as there is a great diversity of birds above the surface of the sea, there is also impressive biodiversity underwater, making it very attractive for divers and snorkelers.
Multicolored fish and other species abound below the surface, which, if the season is the right one, can be clearly seen through the transparent water.
Some vertebrates and invertebrates that you can enjoy watching at Los Arcos are pufferfish, octopus, eel, moray eel, parrotfish, cornetfish, lobsters, angelfish, rays, clownfish, stingers, anemones, nudibranchs, and others that are less common like sea turtles and dolphins.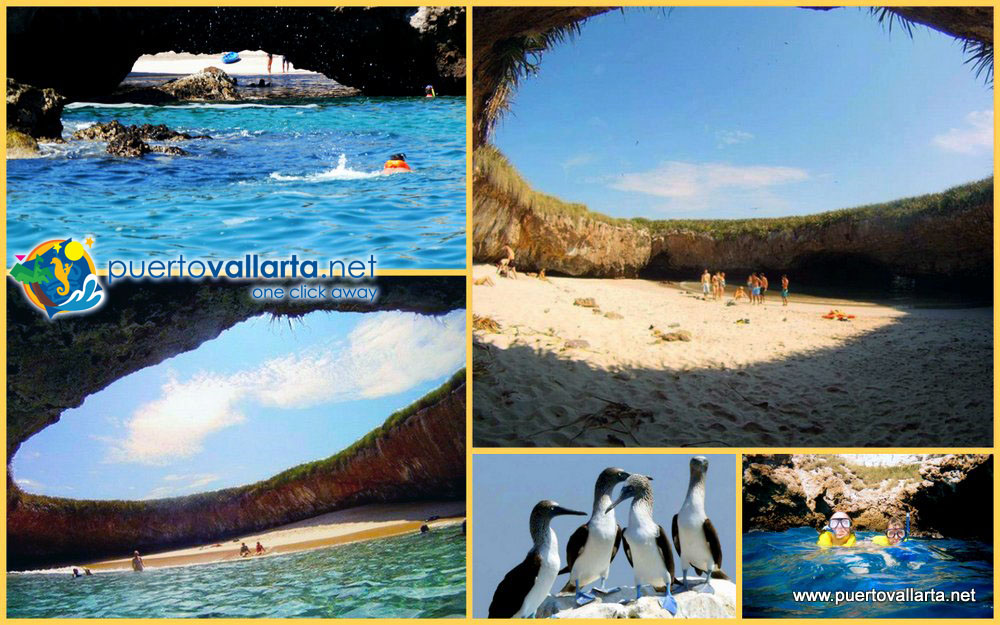 There are many boats that sail around the bay every day and "The Arches" National Park is a perennial stopping point. Here all visitors have the opportunity to enjoy and marvel at the incredible landscape while doing the activity of their choice. Most bay tours include snorkeling or kayaks for those that are interested and able.
With some luck (and in the right season, whales, for example, visit the Bay from November to March) you'll also be able to observe whales, dolphins, killer whales and other marine life species.
Where are The Arches (Los Arcos)?
Los Arcos de Mismaloya (The Mismaloya Arches) is located in the South Zone of Puerto Vallarta in the Bay of Banderas. When you leave the southern part of town at the Basilio Badillo and Insurgentes junction, you are about 7 miles or 15 minutes from the Arches. You'll travel along Carretera Federal 200 a Barra de Navidad (Federal Highway 200 to Barra de Navidad).
Los Arcos National Marine Park is located at sea between two very popular and beautiful beaches, Mismaloya (1300 m – 4200 ft), that's a bit further to the south and Las Gemelas in a northeast direction (1800 m / 5900 ft). If you go by boat from any of these beaches you will reach Los Arcos in less than 10 minutes.
The Mismaloya in the name refers to the town and beach of Mismaloya that's located to the south, was the set for the famous Golden Age Hollywood movie, "The Night of the Iguana", from director, screenwriter and actor John Huston.
As Los Arcos are very striking and are on the way to almost all the beaches in the southern area, it is a must-stop for all the bay-cruise ships that travel through southward from Puerto Vallarta.
After finishing the visit at the arches, boats continue their journey to the south where passengers will also enjoy many beautiful beaches, including Quimixto, Majahuitas and Yelapa, which can only be reached by sea.
Location Map
How do you get to The Arches (Los Arcos)
Los Arcos is located in the South Zone of Puerto Vallarta in the Bay of Banderas 7 miles / 20 minutes from Puerto Vallarta's main square and the Malecon/Boardwalk along Federal Highway 200 that goes all the way to Barra de Navidad.
Public Transport
The bus (camión) that takes you to Los Arcos is the same on that is used when going to Mismaloya and Boca de Tomatlan.
You can catch it on the corner of Basilio Badillo and Constitución street in the Romantic Zone (Old Vallarta) of Puerto Vallarta.
The buses are a characteristic orange and white color and if there is any doubt, they carry signs that clearly state that they are going to Boca (Boca de Tomatlán) and Mismaloya.
They charge the equivalent of approximately $ 0.50 USD (10 Mexican pesos the last time I went) and they are relatively modern buses (and constantly updated).
I recommend paying with the exact price or, at least, as close as possible. Avoid paying with large 100, 200 or 500-peso bills. If you don't have change, go buy something to eat and drink, you will need it anyway, at a self-service store (there is one right there on the corner too). This way you'll have smaller coins and bills.
If you are not going to be monitoring position and proximity to Los Arcos on your smartphone, you can use the "traditional" method, just ask the driver to notify you when you are about to arrive at the Mirador de Los Arcos ("me avisa cuando estemos en el Mirador de Los Arcos, por favor").
In a car
Traveling south from Puerto Vallarta, you take Insurgentes street, which is an extension of the eastern vehicular bridge that crosses the Cuale River, you enter the Romantic Zone along Insurgentes. Once you drive past Basilio Badillo street and the traffic light, a hill precedes you leaving the city. From this point, it is exactly 7 miles to reach the Los Arcos Lookout (approximately 15 to 20 minutes by car). Here you can park your car and check out the islets from land. There are also some stalls that sell souvenirs at the location.
By Sea
You can hire a boat from Playa Los Muertos (Los Muertos Beach, more expensive and takes more time) or Mismaloya (cheaper and faster). You can also take one of the many bay tour options that are offered, they usually depart from the API (area portuaria integral – Puerto Vallarta's harbor area – where cruises arrive too). Some make a stop at the Playa Los Muertos pier to pick up and drop off passengers. There are some specific bay cruises that only visit Los Arcos, most combine the arches with other beaches, for example, Los Arcos and a visit to Las Animas Beach and Quimixto. The good thing about these tour operator options is that they include food, drinks, entertainment and equipment for the different activities (masks, snorkels, kayaks, etc.), the downside is that they last most of the day (if you are short on time). There are SUP, kayak and waterski options from Mismaloya to go to Los Arcos too.
Activities & Sports at Los Arcos
Los Arcos is a wonderful place for diving, swimming, snorkeling, Stand-Up Paddle (SUP), Yoga SUP, kayaking and general tourism.
If you practice diving, Los Arcos is a privileged and very popular place, some recommended sites in the place are:
"El Acuario", approximately 20 meters from Los Arcos and offers waters from 10 to 14 meters deep, you will find all kinds of tropical species. reef marine life, seahorses, yellowtail surgeonfish (Prionurus punctatus), eagle rays (fam. Myliobatidae), snappers, zebra eels (Gymnomuraena zebra), lobsters, octopuses and a few entertaining fish (garden eels) that look like shy ribbons sticking out of the sand at the bottom of the sea, waving gently following an invisible swell.
Snorkeling Los Arcos, Puerto Vallarta, Mexico
The rocky west side of Los Arcos has a unique 250-meter vertical wall where you can enjoy a descent to two different dive sites, one called "El Cañón" and the other called "La Quijada del Diablo", only for experienced divers. . The descent takes place at 20 meters and the dive itself extends between 25 and 35 meters. You'll see schools of shiny fish, turtles, rays, and moray eels.
"El Bajo del Cristo" with depths of 10 to 26 meters, an underwater peak and several submerged volcanic formations that offer a lot of marine life, including parrotfish (Fam. Scaridae), snappers, moray eels, nudibranchs and many other surprises.
13 meter deep "Las Lajas" with groups of eagle rays that feed on the sandy bottom and you can find green turtles resting on the slabs in the lower area.
"El Paredón" closer to the continental area of ​​Los Arcos, where you can enjoy turtles, giant mantas and rays in large numbers.
If you practice snorkeling, a good tip is to bring a can of peas, the fish love them and thus avoid muddying the water and their photos/videos, which happens if they throw bread or cookies to attract the fish.
Puerto Vallarta Scuba Diving Los Arcos
Water temperature: 65-89 ° F / 18-31 ° C
Average Visibility: 20-50 ft / 6-15 m
Depth: 29.5-130 ft / 9-40 m
Read about more Scuba diving sites
Conclusion
If you plan to visit Puerto Vallarta or you are already in this tropical destination, we recommend you don't miss the chance to go visit these wonderful and unique arches and their sheltered ecosystem. You shouldn't forget this natural sanctuary that has practically no direct contact with civilization.
You can appreciate incredible marine species such as the humpback whale, dolphins, huge manta rays, seabirds, turtles, swallows and other birds that roam all over the islands of this mini-archipelago. It'll be an unforgettable experience.