Puerto Vallarta Hotel Zone
Puerto Vallarta's hotel zone starts south of the Marina Area, some include this zone together with the Marina, but geographically the marina ends in our eyes north of Plaza Galerias.
Hotel Zone Puerto Vallarta
Summary
The hotel zone offers wide soft beaches that extend from the Marina into town. There are 4 beaches in the area, from North to South, some hotels call their beach by their own names, but they are not official names (just so you know):
Playa de Oro (Gold Beach)
Playa Los Tules
Playa Las Glorias &
Playa Tranquila
Also includes three important malls:
Plaza Galerías
Plaza Peninsula
La Isla
Macroplaza Puerto Vallarta
Plaza Genovesa
Plaza Caracol
The biggest resorts in PV are found at the Marina and also in the Hotel Zone, well-known hotel chains like Sheraton and Holiday Inn share space with other more local hotels, like Crown Paradise, Krystal, or Las Palmas, all these hotels are by the edge of the ocean and offer easy access to these family-friendly beaches.
PV Hotel Zone as seen from the sea
In the area you'll not only find great restaurants, cafés, and nighttime activities, you can also shop in supermarkets and even Sam's Club and Walmart.
Even though the hotel zone can be a bit far from downtown Vallarta on foot, there are all kinds of transportation options at very reasonable prices, so the hotel zone doesn't feel far from it all.
Plaza Galerias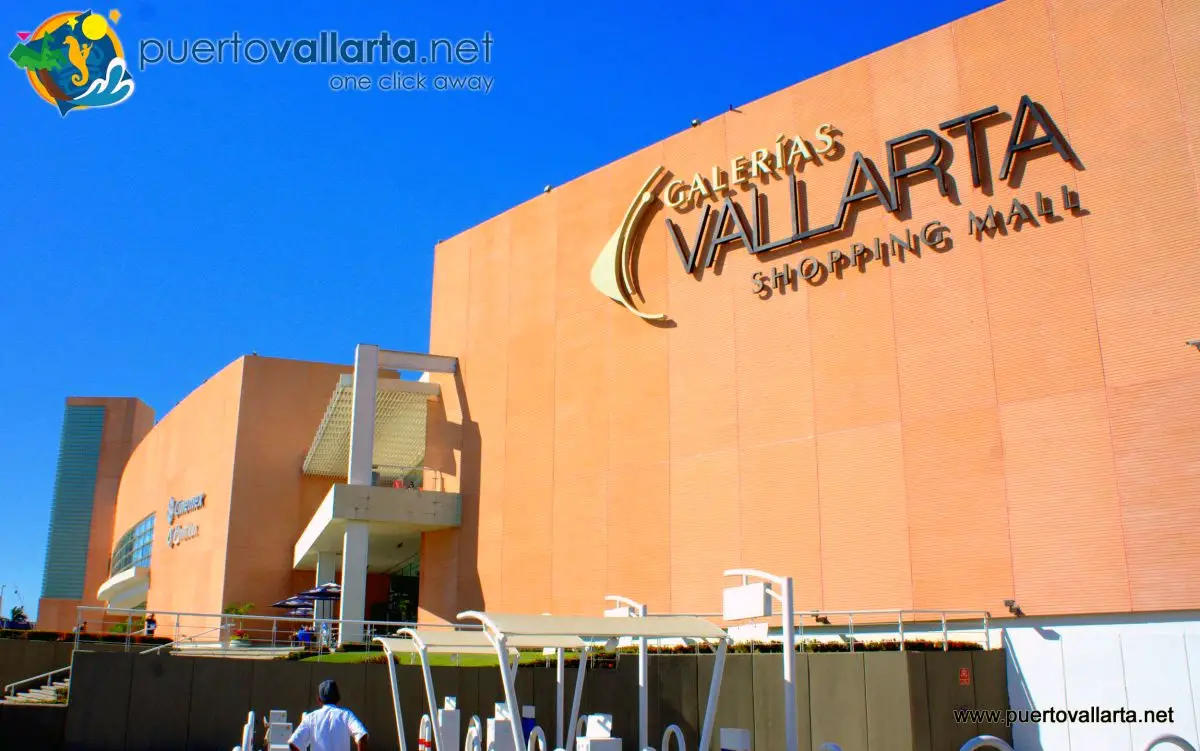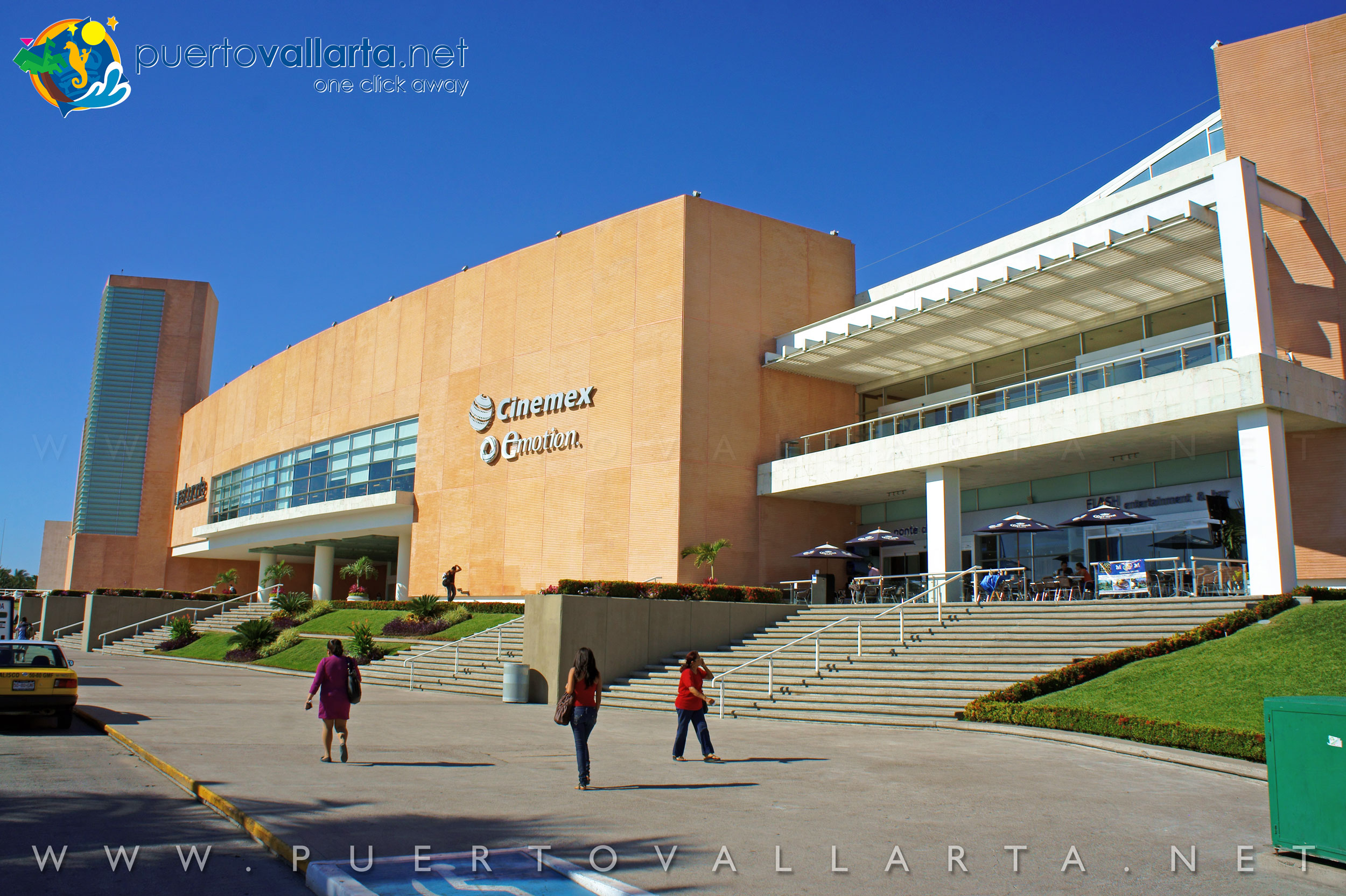 A relatively new mall in the northern end of the hotel zone offers many different stores, restaurants, and fast food, a big department store (Liverpool), a multi-cinema (see the movie schedule), a casino, a gym, an entertainment area for kids and much more. Among the restaurants and coffee shops in this mall, we can mention Sirloin Stockade, Starbucks, Chilli's, and Arrachera House.
Address: Av. Francisco Medina Ascencio No.2920, Col. Educación.
Open from Monday to Sunday 11:00 AM to 9:00 PM
Phone: (322) 209-0923
http://www.galerias.com/GaleriasVallarta/
Plaza Peninsula
Plaza Peninsula, Puerto Vallarta Hotel Zone
Plaza Peninsula is located on Boulevard Francisco Medina Ascencio, just north of the Pitillal River and south of Hotel Krystal. A relatively new mall was built together with the Peninsula Condo towers. Includes many stores and services, banks, coffee shops, and restaurants.
Stores include:
EA Lingerie
Lacoste
No Name Boutique
Squalo
Touché Store
Xàbia
Zion Deportes
Dermatype Farmacia Dermatológica
DNA Vita Therapeutics
Feet Haüs Professional Pedicure
L'Occoco Salon & Spa.
Some furniture stores.
Banks include:
Banamex
Banco del Bajio
Grupo Financiero Monex
Scotiabank
(see all banks)
A gym, money exchange, various bars, and quite a few restaurants and coffee shops, such as:
Starbucks
Chili's
El Portón
8 Tostadas
Thierry's Prime Steakhouse
La Isla Puerto Vallarta Shopping Village
La Isla Shopping Village, Puerto Vallarta Hotel Zone
Shopping is just part of the experience at La Isla Puerto Vallarta Shopping Village. The mall was designed in the spirit of a city square, with a river and fountains. This new outdoor shopping center has more than 80 stores, restaurants, and top-level attractions. The warmth of its cozy outdoor design is further enhanced by the unique local architecture, fountains, tropical gardens, and a placid river that flows through it. This, the newest shopping center in Vallarta, is located near the harbor area and the cruise ships terminal in the PV Hotel Zone, where Avenida Fluvial Vallarta crosses Blvd. Francisco Medina Ascencio, by the banks of the Pitillal River.
Shops
Crate & Barrel
American Eagle
Forever 21
Pull&Bear
Bershka
Sanborn's
Benetton
Guess
Coach
H&M
Restaurants
De Santos
Johnny Rockets
Starbucks
Italianni's
Applebee's
Other featured attractions
Vallarta Adventures Dolphin Tank
Cinépolis VIP Cinemas
Juegos para niños
Food court
Macroplaza Puerto Vallarta