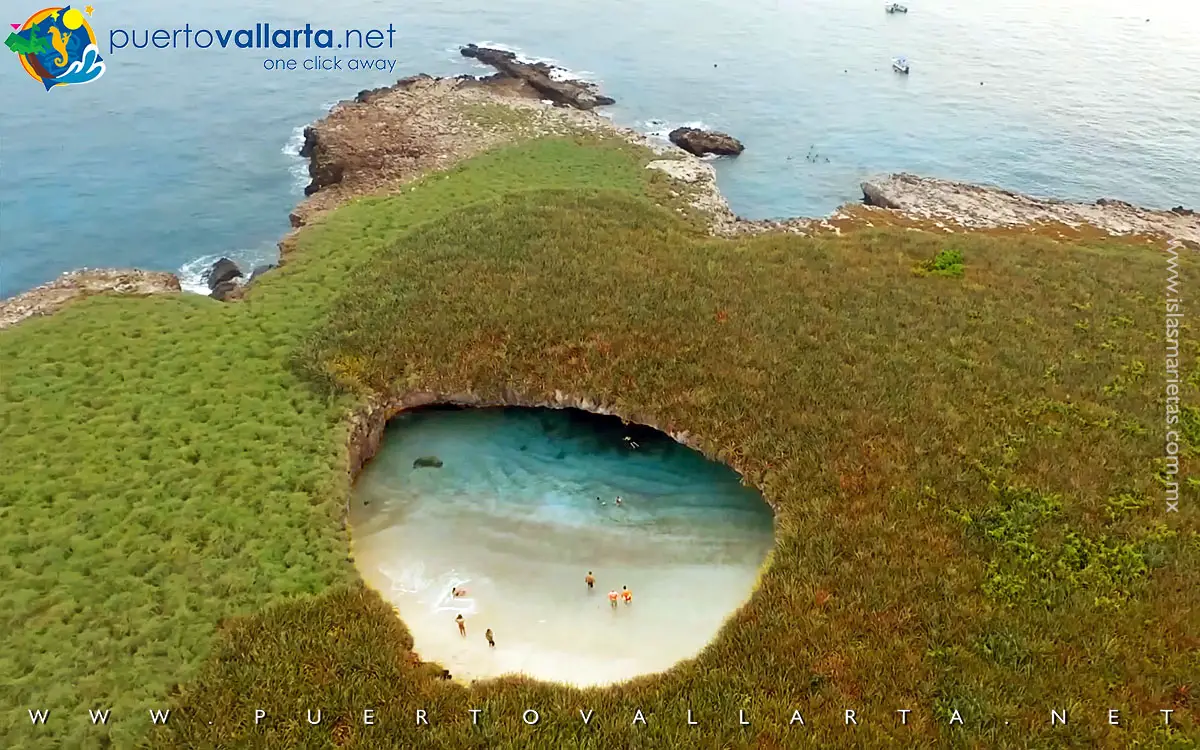 A wonderful hidden beach falling victim to its own beauty.
Introduction
Just as The Eagles' songwriters, Glenn Frey and Don Henley, wrote in 'The Last Resort,' "You call someplace paradise, kiss it goodbye," the Hidden Beach (AKA Love Beach/Lover's Beach/Playa del Amor/Playa Escondida) at the Marietas Islands was close to kicking the bucket thanks to its unique beauty.
Two uninhabited islands NW of Puerto Vallarta.
It is world-famous for its hidden beach that's in an underground crater at Redonda Island.
A popular scuba diving and snorkeling location.
Some areas are part of a National Marine Park/Reserve.
Natural World Heritage Site, a UNESCO MAB Biosphere Reserve, RAMSAR site 1345.
5 miles from Punta de Mita, takes 15 minutes to get there in a motorboat.
DNS Coordinates: 20°42'02.2″N 105°34'07.2″W / Decimal Degrees: 20.700608, -105.568665
In the pre-social media times, the Marietas Islands were a placid, untouched, and pristine pair of islands on the way out of the bay, but one day, maybe innocently, someone shared a photo of a beautiful beach in what looked like a crater on Facebook, and the post exploded online. Suddenly, everyone and their neighbor wanted to visit the place, and so they did!
Thousands wanted to go to the underground beach in the island crater, the hidden beach at the Marietas, and dozens of tour providers, plus hundreds of smaller boats and cruises stepped up to supply this growing demand. Suddenly, the small islands were overrun by ships, tourists, and the ugly sides of tourism too: pollution, trash, and damage to the local coral reefs, including the delicate ecological balance.
Thanks to a timely and aggressive intervention by local environmental protection authorities, local scientific studies, and a measured reopening of "Lovers' Beach", this impressive local attraction is once again available to tourists, but under strict control.
Visiting the Marietas Islands (Islas Marietas) is still, without a doubt, one of the activities you should add to your shortlist of tours and adventures you'll want to enjoy during your stay in Puerto Vallarta or other locations in the Bay of Banderas area.
The Marietas are two uninhabited islands a few miles off the north coast of the Banderas Bay in what is called the Riviera Nayarit (closest town is Punta de Mita – see the location map). There are two islands 900 meters from each other that are around 60,000 years old, created by volcanic activity. To the east is the smallest one, called Isla Redonda (Round Island). It's some 1000 meters long and 500 meters at its widest point. It is also the one closest to land and offers the underground crater beach on the northern end of the island. The largest island is the one to the west, Isla Larga (Long Island), some 900 meters long and 400 meters wide – check them on the map.
These islands are a real ecological treasure, at least what was left of them, as in the early 1900's they were used as targets in military bombing exercises, plus they were a rich fishing ground for the locals. These damaging activities would have continued had it not been for the intervention of, among others, Jacques-Yves Cousteau in the 1960s. Since then, they have been protected from overfishing and human activities, including bombshells…