Introduction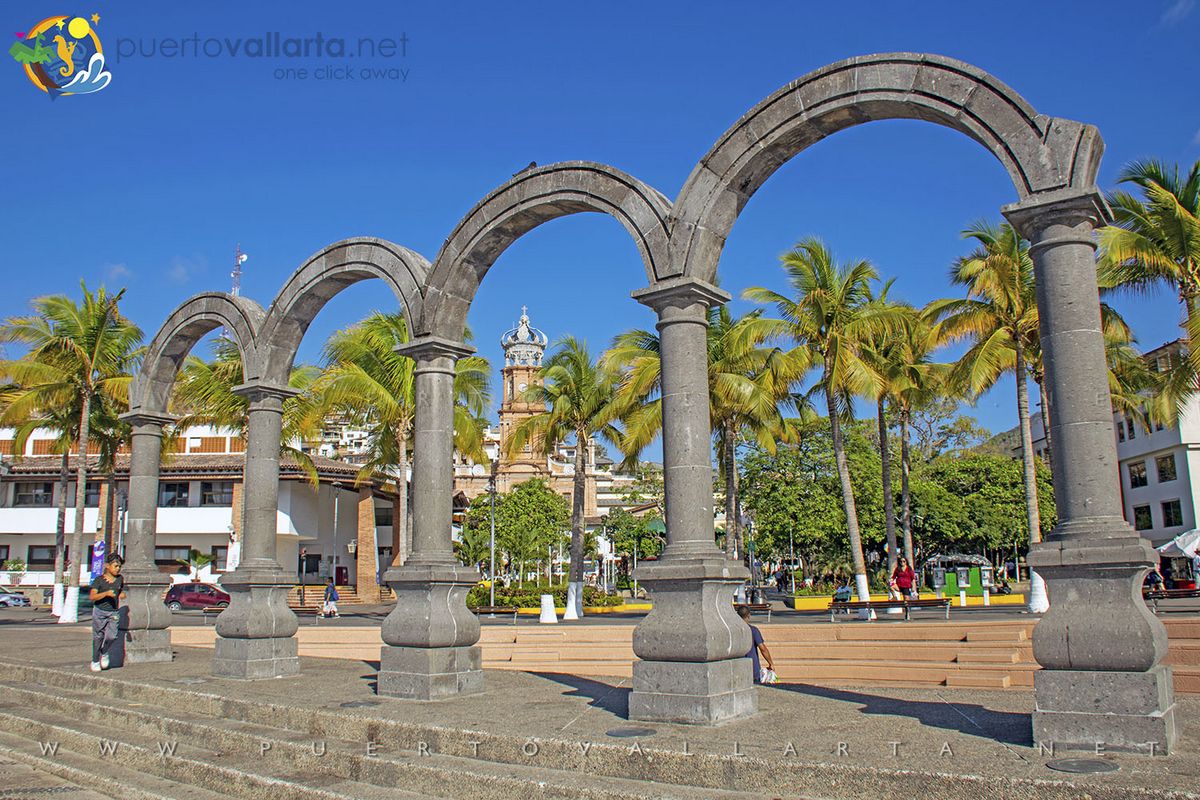 The Malecon Arches "Los Arcos del Malecón" is an important Puerto Vallarta landmark, are on the oceanfront Aquiles Serdan esplanade (by the Los Arcos Amphitheater, AKA Aquiles Serdan Theater, the Open Air Theater across the street from the Main Square) on the Malecon/Boardwalk.
Do not confuse "The Arches" in Downtown PV with "The Arches Natural Marine Park" (Los Arcos de Mismaloya) which is a series of small islands south of Puerto Vallarta, that in the past were called "Las Peñas" and gave the village its name. You can read about these in a separate article.
About the arches
The Arches of Puerto Vallarta are four large decorative stone arches that were brought to Puerto Vallarta from a colonial hacienda close to Guadalajara, Jalisco, Mexico. They have over time become almost as iconic and recognizable as the Seahorse statue or the Crown on the Guadalupe Parish, the other main landmarks in town.
In the afternoon hundreds of kids and families enjoy free shows, musical and altruistic festivals, clowns, and even folkloric dance displays (for example the Xiutla Dance troupe) that take place here on this seaside plaza (don't forget to give them a tip). It's also popular with official government and political events.
The Arches, right across from Puerto Vallarta's main square, have been used in most of PV's promotional touristic material over the years, so it was a terrible loss when they were dragged away into the sea by the strong Kenna Hurricane storm surge on October 2002. Even though the hurricane didn't hit the city directly, it sent 5-meter waves crashing onto the Malecon.
Artists involved
A replica was placed there by artist and sculptor Martín Distancia and his assistants, Manuel Palos, and Martín Yépez in December of that same year, 2002.
Where are the Puerto Vallarta Arches?
The position of the arches has changed a little bit after the modifications and renovations of the Malecon in 2011. If you compare old photos with the new ones, you'll notice the shift.
The Arches of the Malecón (Los Arcos del Malecón) are in downtown Puerto Vallarta. They are between the sea and the Main Square on the southern end of the official Malecón/Boardwalk.
They stand as a backdrop for the Aquiles Serdan Esplanade (Amphitheater) and a few steps from the Naval Historical Museum.
Crossing the street (Morelos) you are on the city's main square and 200 ft further along what in the past was Independencia Street, now the square in front of City Hall crossing Juárez Street you arrive at the Parish of Our Lady of Guadalupe, another one of the important landmarks in town.
Last Updated on 24/09/2021 by Puerto Vallarta Net