Cuale Archaeological Museum | Puerto Vallarta Naval Museum | Viva Tequila | Boutique Theatre | Art Walk | ex-Saucedo Theater
Cuale Museum (Archaeological Museum)
A small museum founded by the INAH (National Institute of Anthropology and History) on the Cuale River Island, between downtown Puerto Vallarta and the Zona Romantica. It opened in September 1978 and was renovated in 2004 to reopen its doors in 2005.
The name of the museum is due to the river surrounding the island, which in turn derives its name from a town (El Cuale) with a mining past about 2-3 hours from Puerto Vallarta upstream.
The permanent exhibition offers a collection of artifacts from Mexico's western region donated by museums from the city of Guadalajara and the stated of Colima and Michoacan. You'll obtain information on the traditions and customs of groups that inhabited the region in Precolumbian times between the years 5000 and 2000 BC. The exhibition includes ceramics and art, including hunting and gathering tools and even a tomb recovered from excavations at Sayula-Zacoalco in Jalisco, Mantanchen Bay and Ixtapa in Nayarit and Guerrero, Michoacan, some topics in the exhibition are:
From nomadic to sedentarism.
Chupicuaro design symmetry.
Shaft tombs; underground offerings.
Aztatlán; ceramic symbols.
The Purepecha, an empire in the West.
The Spanish Conquest, changes, and survival.
There are also temporary exhibitions of national and local artists.
Address: Isla de los Niños, Local 1-A, Col. Centro, CP 48300, Puerto Vallarta, Jalisco
Phones.: (33) 3614-5416, 3613-8224
Schedule: Tuesday to Saturday 10:00 – 19:00, free.
---
Puerto Vallarta Naval Historical Museum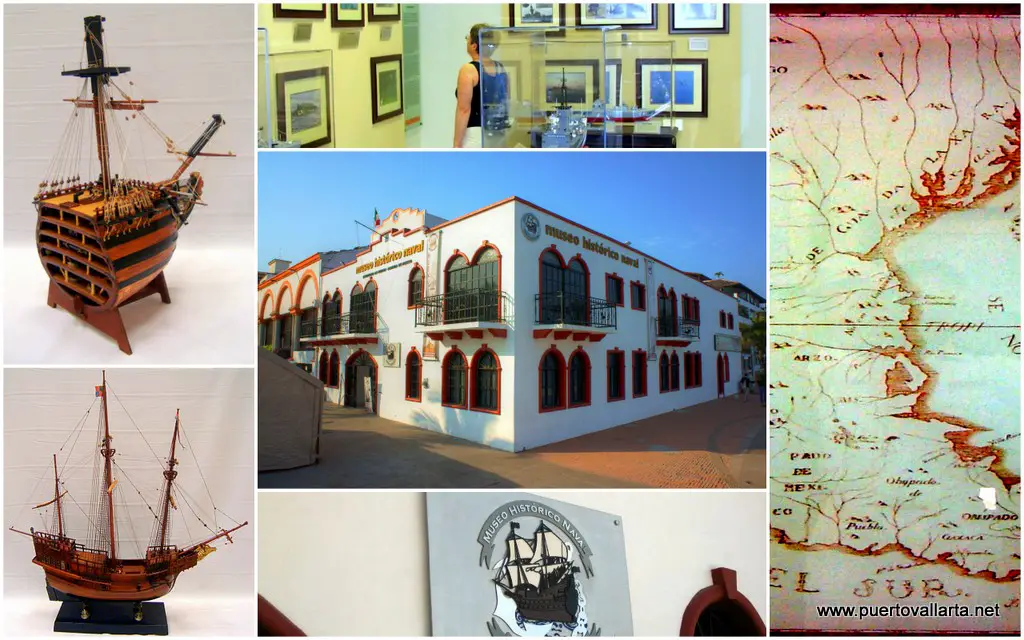 The museum opened on November 18, 2006, in the heart of Puerto Vallarta, just a few steps from the main square and next to Los Arcos, the Amphitheatre, and the Friendship Fountain. This colonial style building was formerly the Harbor Master Office in 1974, then a Naval Hospital, then it was the local Naval Command Office and in 2001 was chosen to become a museum.
This is the fourth naval museum in Mexico, two are located in Mexico City, one in Veracruz, and this one was originally planned for Acapulco, but due to lack of adequate space, Vallarta was chosen instead.
The theme of the museum, as you could expect, focuses on the sea, the harbor and the history of Mexico. It starts off with the conquest and ends in modern times. There are 5 permanent exhibit areas with paintings, documents, maps, scale models, photographs, navigational instruments, uniforms and much more. There are also several guns, cannons, and muskets. Detailed descriptions of expeditions around the world and within America (the continent), trade with the Philippines, the Nao of China, galleons and more. Part of the exhibit covers the beginnings of what would later be called Las Peñas (now Los Arcos de Mismaloya) and later would become Puerto Vallarta.
There's also an area coordinated with the local Department of Art and Local Culture that is used for temporary exhibitions. Renowned local, national and international artist hold events and exhibits in the museum.
Entrance and guided tour services within the museum are free, the only requirement is that you sign the guestbook at the end of the visit and leave a short review of the Naval Museum.
On the second floor, there is a coffee shop with delicious dishes you can enjoy before or after your visit to the museum, it also offers an excellent view of the Bay and the Malecon.
Address: Zaragoza 4, Col. Centro, CP 48300, Puerto Vallarta, Jalisco
Phones: (322) 223-5357
Schedule: Tuesday – Friday: 9:00 – 19:30
Sat. Sun.: 10:00 – 14:00 & 15:00 – 19:00
Free.
Museum catalog
---
Viva Tequila
A new Tequila Museum & Experience.
Address: Calle Uruguay 184, CP 48350, Col. 5 de Diciembre, Puerto Vallarta

---
Boutique Theatre
Non-profit community theater "celebrating the performing arts, enriching lives of actors and audiences through the magical world of theatre." A magical 80 seat theatre in the Romantic Zone of Old Puerto Vallarta stages plays by community actors and musicians. Open year round, there is always something happening at the premier hot spot for intimate theatre in PV.
Address: Calle Naranjo 330, esquina Basilio Badillo, Zona Romántica, Puerto Vallarta
Website: http://www.boutiquetheatre.ca/
---
Art Walk
Puerto Vallarta is already well known as an artistic city, with many galleries, exhibitions and events.
A very important contribution to this side of the town's cultural activity is the Art Walk. The art galleries, that include Galería de Ollas, PVSantana, The Loft Galería, Galería Uno, Galería Pacífico, Córsica and Colectika among others, offer remarkable paintings, sculptures, ceramics, blown glass and other artworks.
They offer refreshments and open long hours on Wednesday nights.
This self-guided tour runs only during high season, so visit the official site to review the current years schedule and participants.
http://www.vallartaartwalk.com
---
Saucedo Theater Building
The theater was built in 1922 in Belle Epoque style by the Italian Engineer Ángel Corsi.
Plays and movies were shown on the first floor and the second floor offered what was locally called a "Casino" which was not a poker blackjack setting, rather a place where the local youth would gather to talk and have a nice time together, that area also had a game of billiards. It was also a place used for balls and dances, those that were specially important were attended by guests that came all the way from Guadalajara, Mascota, and Talpa. The name of the theater is in honor of the original owner, don Juan Saucedo, a local businessman.
Address: Av. Juárez and Iturbide, Col. Centro, Puerto Vallarta
---
Other ideas
Options that are no longer available
Museo Manuel Lepe (Av. Juárez 533) no longer exists.
Casa Kimberley – Burton Taylor Museum (Av. Zaragoza 445) closed, remodelled and now a Boutique Hotel.
The Night of the Iguana Set (Mismaloya Beach), closed, no public access.
More interesting information: