Introduction
Puerto Vallarta, as any large size city in Mexico, has a large variety of supermarkets, mini-markets and grocery stores, some specialized products that are hard to find or cater to the wealthier inhabitants, including delicatessen stores.
Note: The amount of supermarkets in town is now so large we are unable to provide a comprehensive list, we are concentrating mainly on those you'll encounter in the popular tourist areas. Our Google Shopping Map shows extra options out of town too.
Large supermarket chains have existed for decades, some of the larger national and multinational supermarket brands have recently opened stores in town and some of the local options have disappeared, as Gutiérrez Rizo in Old Vallarta.
You may think you might not need a supermarket, but when you run out of sun lotion, you need a towel, maybe a new pair of sandals, or whatever, then they come in quite handy.
Here's a list of the main options in town:
---
Keymap for supermarkets in Puerto Vallarta
---
Agro Gourmet Organic produce
(Number 8 on Key Map) Went out of business.
---
Comercial Mexicana Plaza Marina
(Number 1 on Key Map) – Well located supermarket, quality goes hand in hand with a higher price. Has a bakery as well as a pharmacy. Anchor store of Plaza Marina Shopping Center on Avenida Francisco Medina Ascencio in the Marina Vallarta area, just before the curve in the road that leads to the PV International Airport.

---
Fruit Forest
Moved to a new location, no longer on Constitución, now in the north zone:
Phone: (322) 2972282

Address: Carretera Tepic-Puerto Vallarta Norte No. 50 Int 1, Col.Jarretaderas CP 63735, Puerto Vallarta, Jalisco, Mexico

E-mail: forestventas@gmail.com
Fresh fruits and veggies, prepackaged salads, fruit dips and dressings, and all kinds of import fruits and vegetables that used to be rare to non-existent to find in Puerto Vallarta year round at reasonable prices: grapes, raspberries, butter lettuce, eggplant, artichokes, etc. The owners of Fruit Forest seem to be from Guadalajara and are new to the area.
---
Los Mercados
Los Mercados is a small remodeled Plaza located in the Romantic Zone, very close to the location of the old Gutiérrez Rizo Supermarket.
They offer a variety of shops with fresh produce, wines, and spirits, including a delicatessen and cafe. An open-air courtyard and top floor patio hosts coffee shop tables, a water fountain, and plants.
Hours: Monday – Saturday 9AM – 8PM (closed Sundays)
Address: Aquiles Serdan 265, Col. Emiliano Zapata (See Google Map)
Tel: 222.0383.
Website: http://www.losmercadospv.com
---
Soriana Supermarket Plaza Caracol
(Number 4 on Key Map) – A popular Mega Supermarket located in Plaza Caracol in the hotel zone, a comfortable location, easy access, large parking lot and surrounded by many smaller stores. Has a wide assortment of items, from clothes to kitchen appliances and also groceries, of course :-). You can find excellent meats here.

---
Gutierrez Rizo Supermarket
(Number 7 on Key Map) OUT OF BUSINESS (07/2012).
---
LEY Supermarket
(Number 6 on Key Map) Here you'll find many of the locals shopping as prices have a tendency to be lower than the competition. The second floor is filled with clothes and what you might need for your home. It is located on Av. México two blocks away from Hidalgo Park.
1150 Avenida Mexico, Downtown PV
Open 24 hours.

---
Mega Comercial Mexicana Supermarket
(Number 5 on Key Map) – A new Comercial Mexicana store in the Hotel Zone. Located 200 or 300 meters towards the airport (north) of the Sheraton Buganvilias Hotel in the Hotel zone. Popular Mega Supermarket with an excellent meat department, a wide assortment of items, deli meats, bakery and includes a pharmacy.

---
SAM'S Club Puerto Vallarta
(Number 3 on Key Map) – Same as in the USA. A wholesale warehouse where you can buy a lot of everything and anything. They have the finest selection of imported meats and cheese, along with many other different products. It is a club, so you either need to go with someone who's a member or become a member yourself for a very low annual fee. Sam's Clubs cards from the U.S. work or you can purchase a membership for about 350 pesos. Across the street from the PV Port Terminal and to the right of Wal-Mart in the North Hotel Zone.

---
Soriana Pitillal Supermarket
(Number 9 on Key Map) – Just crossing the Pitillal river and entering the town of El Pitillal you'll encounter a Mall, with cinemas and the popular Soriana, which is well stocked for most of your needs.

---
Walmart Puerto Vallarta
(Number 2 on Key Map) – The newest of the grocery/hard goods supermarket stores. Wal-mart Puerto Vallarta is very similar to the ones in your home area. Excellent bakery and deli department, good prices on anything you forgot to pack. Here you'll be able to find an inexpensive boogie board or snorkel gear. Across the street from the Port Terminal and to the left of SAM'S Club.

---
Soriana Marina Supermarket
(Number 11 on Key Map) – The newest addition to Puerto Vallarta's supermarkets, adjacent to Hacienda Hotel & SPA, beside the Marina Terminal gas station, you can walk here from the Krystal hotel too in the Northern Hotel Zone. A well-stocked supermarket that will cover most of your needs. Close to SAM's and Wal-Mart supermarkets too.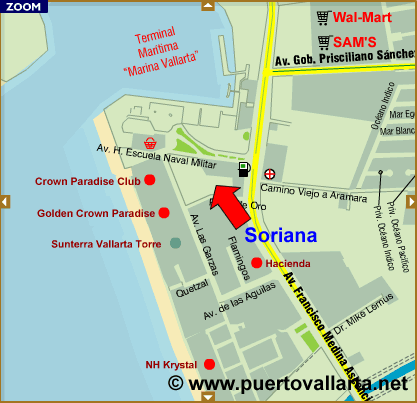 Last Updated on 23/03/2021 by Puerto Vallarta Net