General Information
Raicilla is a distilled spirit from the Western part of the State of Jalisco in Mexico. It's one of the lesser-known alcoholic beverages made in Mexico, but might actually be the older brother of the world-famous Tequila.
The name means small root (Raicilla) and is actually distilled from the fermented juices of a maguey plant or agave. There are more than 200 species of these plants, in the case of Tequila you can only use one, the blue agave, for Mezcal you can use one of 14 species and for Raicilla, two species are used, the so-called, lechuguilla agaves, "pata de mula" (mule foot), or "agaves raicilleros" of the species (Agave inaequidens) and (Agave maximiliana).
They are smaller than the agave used for Tequila and pulque and weigh 25kg (55 lb) as a "piña" (pineapple). Some also mention the (Agave valenciana) as a source for Raicilla, but it has been protected because it's an endangered species, so it is no longer used.
Raicilla has been enjoyed since the XVI century and first distilled in the early XVII century, the drink of choice for miners that worked in the mountain towns of the Sierra Madre in the Western part of Jalisco. It has a harsh, unique taste and though officially a mezcal, was renamed to Raicilla so it could avoid being taxed and restricted by the Colonial government.
Mostly considered moonshine mezcal, in recent years producers have organized themselves and have started producing legal varieties and brands that are now sold in the Mexican market.
San Sebastián del Oeste, Jalisco, Mexico – Main square
The towns that produce Raicilla are: Atenguillo, Cuautla, Guachinango, Mascota, San Sebastián del Oeste, Mixtlán, Talpa de Allende, Atengo, Ayutla, Cabo Corrientes, Chiquilistlán, Juchitlán, Puerto Vallarta, Tecolotlán, Tenamaxtlán, Cimarrón Chico de la Raicilla and Tomatlán.
Talpa, Mascota and San Sebastian del Oeste
The taste varies from place to place, if it's from the Sierra, it has a touch of citric, wood, wet earth, pepper and herbs, whereas those from the coast include tones of tropical fruits, minerals, white pepper and a smoked taste. Alcohol content depends on the brand and type but varies from 35º to 45º in alcohol content per volume (72 proof & 80 proof).
Raicilla types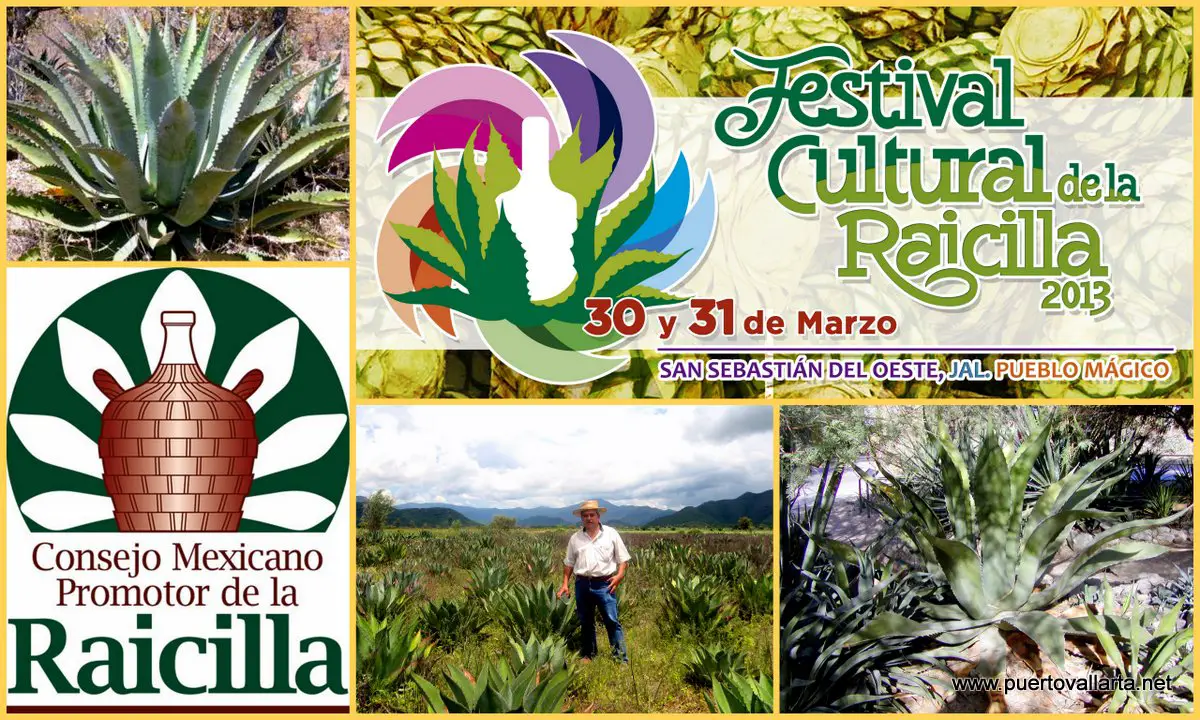 Blanco: when it hasn't been kept in oak barrels
Joven (Young): less than one year in oak barrels.
Reposado: Between 1 and 2 years in oak barrels
Añejo: More than 2 years in oak barrels.
The oak wood used for the barrels can be Encino (Quercus ilex) and Roble (Quercus robur).
The current yearly production is 100 thousand liters (26500 US gal.).
The Mexican Raicilla Promotion Council is working to obtain a Denominación de Origen (Designation of Origin) for the product.
Production
Just as with the agaves used for its famous brother distilled spirit, the Tequila, the pineapple (piña) is harvested by "jimadores" after 8 to 10 years, the spiny leaves are cut off with a "coa", a rounded lance, and then transported from the field to the "taberna", where the processing takes place.
The pineapples are cooked 24 hours in large wood-fired brick ovens (hornos), then they are chopped into pieces with machetes and mashed into a pulp with "mazos" (wooden mallets) in a "batea". This pulp is then placed in 100-liter copper-bottom wooden vats (perols) where the liquid ferments for 7 to 9 days with the yeasts the plant has naturally. Once this is done, a cap is placed over the vat and sealed with mud and connected to a copper distillation coil, and then heated. The distillation process lasts 8 hours.
How to get and find Raicilla?
Raicilla Festival Program
In recent years, Mascota has hosted a yearly Raicilla Cultural Festival. Sponsored by the local government and the Jalisco State Tourism Office, the event includes Raicilla tasting, tours, and lectures on the production and history of the drink, including live music and traditional dance.
If you are in Puerto Vallarta the easiest way to enjoy Raicilla is to travel to El Tuito, a town that is now also known for its good Raicilla. Located some 45 minutes south of Vallarta, you get there by taking Highway 200 going south of the romantic zone, you'll pass Mismaloya, Boca de Tomatlán, Las Juntas, the Vallarta Botanical Gardens before arriving in El Tuito. There ask anyone (old enough) where you can find Raicilla and you'll be shown the location.
Raicilla Brands
There are a total of around 26 registered Raicilla brands, these are some of the most important, some with websites or Facebook pages:
Don Chalio
Guadalajareña
Hacienda El Divisadero
Jalisco
La AltaneraAltanera
La Gorupa
Rancho El Cono
Republic
Sierra del Mosco
Tenanchi
Legends
William Reed, in his book "Escape to Paradise", mentions a few interesting details on the Raicilla moonshine liquor, for example, he says that the plant used is a distant cousin of the peyote and that it includes the hallucinogen, mescaline.
He mentions having sent a sample to the US to analyze it and that is, in fact, did have mescaline, how much it had depends on the variety you buy, if it's the street quality it has half, if not less, than the quantity in the type called "de punta", which is much more expensive, and this due to the fact that it's the first distilled liter of Raicilla extracted from a 50 gallon drum.
At Yelapa.info they recommend that "…when you drink it for the first time, you should be in secure surroundings among people you know and trust and use cautious moderation."
More information
The main association behind the promotion and expansion of the liquor is the Mexican Raicilla Promotion Council (Consejo Mexicano Promotor de la Raicilla).
Insert on Raicilla on Wikipedia (not very useful).
Casa Museo de la Raicilla
There's a museum in Mascota called "Casa Museo de la Raicilla" Raicilla House Museum, where you'll enjoy a guided tour on the history and background of Racilla production, there's also a store where you can buy the liquor.
Address: Morelos 26, Centro, Mascota.
Raicilla Hacienda El Divisadero
You can also enjoy a Raicilla Distillery tour at Hacienda El Divisadero.
Raicilla El Real
Callejón Alvarado No. 5 Col. Barrio Centro 46990,
San Sebastián del Oeste, Jal. México
Tel.: (322) 297-2863, 297-2935
Fax: (322) 297-2863
http://www.Raicillaelreal.com/
Raicilla Las Praderas
Rubén Peña, Mascota, Jalisco.
Tel.: (38) 8386-1564
https://www.facebook.com/Raicilla.laspraderas
Last Updated on 24/07/2022 by Puerto Vallarta Net