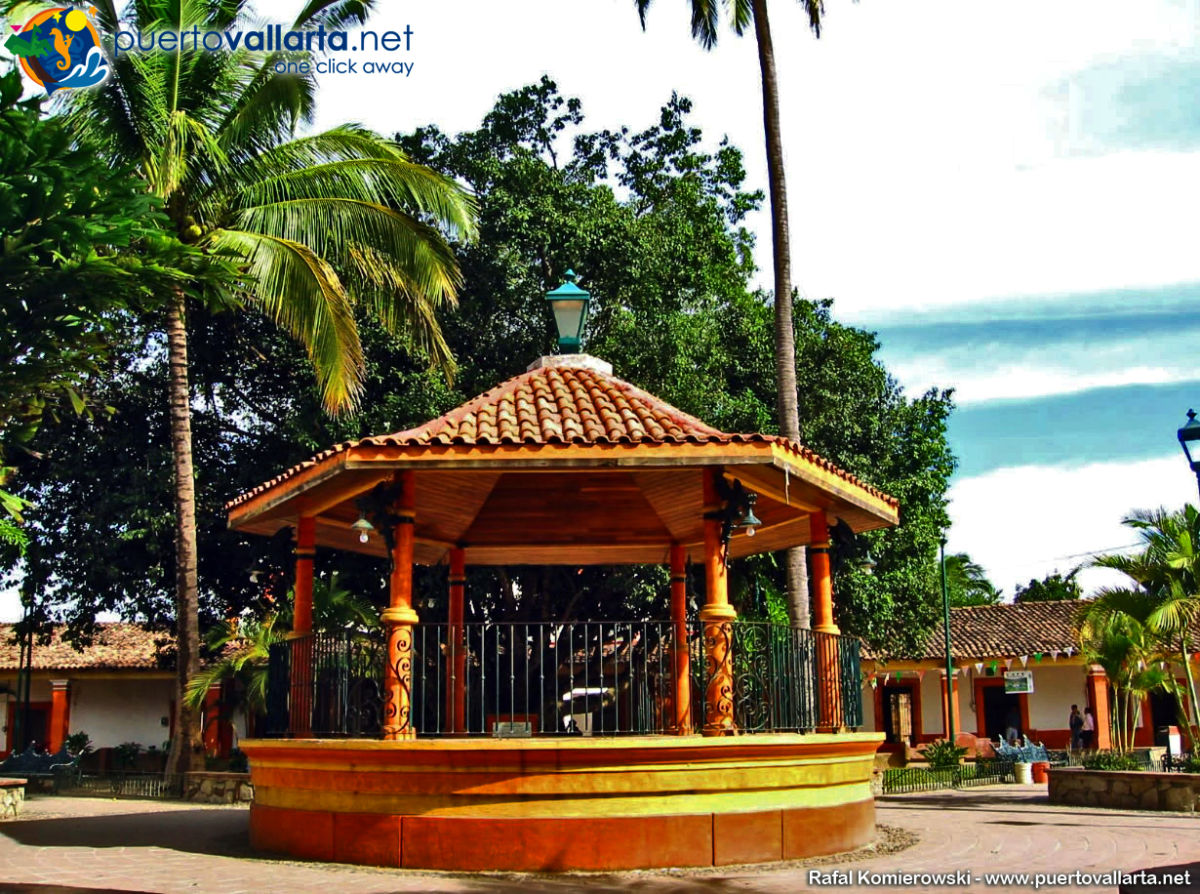 El Tuito, main square, Cabo Corrientes, Jalisco, Mexico
Introduction
The name, El Tuito, derives from the prehispanic language Nahuatl and means "beautiful small valley", and it still is!
If you didn't know better, you'd easily pass the detour along the highway going south, but now you know! A small hidden town, a fresh (5-10 degrees cooler than PV), clean little village for those that want to relax, put their stress on pause and get away from the bustle and hustle of the city.
About El Tuito
The main square (la Plaza), as is traditional in Mexican settlements, is in the heart of town and offers several very reasonably priced restaurants with quality local dishes. Very recommended are the hand-made corn fresh prepared tortillas.
Everything you would want to see in town is less than two blocks from the Plaza de Armas.
Just take your time, enjoy sitting at an outside table and watch the surroundings, the locals and the traditional architecture. Bask in the tranquility, because, unless there's one of the local celebrations, that's what you'll get in abundance.
Horses and cows and kids on bikes, are just as common as big noisy pickups (the bigger the better seems to be the understanding in Mexico), so you really feel you've traveled back in time and to a real colorful Méjico!
By the plaza you'll find the Cultural Center, here you can ask for ideas and suggestions for your trip or stay in town. If you find Ignacio Palomera (tourism director), he's a valuable source of tips and information too.
This is also the place where you can find the mural "Universal Revolution" from 1970 by the artist David, which honors Mexico's past, present and future.
Another local attraction by the plaza is the Casa Museo "El Patio de Don Alfonso" (house museum of Mr. Alonso), check the place out in the video above.
You should not forget to visit the San Pedro Apostol Parish, the main town church, just 50 yards from the plaza on the corner of Jesús Cervantes St. and Pablo Ríos St. It's been on the spot for more than 200 years, offers an impressive and unique boulder altar and a beautiful Virgin Mary statue.
Iglesia de San Pedro Apostol
Address: Jesús Cervantes 21 C.P. 48400 El Tuito, Jalisco, Mexico
Phone numbers: (322) 269-0058 /  269-0226 / 303-9414
El Tuito is famous for its Panela and Oaxaca cheese. These are sold directly by the local producers right from their homes or small stands and at a great price. Among the several Panela sellers around the main square, don't miss Doña Nilza Plácito, who sells Panela right from her home across the street from the Cultural Center, something she has done for many decades.
Other local produce includes honey, agave nectar, Raicilla (a distillate similar to Tequila, just recently legalized), as well as the fresh produce and seafood sold from pickup truck beds. You won't find many that speak any language other than Spanish, so be prepared.
Tuito has economical lodging, and boutique hotels such as Jardin del Tuito and Hacienda El Divisadero, ideal spots from which to stage side trips into outlying areas along the coast.
El Tuito is an excellent starting point for trips to Cabo Corrientes and the cape area's pristine beaches such as Mayto and Tehuamixtle.
El Tuito really comes to life during traditional festivities, especially during the ones that celebrate Mexican Independence (September 16th) and January when the locals pay their respects to the Virgin of Guadalupe with the local "fiestas populares" (popular celebrations) on January 12th.
Things to see and enjoy
The Cultural Center & mural
San Pedro Apostol Parish
Casa Museo "El Patio de Don Alfonso" (house museum by the plaza)
Panaderia Gallegos, pastries and bread made in traditional brick ovens fueled with wood.
Doña Nilza's panela cheese and fresh fruit stand
How to get to El Tuito
If you travel by car, you'll go south, past the romantic zone going toward Mismaloya, and Boca de Tomatlan following Carretera 200 Sur (Highway 200 South). Past Boca you start traveling inland into the mountains, you'll pass a small town called Las Juntas y Los Veranos, then the Vallarta Botanical Gardens, when you get to kilometer 45, you'll arrive at El Tuito.
You can take regularly scheduled public transport, there are buses that run every half hour that go to El Tuito and have signs stating so, they can be stopped at the corner of Insurgentes and Basilio Badillo in the Romantic Zone and end their route at the Tuito Plaza.
A trip back in time, a trip to a real Mexican countryside town, a taste of the laid-back and colorful Mexico, all under an hour away from Puerto Vallarta.
El Tuito Location Map