After almost three years of work, the pier on Los Muertos Beach was inaugurated with fireworks, music, and fun, at the start of January 2013.
Introduction
This is the third iteration of the pier, designed by Arq. José de Jesús Torres Vega.
Pier/dock inaugurated January 4th, 2013.
Measures 335 feet (103m) out into the sea and has a total walkable area of 7700 sq. ft. (715m2).
Water depth varies according to the season and ranges from 4.5 to 6 meters (15 to 20 feet).
Took 3 years to build and had a total cost of $6.5 million dollars.
Offers benches, footpaths, and handrails.
Offers a landing dock with berth space for up to 6 medium-sized boats.
20.59863 N – 105.23931 E
The pier (also known as a lookout/"mirador") is a wonderful addition to Puerto Vallarta's beachfront area. It was designed by the Mexican Biannual Architecture prize-winning architect, José de Jesús Torres Vega. It was the centerpiece of an ambitious Downtown Puerto Vallarta renewal program, that included a series of important projects in and around the city center. These added sparkle to the existing popular attractions for both local and international visitors.
The grand opening event was wonderful and included, live music, folkloric dancers fireworks, skydivers, and a lot of spectators enjoying a great evening on this, Puerto Vallarta's main beach. The Los Muertos pier is of a modern and nautical design, like a sail in the wind. There is no way to miss it if you are walking along the edge of the beach southward.
Anyone can walk out onto the pier, it is a great place for a stroll, access is free and you can sit on the available benches, cool off in the fresh sea breeze and enjoy the view. At night it's an illuminated light show with changing colours, adding to its stunning appearance.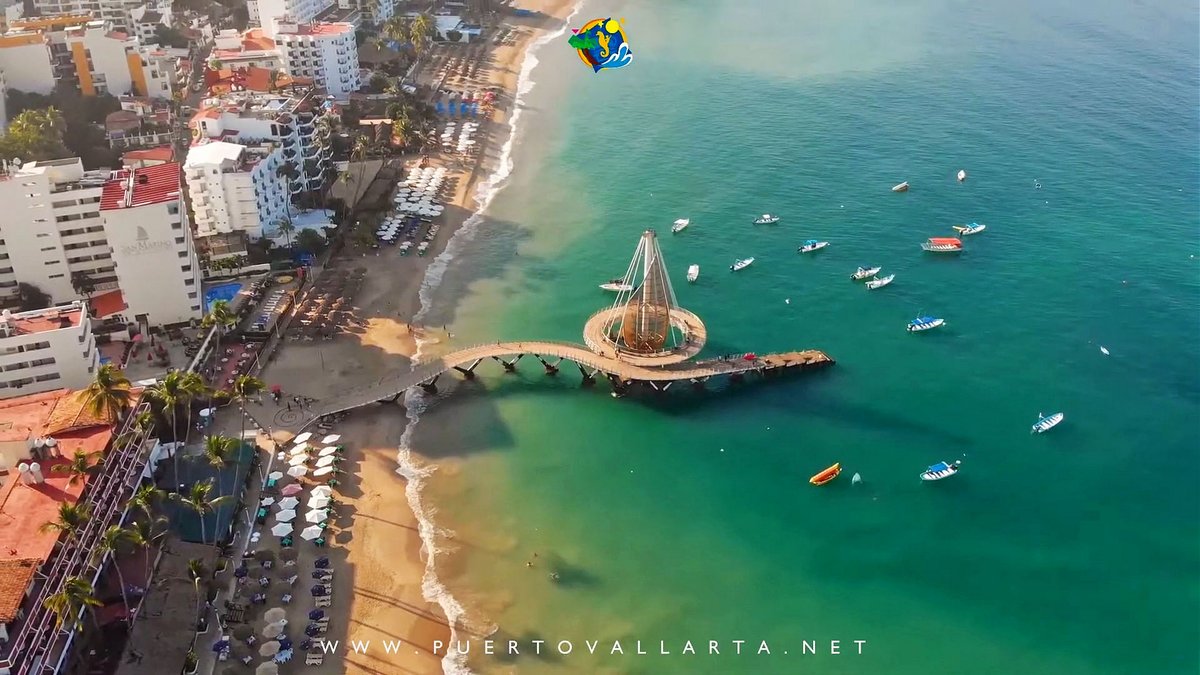 The pier at Los Muertos Beach in Puerto Vallarta's Romantic Zone (Old Vallarta)
The pier, with its strategic location in the middle of Old Vallarta (AKA Romantic Zone) has become an important attraction for Francisca Rodríguez street and the surrounding area where both the streets and pedestrian access has been considerably improved.
Boats can dock at the end of the pier and the pier is very functional with a lower ramp closer to the water for passengers embarking/disembarking on the various water taxis, fishing boats and other yachts, a very welcome feature after several years without a docking option in the area.
Los Muertos Beach Pier History
There have been two previous incarnations of the pier, the first one was a wooden one with iron underfooting where luxurious floating hotel ships such as Princess Patricia, Italia and Fairsea, would anchor there with tourists much to the pride and amazement of the locals.
The Los Muertos Pier 1971 compared to 2018
"Princess Cruises began in 1965 when founder Stanley McDonald chartered Canadian Pacific Limited's Alaska cruise ship, Princess Patricia, for Mexican Riviera cruises from Los Angeles during a time when she would have usually been laid up for the winter. However, Princess Pat, as she was fondly called, had never been designed for tropical cruising, lacking air-conditioning, and Princess ended her charter in favor of a more purpose-built cruise ship Princess Italia." (read more).
Top left: Princess Italia, Bottom Left: Fairsea, Right top and bottom: Princess Patricia
In 1963 the pier was used to help load construction material, film crew, equipment and the actors to and from Mismaloya while John Huston filmed "The Night of the Iguana" there.
This pier was built before the movie, not for it, as I have read some places online, that is just not correct and even John Huston mentions it was there beforehand in his autobiography:
"I was thinking about locations for "Iguana" and Guillermo (Wulff) urged me to go to Mismaloya. It was only a few miles by boat from Puerto Vallarta's only pier – at Playa Los Muertos…" (An Open Book; 1980. John Huston).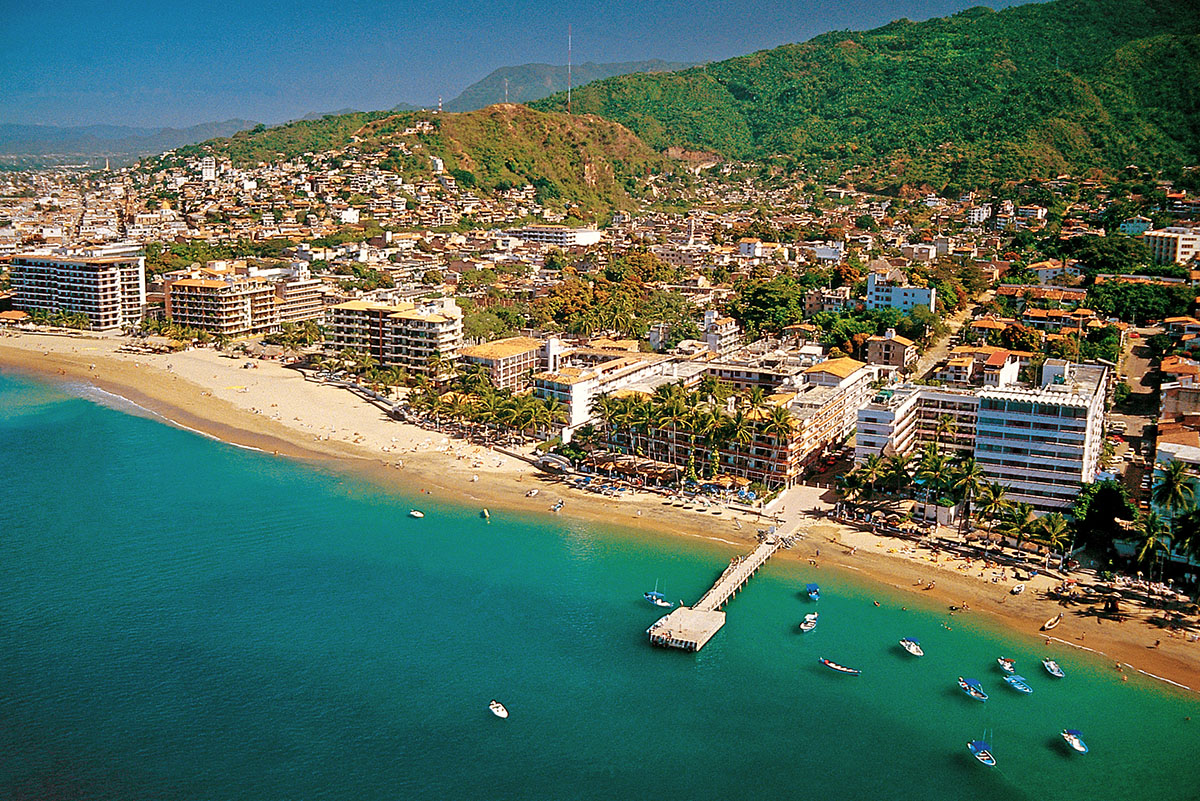 Los Muertos at the turn of the century, you can see the old "La Solidaridad Vallartense" pier
The second one, called Muelle de La Solidaridad Vallartense finished on December 7th, 1990, was a project carried out by the local inhabitants, financed in part by local businessmen, officials and, in the end, mainly Don Juan Peña Dávalos, the owner of Hotel Marsol, who lent a considerable amount of money that was never fully returned. This newest pier was financed by the Federal Government and remaining part by the State of Jalisco.