Movies in Puerto Vallarta [Warning] Puerto Vallarta Movie
Introduction
Considering the beauty of Puerto Vallarta, the various amazing natural locations, the small towns up and down the coast, islands, tropical "island" beaches, architecture, modern resorts and villas, authentic colonial towns, all within an hour or so from town, it's surprising just how few movies have been shot here.
Even The Night of the Iguana didn't really show much of the surroundings and John Huston even chose to film it in black and white to tone down the beauty which he thought would be distracting.
In any case, here's a list, in chronological order, of the Top 10 movies shot in the area, the most notable are Hollywood productions, very few were critical successes, except Huston's famous movie… maybe it is true that the beauty of Vallarta distracts, and not only the audiences, but the actors and directors too.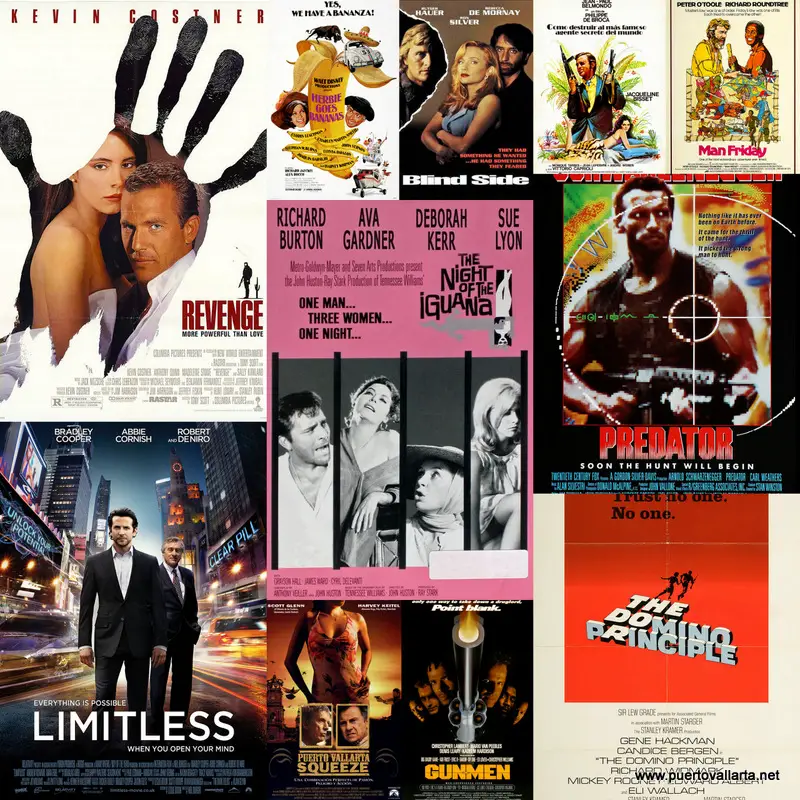 ---
The Night of the Iguana (1964)
The Night of the Iguana was shot mostly on a purpose-built set on the southern hill of Mismaloya Beach in 1963, it was based on a stage play written by American author Tennessee Williams, which was based on his 1948 short story set in a hotel in Acapulco.
The 1964 movie was directed by the already famous John Huston and starred Richard Burton as Rev. Shannon, Ava Gardner as Maxine, and Deborah Kerr as Hannah.
It also included Sue Lyon (of Lolita fame), Cyril Delevanti, Grayson Hall (who received an Oscar nomination as Best Supporting Actress for her performance), and Barbara Joyce (later an acclaimed artist). The screenplay was written by Huston and Anthony Veiller.
The film won an Academy Award for Best Costume Design (B&W), and in addition to Ms. Hall's nomination, was also nominated for Cinematography (Gabriel Figueroa) and for Art Direction.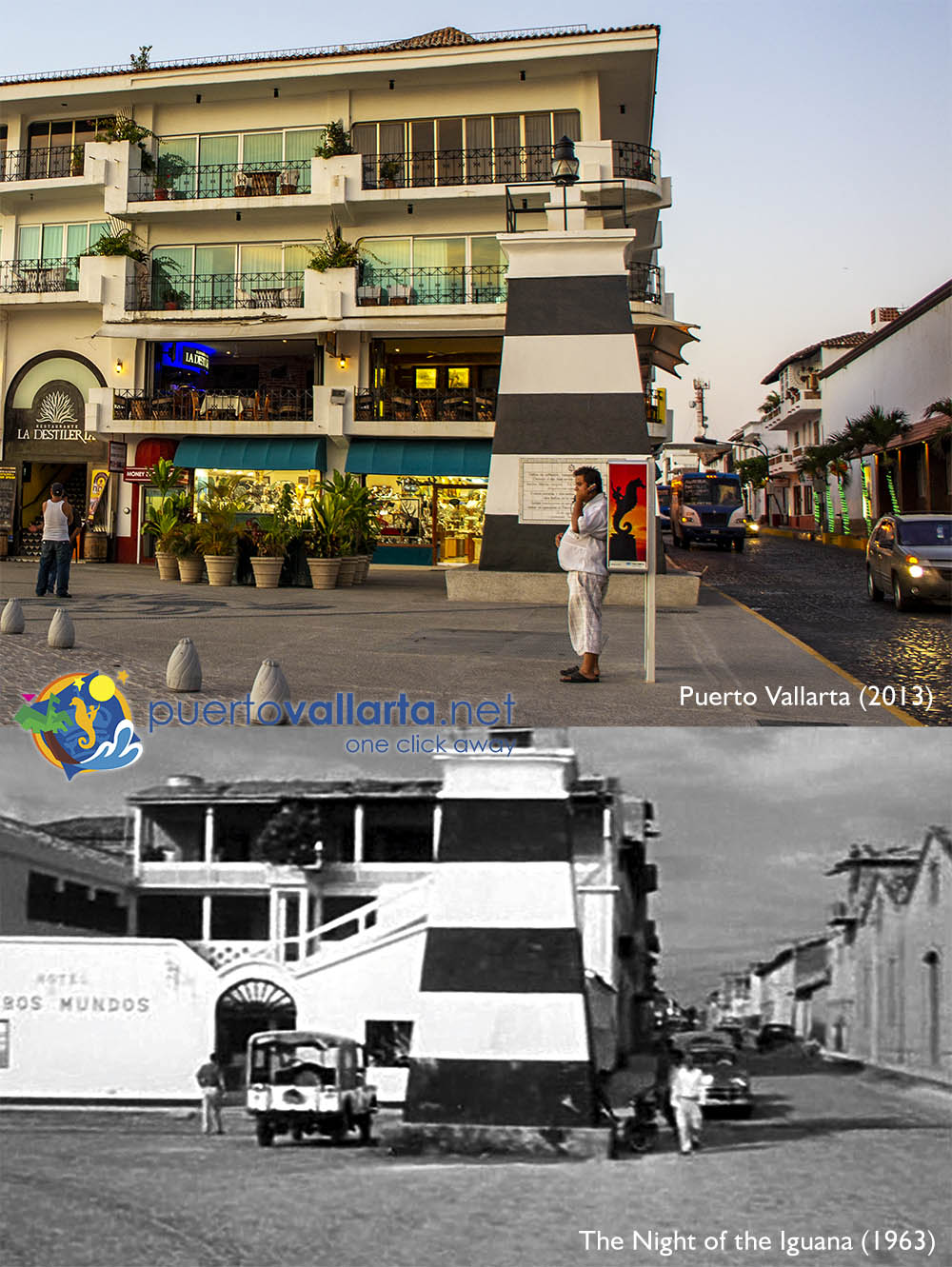 The plot is set in 1940's Mexico, where an ex-minister, Reverend T. Lawrence Shannon, has been locked out from his ministry for what is considered a "nervous breakdown" and then obtains employment as a tour guide for a seedy travel agency where he is in charge of bringing down a group of female tourists to Mexico, the movie itself centers on his tribulations, temptation, three women, and redemption.
The Night of the Iguana (1964) - HQ Trailer
In the movie you get glimpses of downtown Puerto Vallarta from the early 1960s, the Malecon, Hotel Océano, Hotel Río and the Lighthouse on Galeana, and the Malecon, the rest is located on the set in Mismaloya.
---
Le Magnifique (1973)
Le Magnifique (literally The Magnificent) is a French movie released in 1973, starring Jacqueline Bisset and Jean-Paul Belmondo and directed by Philippe de Broca. The movie is a slapstick spoof of B-series espionage movies and novels.
François Merlin (Jean-Paul Belmondo) is a pulp espionage novel writer and half the movie goes on in his imagination, where he is a world-renowned super spy. Christine (Jacqueline Bisset) is a sociology student who lives in the same building as Merlin and is interested in the novels, but in the writer's imagination, she becomes Tatiana, his paramour, while the pompous and rich publisher of his novels, Pierre Charron (Vittorio Caprioli), doubles as the great villain.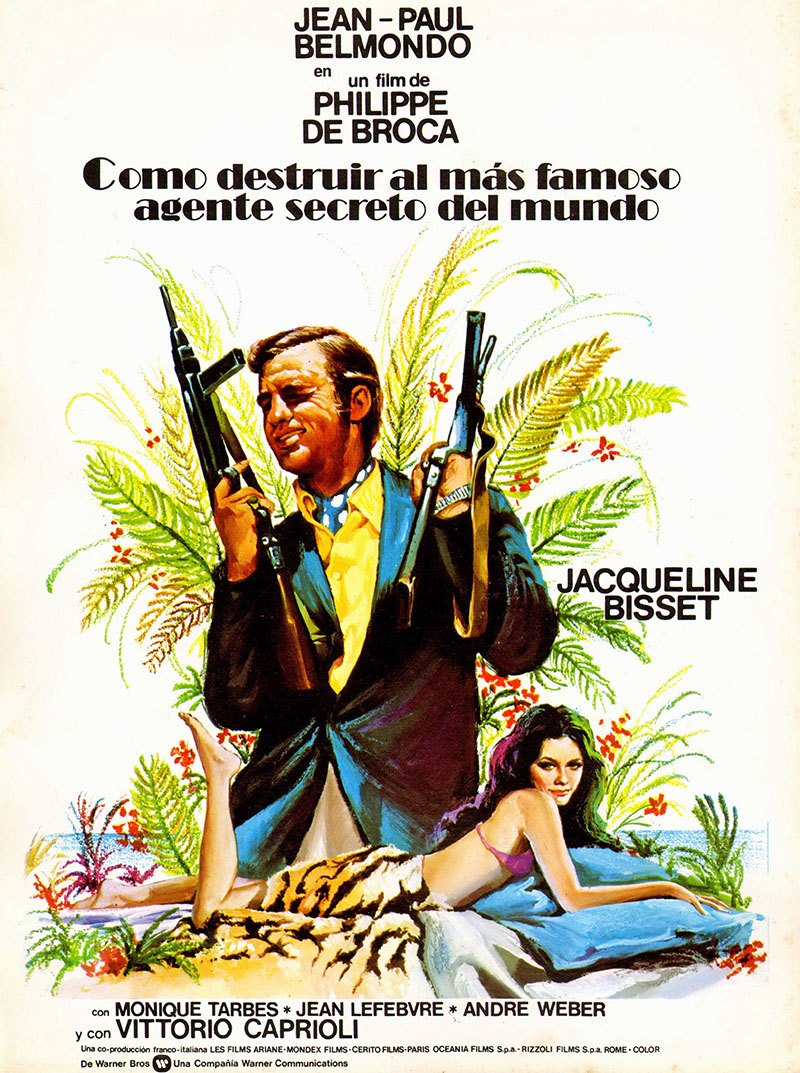 Most of the spy scenes in the movie are shot in Mexico, some shots offer views of the 1970's Puerto Vallarta, the Malecon, the main plaza, buildings around it, there are scenes shot on the beach and at Hotel Posada Vallarta that later became the Krystal.
Le Magnifique (1973) - Bande-annonce
---
The Domino Principle (1977)
The movie is a 1977 thriller film starring Gene Hackman, Candice Bergen, Mickey Rooney, and Richard Widmark, based on a novel of the same name, adapted for the screen by the author, Adam Kennedy.
The movie was directed and produced by Stanley Kramer. Roy Tucker (Gene Hackman), serving time for the murder of his wife's first husband, is approached in prison by a man named Tagge (Richard Widmark) on behalf of a mysterious organization that in exchange for helping him escape and start a new life, wants him to work for the organization a few weeks.
The movie offers views of the 1970s in Vallarta, the Malecon, the main plaza, buildings around it, the South Zone between Los Arcos, and the Romantic Zone too.
The Domino Principle (1977) ORIGINAL TRAILER [HD 1080p]
---
Predator (1987)
American science fiction action film directed by John McTiernan, that stars Arnold Schwarzenegger, Carl Weathers, Jesse Ventura, and Kevin Peter Hall.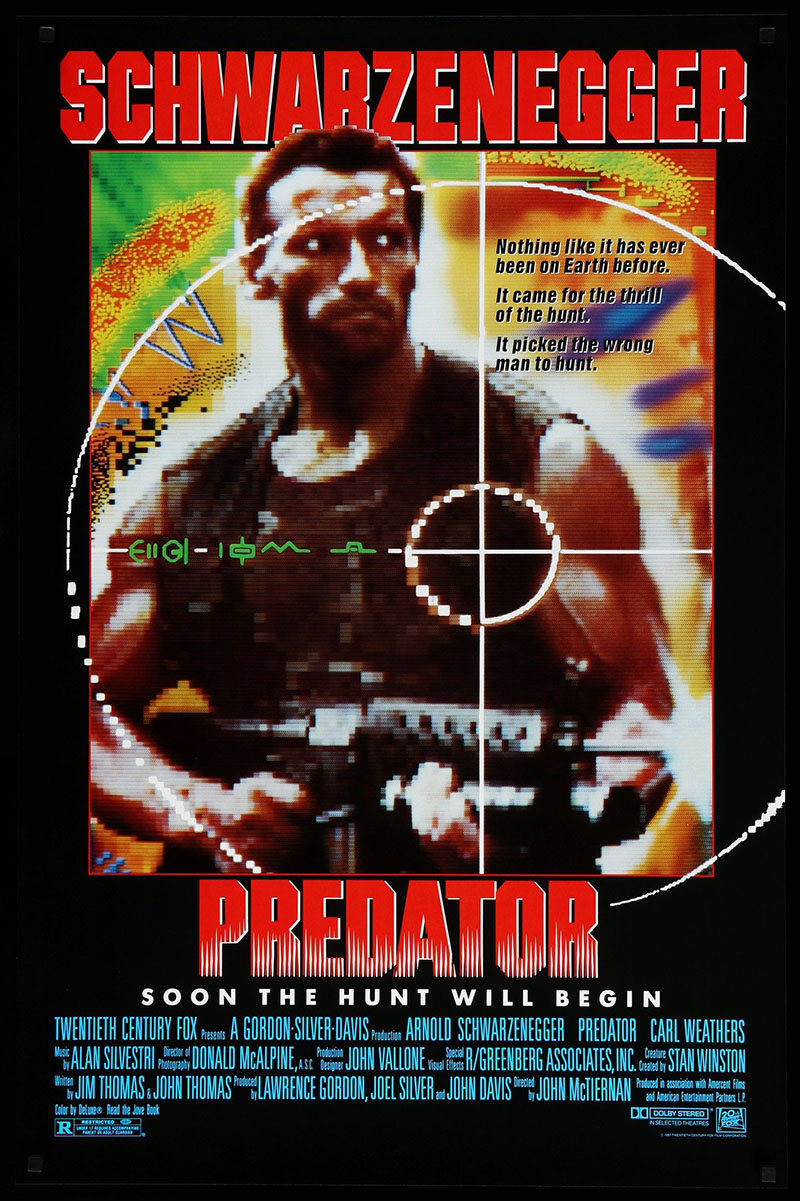 The story follows an elite special forces team, led by 'Dutch' (Arnold Schwarzenegger), on a mission to rescue hostages from guerrilla territory in Central America.
Unbeknownst to the group, they are being hunted by a technologically advanced form of extraterrestrial life, the Predator.
Pelicula: Depredador (1987)
Much of the movie is filmed in the jungles south of Puerto Vallarta at what is now known as El Edén and a few initial shots when they arrive, at the start of the movie, are from the beach at Mismaloya.
---
Revenge (1990)
Revenge is a 1990 crime-drama thriller directed by Tony Scott, starring Kevin Costner, Anthony Quinn, Madeleine Stowe, Miguel Ferrer, and Sally Kirkland.
Some scenes were filmed Conchas Chinas and downtown Puerto Vallarta, Mexico.
The film is based on a novel by Jim Harrison, who co-wrote the script. Michael J. "Jay" Cochran is a retiring U.S. Navy aviator who, after 12 years in the service, wants to relax and live one day at a time in Mexico, this, of course, is not to be. Video link.
---
Blind Side (1993)
Blind Side is an HBO thriller made for television movie filmed in 1992, starring Rutger Hauer, Rebecca De Mornay, and Ron Silver, and directed by Geoff Murphy. It came out theatrically in territories like France and Sweden.
A couple visits Mexico to find a location for their furniture manufacturing business and on the way back home they hit a cop with their car. Realizing that if they report it they could land in a Mexican jail (guilty until proven innocent) they clean up the car and return home. A few days later an insistent man shows up wanting a job and insinuating that he saw something in Mexico that he would not want to report, and the couple must make a decision about how far they will allow themselves to be blackmailed.
Scenes in the movie are from Mismaloya Beach, some at the then La Jolla de Mismaloya Hotel and downtown Puerto Vallarta with the Our Lady of Guadalupe Parish in the background.
---
Gunmen (1993)
Gunmen is a 1994 action-comedy film directed by Deran Sarafian. It stars Mario Van Peebles, Christopher Lambert, Denis Leary, Kadeem Hardison, and Patrick Stewart.
Drug baron Peter Loomis (Patrick Stewart) has his $400 million dollar drug fortune stolen in South America. Loomis sends Armor O'Malley (Denis Leary), a ruthless killer to find his money.
---
Puerto Vallarta Squeeze (2004)
Another movie by Robert James Waller (Bridges of Madison County) is an action thriller called Puerto Vallarta Squeeze. It stars Harvey Keitel (Bad Lieutenant, Reservoir Dogs) and Scott Glenn (Training Day, Naked City: Justice with a Bullet).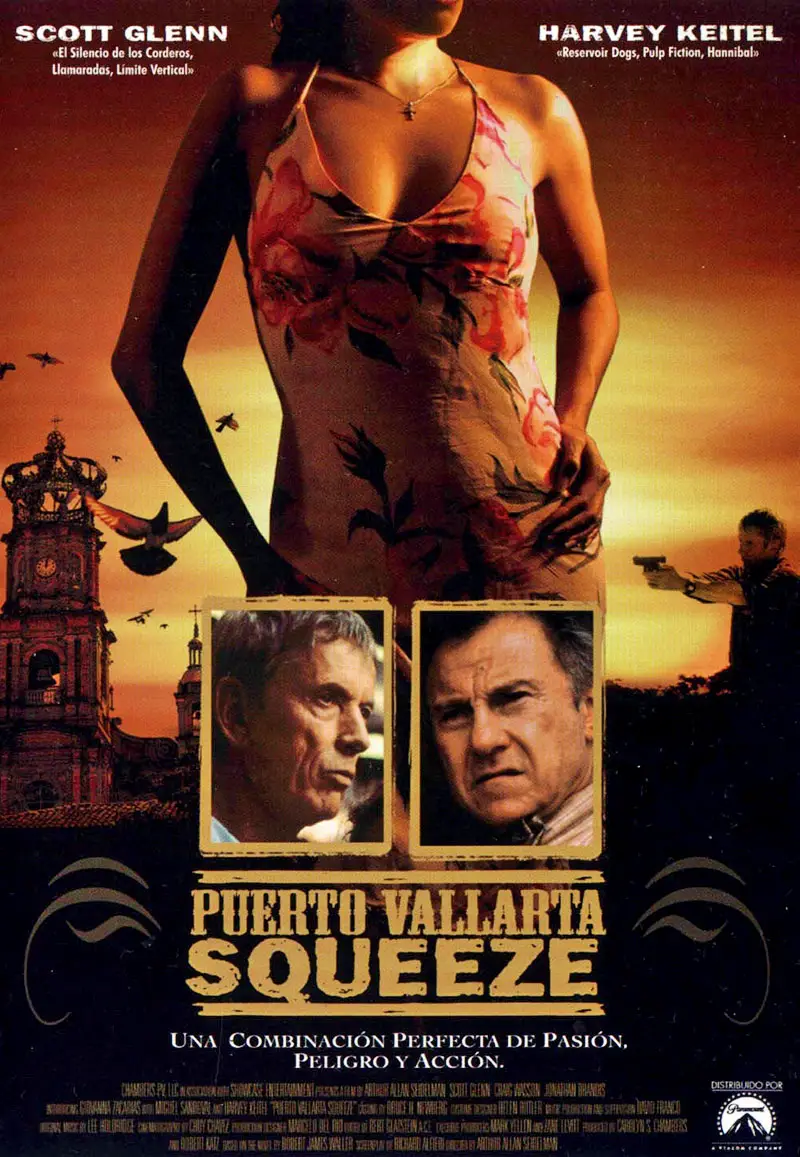 Puerto Vallarta Squeeze zeroes in on rogue US government hitman Clayton Price. Price goes on the lam in Mexico after eliminating a top official from the US Military and makes a deal with a couple of tourists who agree to help him vanish in the Mexican jungle. Soon, Walter McGrane (Keitel) is hot on Price's trail, having orders to bring him back dead or alive.
Puerto Vallarta Squeeze (MEX/USA 2004) Trailer
There are many shots in town in various parts of downtown Puerto Vallarta and the surrounding areas and smaller towns around the city. Our Lady of Guadalupe Church is on the cover and posters of the movie too.
---
Sharktopus (2010)
Do not eat genetically modified sharks! They are very bad for your health, especially if they eat you. This will be what you'll be able to grasp in this satire horror movie from legendary producer Roger Corman.
A hybrid between a killer shark and an antisocial octopus created as a superweapon for the US Navy goes out of control and makes its way to our peaceful paradise, Puerto Vallarta, a great excuse to have lots of babes running around in bikinis and screaming their lungs out.
Sharktopus (2010) - Official Trailer [HD]
Once in PV it attacks everyone and at every place, at Los Arcos, Mismaloya, El Edén (how'd it get that far inland…) eats people bungee jumping and zip-lining, you name it!
The movie won't end until they kill the abomination, or so you may believe…
---
Limitless (2011)
An action-thriller about a writer (Bradley Cooper) who takes an experimental drug, NTZ, that allows him to use 100% of his brain's capabilities. As one man evolves into the perfect version of himself, he draws the attention of business mogul Carl Van Loon (Robert De Niro), who sees this enhanced version of Eddie as the tool to make billions. Side-effects and forces even more corrupt than he can imagine get in his way and try to put an end to his journey.
Movie stars: Bradley Cooper & Robert De Niro; Directed by Neil Burger.
Scenes of a Maserati speeding by the Malecon, diving off a cliff on the Marietas Islands, a resort in Punta Mita, Casa China Blanca villa, among other scenes in Puerto Vallarta.
Limitless (2011) Official Trailer #1 - Bradley Cooper Movie
---
Some honorable mentions
Herbie Goes Bananas (1980)
This movie is the fourth in a series of Walt Disney movies starring a white racing VW beetle called Herbie that has a mind of its own. The film stars Cloris Leachman and Harvey Korman.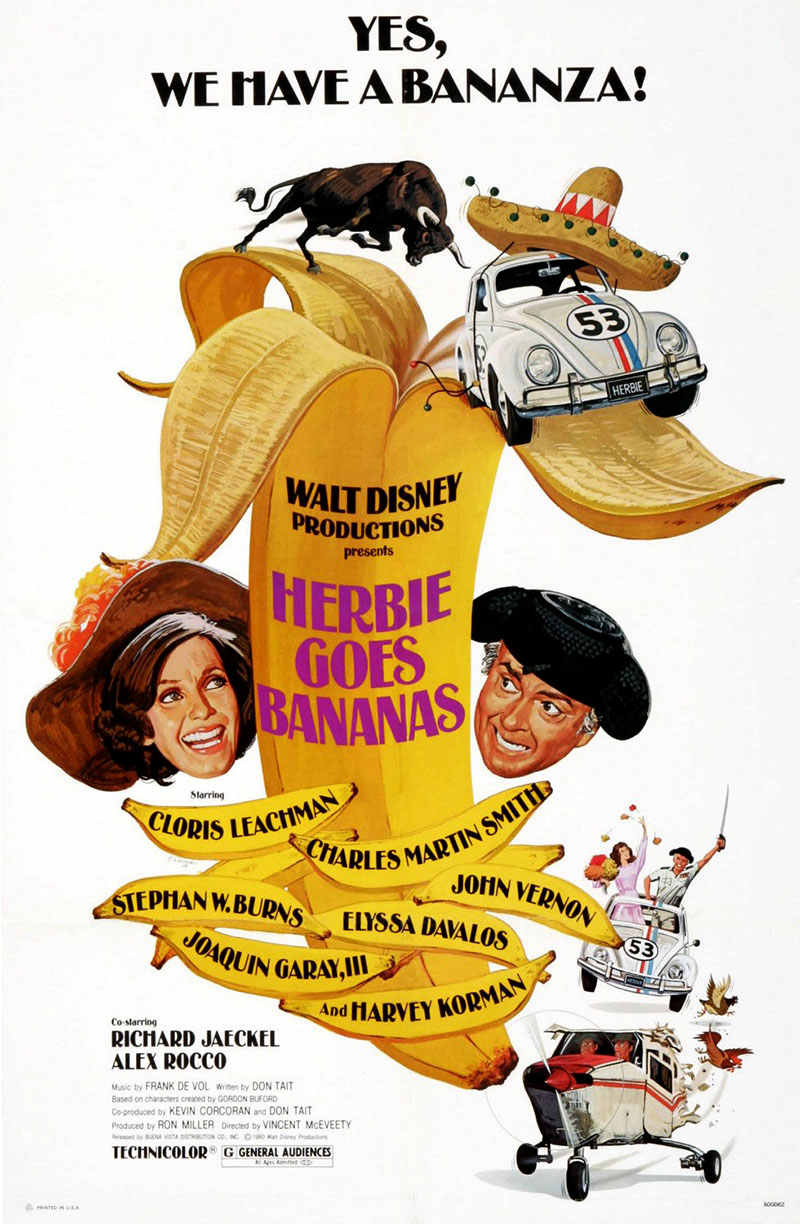 Loosely picking up where the prior movie left off, protagonist Pete Stancheck (Stephen W. Burns) has inherited Herbie from Jim Douglas, and travels to Puerto Vallarta with his friend Davy "D.J." Johns (Charles Martin Smith) to retrieve the car and then recounts the adventures they encounter during the process of returning home.
Herbie Goes Bananas (1980) Opening Titles
Many shots are taken in downtown Puerto Vallarta, some side streets, and the Malecon.
---
I Brake for Gringos (2012)
Coming of age comedy about two young high school kids caught up in crazy adventures when they travel to Puerto Vallarta for the most memorable Spring Break of their lives! General video.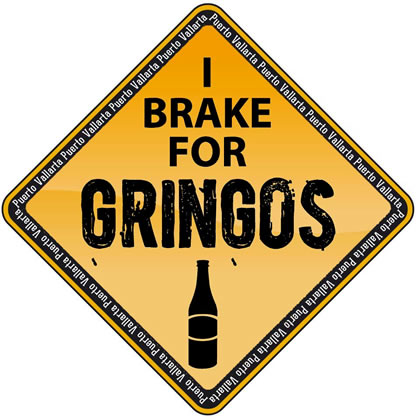 "I Brake for Gringos", Puerto Vallarta
---
Beverly Hills Chihuahua (2008)
Beverly Hills Chihuahua Full Trailer
While on vacation in Mexico, Chloe, a ritzy Beverly Hills chihuahua, finds herself lost and in need of assistance in order to get back home.
There are a few shots that are recognizably Vallarta, including an aerial shot of downtown Vallarta and the Romantic zone (shown above).
---
In Yelapa and Lo De Marcos
Which Way, Por Favor? (1999)
Beautiful panoramas and sounds from Jalisco's Pacific Ocean jungle in this captivating comedy-drama shot in the isolated seaside village of Yelapa. Four offbeat travelers hunt for a romantic adventure, hidden cash, a mysterious father, and a mythic sorcerer, "Don Juan," which many people should recognize from the famous novels written by Carlos Castaneda.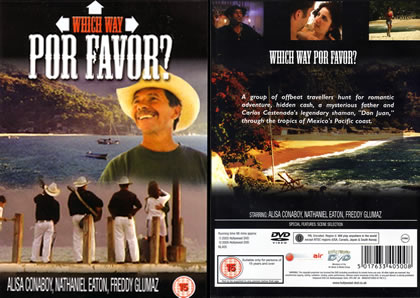 The movie features a cast of North American actors and Yelapa locals plus an original soundtrack recorded by members of the David Grisman Band, Tito Puente, Van Morrison, The Robert Gray Band plus the Grammy-winning Carlos Santana Band.
---
Man Friday (1975)
Man Friday is a 1975 British/American film, adapted from the 1973 play by Adrian Mitchell based on Daniel Defoe's novel Robinson Crusoe, but reverses the roles, portraying Crusoe as a blunt, stiff Englishman, while the native he calls Man Friday is much more intelligent and empathic.
Peter O'Toole Comedy Full Movie | Man Friday (1975) | Retrospective
The film can be regarded as being critical of western civilization, against which it draws an idealizing picture of Caribbean tribal life.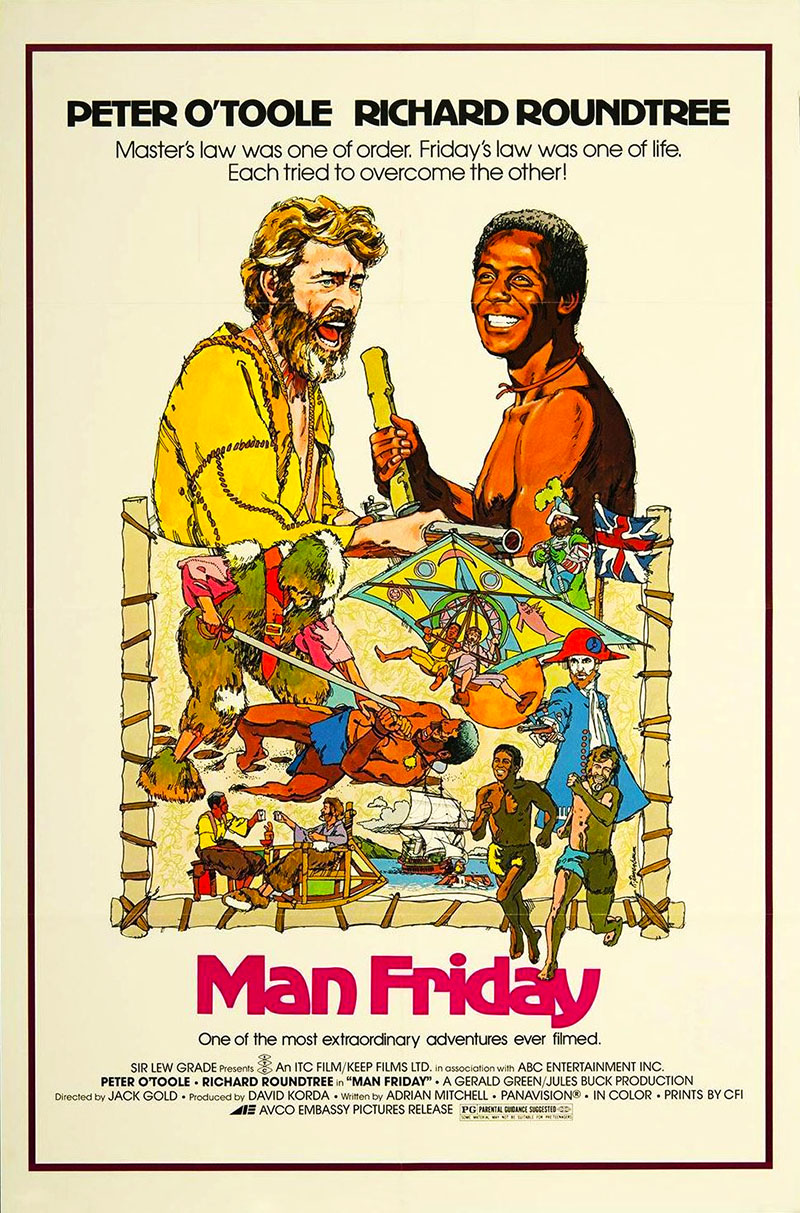 Parts of the movie are filmed on the beach and the surroundings of Lo De Marcos in Nayarit.
Peter O'Toole as Robinson Crusoe and Richard Roundtree as Friday. Directed by Jack Gold.
Author: M. A. Gallardo